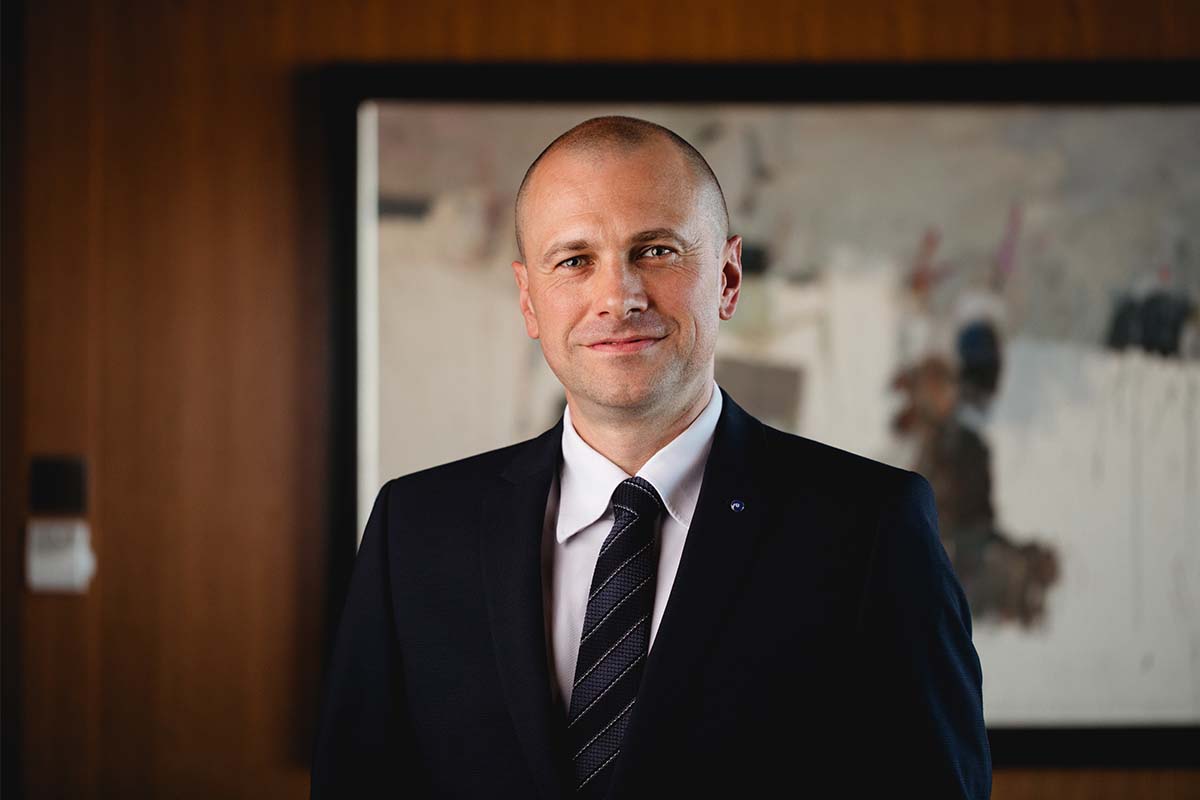 17 Nov

Financial sector rebounds due to past growth
Blaž Brodnjak, President of the Management Board, NLB Group, highlights the reasons the Slovenian economy and banking sector have successfully fared the COVID-19 pandemic and the company's efforts to become a truly regional bank.
How has the Slovenian economy recovered after challenges caused by the COVID-19 crisis?
There was a very quick recovery in the production side of the economy, which was vital in rebalancing the economy. Slovenia is a small economy, but one of the most open economies in the world. Slovenian exports make up about 80 percent of our gross domestic product; Slovenia is heavily dependent on international markets. About 80 percent of these exports end up in the European Union, which creates a kind of dependency. It is a good sign that European production has started to pick up after the lockdowns. In the heaviest lockdown in the autumn of 2020 and the early part of this year, production was functioning without limitations and with less interruptions.
The segments that suffered the most relate to services, such as the hotel and restaurant sector, which was fully shut for six months. Luckily, Slovenia was in good enough shape to extend support to these businesses through governmental measures. There were concrete state aid measures supporting companies during lockdowns that allowed for shorter working times, employee engagement and some one-off, fixed-cost coverage measures. These kept businesses alive, although not in very good shape. Last summer was strong and this summer was booming. You could not book a room on the Slovenian coast or in spas. The state supported this with a voucher program; every Slovenian citizen received a voucher in 2020 that could be used in Slovenian hospitality businesses. In 2021 we received another voucher that can be used in broader terms, such as hotels, restaurants and buying school equipment. This has boosted spending and helped the service industry significantly. In the last period almost none of these businesses have come out of the moratoria of services with significant issues. Their liabilities to the banking system have operated efficiently.
The Slovenian economy has overcome the entire COVID situation in very good shape and this is true regionally for the worst-hit industries. In Slovenia, you must now show vaccination certificates or test results, otherwise the country is open. One can attend sporting events, cultural events and any hospitality related services. About 45 percent of the population was fully vaccinated by September 2021. A significant part of the population that has not been vaccinated was infected as the waves of infection spread. Intensive care treatment has been limited. The health system being able to sustain itself through the influx of patients is integral to keeping our economy on track. We hope that if there is a fourth wave, businesses will not be shut down.
Slovenia is one of the greenest and prettiest countries in the world. You can experience alpine, Mediterranean or continental climate within an hour drive. We must emphasize the importance of integrating the region into the European Union. The COVID-19 pandemic is a big challenge as is sustainability. However, there is no proper future for the European Union without having full integration of surrounding countries. We can no longer afford other geopolitical influences in this region without having the region destabilised. It is the right thing to do.
How robust has the Slovenian banking sector been during the COVID-19 pandemic?
The Slovenian banking sector went through a period of restructuring between 2008 and 2015. Since then, we have been in solid shape. Unemployment rates started dropping, economic growth returned and Slovenia grew significantly in the couple of years prior to the COVID-19 pandemic. Banks are in excellent shape in terms of capitalisation and liquidity. If you compare us internationally, you will see very high capital ratios on the one side and extremely low long-term debt on the other side because of abundant liquidity, especially in the biggest banks. In NLB we have a loan-to-deposit ratio of 50.2 percent, which is extremely low. The underwriting quality has improved radically in the aftermath of the previous crisis, which is why the banking sector has survived the current crisis robustly. There was of large uncertainty at the beginning of the crisis in March and April 2020 where we created some provisions and signalled to investors that there might be a significant increase of the cost of risk that might deteriorate our operations. As of June 2020, it became clear that this was not going to happen. The exposure of loss in the banking sector compared to most hit industries was very moderate. Our tourism sector and event industry were hit hard, but banks have not suffered significantly.
What predictions do you see in terms of the financing and investment market in Slovenia?
Unemployment has developed differently than what was expected. We have a record level of the population actively working and a low level of structural unemployment; anyone willing to work can find work. The shape of the Slovenian economy in the banking sector is robust. There is a demand for investment loans from the corporate sector, which was the most hit in the previous crisis. After recovery, the sector was leveraged to very low levels and we are now looking at the full utilization of capacity in the production sector, which is crying out for new investment, automation and digitization to expand capacity. Because one cannot find talent to work in production factories or service industries, automation, robotization and digitization have become the name of the game and will invite significant investment. We are positive about the coming period when it comes to demand for corporate lending. We also hope that the prior consumption picks up significantly. We have a solid demand for housing lending; we see this becoming an alternative to holding money within banks, and we are observing this as a historical phenomenon. We can support corporate lending and the retail sector. Growth has been re-established in lending activities. We are positive about the coming months and years.
How has NLB Group positioned itself strategically?
NLB is a regional systemic institution. We are among the top three largest banks in six countries in the region. There is no one comparable; no one else has our geographical footprint coupled with our bulk of operations. We have been the leading business in Slovenia for years, even though this might change now with the recent consolidations. NLB has been managing 35 percent of retail operations in Slovenia while holding a 37 percent market share in asset management. In all countries we are present in, we are sitting within the top three positions in terms of market share, exceeding 10 percent. We have met critical mass, but also have significant opportunities for further growth.
The consolidation that has been pending in the last few years brought us into a position where we might consider further transactions and interactions. A year ago, we acquired the third largest bank in Serbia. However, this is not the end of the story. We are looking forward to further market consolidations in the region. We hope for political agreements between Slovenia and Croatia on legacy issues from ex-Yugoslavia that would enable us entry into the Croatian market. It is the only market missing from our past common country. We would be the only one to be able to follow the flow of goods and capital supported by finance in the region. This would be a unique, niche position, and we are at the beginning of this journey.
NLB is in good shape. It is ready and has the capacity to be a significant consolidator in the region for years to come. This is true for our existing markets and for additional markets, such as Croatia and Albania. We intend to become the natural choice for a trade-finance platform in the region. Free movement of goods, capital and talent has been signed between Serbia, Northern Macedonia and Albania. We hope that Bosnia and Herzegovina, Kosovo and Montenegro follow; this is another intersection that interests us. We are talking about ex-Yugoslavia as one common platform and the Western Balkans as the other common platform. If this becomes a free economic zone on the extended turf of the European Union —which there really is no alternative, because otherwise other geopolitical interests will prevail, and the EU cannot afford that—we would become the only bank to cover all six Western Balkan economies.
We have been exclusively focusing on this region in terms of strategy; we are the only business with headquarters in the region. Our key differentiating factor is that we can visit branches in Serbia, Kosovo, Macedonia and Bosnia and Herzegovina while other competitors cannot afford that kind of managerial attention. We will exercise this differentiation in a diligent and consistent way. We will be close to clients in a locally relevant way in all client segments, both retail and corporate. There are three words in our vision that matter the most: our clients, our region and quality of life. We are close to our customers and truly care that people in this region have better lives.
How does Slovenia fare in its efforts to decarbonize compared to the region and what efforts is the company making to support this?
Slovenia is significantly better positioned than some of the other countries in the region. The country operates only one sizable coal-based thermal power plant, which must be substituted. We will have either a nuclear plant or a solar or wind plant. There will likely be no alternative for the nuclear plant as there must be 24-hour supply of stable electricity. Once we shut down our only thermal power plant, Slovenia will be fully reliant on renewables. Other countries in the region are significantly more reliant on coal-powered power plants. Slovenian petrol trading companies and other small and medium-sized enterprises are engineering meaningful renewable energy production from wind, solar and hydro sources. Our bank and other Slovenian banks have the capacity to follow these projects. We have already financed some wind and solar power plants in Kosovo, North Macedonia, Serbia and Slovenia. We are introducing retail-related products to install singular solar plants together with heat plants so companies can become fully sustainable. We are promoting this in both corporate and retail businesses. We have the capacity to structure financing for such projects throughout the entire region.
NLB is a leading company in Slovenia and among the first in the region in terms of our environmental, social and corporate governance goals in the finance industry. We have communicated publicly that we are not supporting coal technologies and that we are going to become a paperless company. We are actively dealing with our own carbon footprint and introducing new criteria for underwriting when it comes to our corporate clients. We have been working on introducing products to stimulate sustainability and renewable efficiency projects. We are banning coal-related technologies from our operations. In this region, full e-mobility is not yet possible due to lack of infrastructure. We must bring in electricity and it must be clean. This is a long-term endeavour, but we will not be continuing to finance thermal and coal-based technologies. We are actively seeking and promoting energy efficiency and movement and renewable energy production projects throughout the entire region. We are trying to strategically position ourselves as a hub in the promotion and marketing of sustainability.
How has the rise of digital technologies changed NLB Group's focus?
Our customers can now do 95 percent of their transactions online. One can sign any contract with NLB through our mobile app. Contracts are sent to your email and are not printed. We support our clients at all hours, seven days a week with video chats. One does not need to travel to branches. Apart from mortgage-collateralized housing loans, you can do everything online. One can self-approve a cash-loan of up to €30,000 in five minutes without having to talk to anyone or sign a physical piece of paper. This revolution has improved the reactive availability of the bank.
Another part of the digital revolution is our ability to be proactive at the right time, at the right place with the right solution. We can now envisage and anticipate future plans. We have been working heavily on producing a contemporary platform for data management and transforming this data into meaningful solutions. Proactive availability means not only being always there for our clients but being there in a meaningful way. We feel there is an opportunity for improvement, and we are moving in this direction. We are talking about combining our constant availability with locally relevant services for Slovenian households. We do not intend to compete with the Amazons of this world, but we believe we can be locally relevant through meaningful services such as utilities, municipal services, energy delivery and telecommunication services. This is our next mile; we want to build a meaningful ecosystem.
For the last three decades people have believed that banks would become extinct, which has not happened and will not happen. Banks have finally understood the challenges of new digital technologies and have invested in fintech businesses around the world. The fintech universe has presented a challenge to banks to move forward by doing their homework delivering better client experience while offering the entire portfolio of universal financial services. This has created constant servicing and easy-to-use client experience services. Banks are on a good track to dominate the scene, especially in small, fragmented markets like our region. We do not see global fintech companies entering this market. We are already partnering with small ones and considering more. NLB has been a front runner in this regard, and has been looking at financial opportunities in the sector.