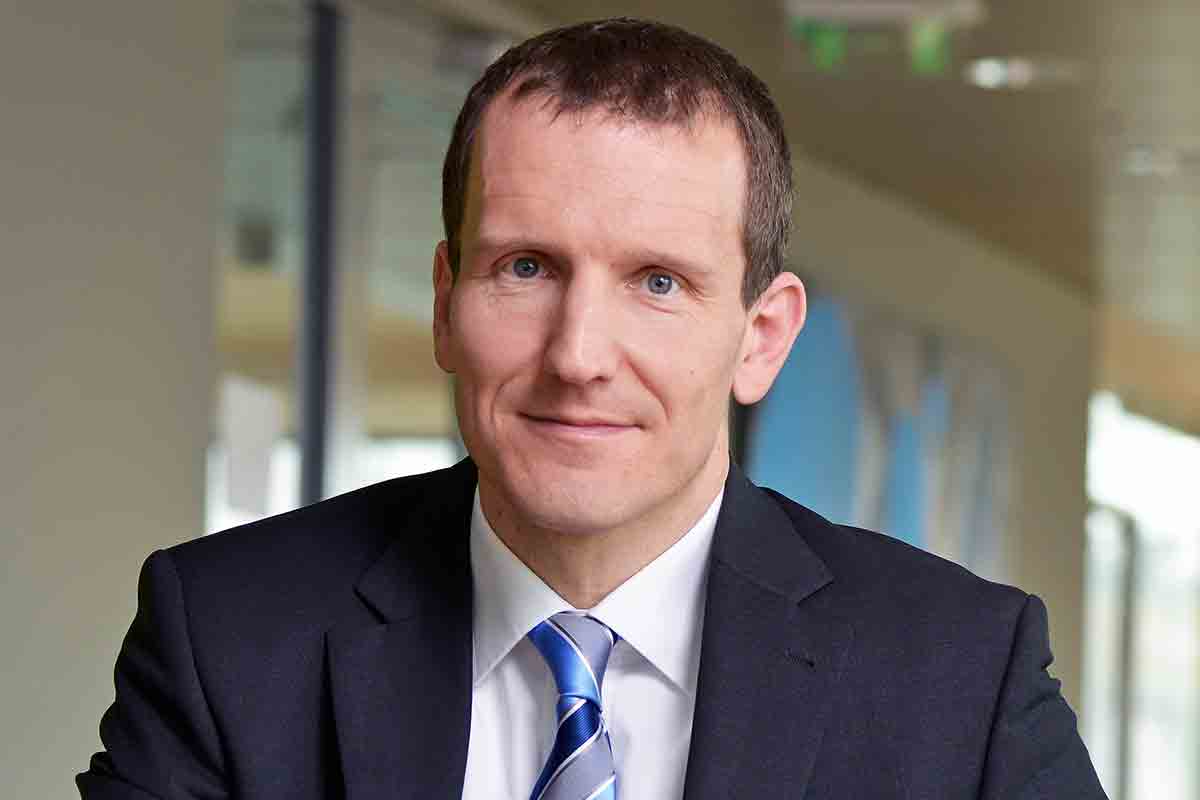 15 Jan

A stand-out, future-oriented player in the energy sector
Attila Kiss, CEO, E.ON. Hungária Zrt, guides us through all the revolutionary changes that the company is bringing within the energy sector
What are the main activities, the positioning and the history of E.ON in Hungary? How does it contribute to the Hungarian energy market and how has the company's role evolved recently with the latest acquisitions that you have done in the region?
E.ON Hungária is part of the international E.ON group and a key player in Hungary's energy sector. We are present in Hungary for more than 20 years and play an active role in power and gas distribution by operating smart distribution grids, offering smart solutions and commodity energy to our customers. Considering that Hungary has a population of 10 million people, it is a huge privilege and a great responsibility that we currently serve more than 4.6 million customers in the country.
Right now we are operating more than 120.000 kilometers of power network. It is our responsibility to make this huge network safe and operational every day for our clients. We consider it our role to contribute to the success, the well-being and the economic growth of our country. Our goal is to be the partners of people, make their lives comfortable and offer energy-conscious solutions in these revolutionary times.
We have a very strong international background but I cannot highlight enough that E.ON Hungária is a very Hungarian company as well. Out of the 8.300 employees we currently have everyone is Hungarian, including the top management, which shows the commitment and trust to the country, both from Hungarian and from German perspective.
We put people in the middle of our everyday operations, be it a customer, a stakeholder partner or an employee. Employee satisfaction, motivation, health and safety are crucial categories for us, and we are very proud of that.
What has been E.ON's experience of the pandemic? How have you been able to guarantee a certain level of service in the country, despite the challenging conditions and how has the company been impacted by the COVID-19 crisis? 
The most important thing for us is to take care of the health and safety of our partners, clients and employees, guaranteeing the security of supply. Besides, it is equally important to support the recovery of the Hungarian economy. This is our two-fold responsibility.
We took very serious and strict security measures in the first phase of the COVID pandemic. We temporarily closed our customer service offices and we announced a voluntarily moratorium on utility shut-offs for insolvent customers in the household sector, that we repeated now for the second time starting from the 29th of November. We implemented a lot of digital solutions and opened new digital channels to preserve the health of our clients and employees by reducing face-to-face meetings.
There was a lengthy period where we completely switched to home office wherever possible. Currently we are running on a very low-office occupancy and we are continuously observing the development of the situation to take the right measures in time, in accordance with the other industry players.
Beyond that, contributing to the economic growth and prosperity of Hungary is also a key topic for us. In addition to not introducing any internal austerity measures due to the epidemic, we decided to increase our investments this year. This also gives our partners work, helping them stay afloat so that the people they employ don't lose their jobs.
At the same time, we are also responsible for Hungarian society: recognizing that due to the epidemic digital education was not available for many families living in difficult situations we supported The Hungarian Interchurch Aid with 50 million HUF. Together we launched a complex, multi-month catch-up program and gave the chance to 600 children to go back to school in September without any disadvantages compared to their more fortunate peers.
There are also lessons we have learnt from the first wave. Within just nine days – an industry record – we were able to launch a digital customer connection channel, a so-called video chat and we were adapting very quickly to the challenges on the field of digitization. We have made a significant step ahead securing the security of supply, together with other industry players. It was a forced evolution, but we became a much more modern and digitized company.
How important is innovation for E.ON Hungaria? How the company is triggering more innovation into your field of activities? What kind of specific projects or initiatives or services is E.ON implementing and how are you cooperating as well with universities and local start-ups to spearhead more innovation?
If you look around, you see that every aspect of your life is becoming more and more reliable of sustainable and green energy and in time it will replace fossil fuels completely. Our cars will be electric, our homes will produce energy with solar panels, everything we use will be powered by energy. This is the revolution and these huge changes are not without challenges. We must innovate in all aspects of our business to offer modern, customer-friendly services to our customers.
Basically, we have two legs in our operations, the grid and the customer solutions. On the energy network side, the main challenge is that the grid was not made for how we would like to use it in the future.
In the past, value chain was very simple and linear. It was a very straightforward value chain, but the future is not about that. Sometimes our customer is not a consumer anymore but also a producer. We call this special customer a prosumer. There are more and more prosumers, households and businesses alike. They generate more and more energy, for example with solar power plants, thus in the future we need a different kind of network setup than the old, linear one. Our role is to be a platform, an enabler, but of course it requires new technology, flexibility, smart grid and energy storage infrastructure. That is why E.ON focuses on developing smart grids and installing industry size energy storages to make our grids ready for the future.
For example, we just started the largest network development project Hungary has seen in decades. Partially funded by the EU, we will develop our electricity network in north-west Hungary with smart solutions, this will allow us to connect even more renewables to the grid in the coming years. The Danube InGrid project is an international cooperation, E.ON's companies in western Slovakia are also developing the electricity network next to the Hungarian border. We have another project co-financed by the EU. The IElectrix programme will be implemented in eight countries and is focusing on mobile energy storage and interrelated with building energy communities, which is something that is definitely belonging to the future. A third and very exciting project deals with machine-aided vision technology. Artificial intelligence-aided cameras on drones and cars can monitor our grids and are able to identify failures a human eye would avoid. The machine is able to learn and compare old and new snapshots from the same grid element and tell us if there is a problem. Through GPS we can easily identify the particular grid element, we will never make a mistake, never misread a number. I am really proud that this technology has been invented very recently by my colleagues and now is in operation.
Apart from the grid, we have customer solutions. It includes customer care, installing PV systems, e-mobility or integrated energy services, among other things. In this field we offer best-in-class digital services. We just rolled out our customer friendly, innovative and fully digitized application, DrivE.ON for our e-chargers. Users can search and book e-chargers and also pay for the service with their phones. As a unique solution in the market, they can also chat with each other within the app to find out how long a particular charging station is being used by others. We have another customer service application so our clients can pay their bills or give us the meter readings easily and comfortably from the comfort of their living rooms. We also have an artificial intelligence-driven, polite, customer chatbot on Facebook.
I believe that innovation, efficiency, business success and customer satisfaction are not contradictory things, they enhance each other.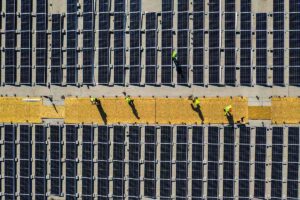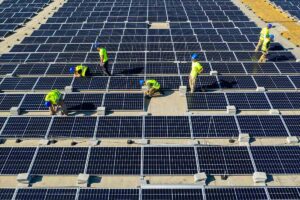 A big challenge of our time is sustainability. E.ON in that regard has a very ambitious targets in terms of CO2 reduction in sustainability. You aim to curb your Greenhouse Gas emissions to become carbon-neutral by 2040. You are planning to reduce your scope 1 and 2 emissions by 75 percent by 2030 and by 100 percent by 2040. You also aim to reduce your scope 3 emissions by and by 100 percent by 2050. How are you aiming to reach these ambitious targets and what are some of your key projects but also successes in terms of achieving a greener and more sustainable future?
Those targets are the minimum exercise for us. We are committed to deliver on that, but we would really like to be in the forefront in international comparisons. We are driving a lot of sustainability topics here in Hungary and we value the importance of sustainability for the future. We have broken down an action plan with several concrete goals about how we are going to make it happen. Making general statements is nice, but you need to have a detailed plan to get results.
A flagship project for us in 2020 was that we installed the greatest and biggest rooftop solar power plant in Europe on the top of AUDI Hungaria's logistics center. We are really privileged that we could be the partner of AUDI to implement that. We built a 160.000 square meters solar power plant with 36 thousand solar panels. To bring this in perspective, it could theoretically serve more than 4000 households annually.
On the other hand, we are also committed to the climate- and energy strategy of the Hungarian Government. We share common goals, which means that we are striving for the clean, smart and affordable energy. We see our role in developing our networks and our business activities into this direction. This is a good opportunity because we do not only act as a good corporate citizen here in Hungary but we also contribute to E.ON's success overall.
What are the nature and the scope of your investments in regards to electro-mobility? How does E.ON contribute to the advancement of e-mobility in Hungary and what is your vision here?
There is a strong link between sustainability and our e-mobility activities, and we believe that e-mobility will play an important role in the new energy world going forward. The e-mobility market is still being formed in Hungary. There are many players and the competition is getting more and more intense, which is good, I like competition. Currently there are more than 20.000 electric cars on the roads in the country and several programs are being launched to promote e-mobility.
We have a strong position in the market. We are installing more and more e-chargers every year, currently we have more than 120 countrywide. I expect that this market will develop fast in the coming years and we would like to play a significant role in it.
Besides, we offer e-fleet service to our business and municipal customers. We were the first to introduce an e-scooter sharing system in the country together with our partner blinkee.city here in Budapest, and we already rolling it out to other cities as well.
Can you give us some insights about your strategy in the country? What are your longer-term goals? How are you working to consolidate your position?
There are huge changes taking place right now in the Hungarian electricity market that are unparalleled since the privatization in the 90s. To put it very simply, E.ON Hungária will remain the energy provider in the western and central part of the country.
We have a very strong vision of how we would like to create the future E.ON Hungária, and we are on track to implement it. We will continue operating in the power and gas distribution, in customer solutions, including commodity or non-commodity solutions for our customers, which is also in line with the overall E.ON setup.
These changes have already begun in 2019 with integrating companies and now we have two major disposals ahead of us next year. At the end of the day, MVM will acquire a 25 percent stake in E.ON Hungária as an investor.
This change is all about how to get the right focusing, the right business directions in the country, how to operate at our customers' best in a competitive and local way and how to remain a good corporate citizen who can support and fuel the economic growth of the country. I believe that E.ON has the knowledge and the know-how that enables us to contribute to the development of the Hungarian energy industry.
From a marketing and communication perspective, how is E.ON working to grow its brand's reputation, its image and communicate on these projects that it's doing for the community?
Our reputation and image are based on providing high quality, customer-friendly, innovative services to our customers. E.ON Hungária is not an independent entity, we exist in harmony with our environment and we can only be successful together with our clients and partners.
The focus of our marketing and communication is to make sure E.ON isn't perceived as being merely a utility company, but as a dynamic, innovative, lovable company that focuses on the consumers' everyday energy needs and offers them client-centric and innovative solutions. I am proud to say that E.ON Hungária is one of the most liked companies within the whole E.ON Group.
In mid-2020, E.ON Group launched our new brand and marketing campaign platform to bring the E.ON Story to life. Our message: 'WE has no limits'. This is not a grammatical mistake: 'WE' here as a noun has no limits, and 'WE' refers to us as a community. This is what differentiates our brand from others and shows our strong commitment to sustainability as well.
Charity and social responsibility are also very important for us. We are not only providing support but most of the time we are providing it in a sustainable, green and energy-conscious way. Just to quote the most recent program that we have launched with the Hungarian Charity Service of the Order of Malta: together and with the Ministry of Innovation and Technology we have implemented a program for the poorest village of Hungary. We have installed a solar power plant next to the village and from the energy it produces we can provide the poorest families with a child under the age of three to have at least one heated room for the winter. This is charity in a sustainable way, teaching people how to act energy-conscious and also securing a safe power network to them.
Beyond that, we recognize the importance and the role of sports sponsorships. We are currently sponsoring the Hungarian water polo and triathlon federations.
You have been in the CEO seat since June 2018. What have been some of the biggest lessons that you have learned? Going forward, how do you summarize your priorities, your ambitions for 2020 so in the post-COVID-19 year and also in the longer term?
I think what matters most, rather than the CEO, is the team behind him. It does not matter what I have learned, what matters is how the company develops and how we improve because 'WE has no limits'.
We have strong a vision how to transform the company, how to get from our current setup to the best. We focus on a given geographical area, on the two legs of grids and customer solutions, but most importantly we focus on customers, we embark on the mission with the new brand, putting sustainability as a focus topic.
This company is not about pipes and wires, not about electrons and not about gas molecules, it is about people. E.ON Hungária is about our customers, about our stakeholders, about the families in the country and about our employees, the team that is behind our everyday operations.
What would be your final message to our readers?
Stay safe and healthy! When it is safe to travel again, come to Budapest and discover our wonderful capital city in the heart of Europe. You can be sure that the friendly people of Hungary will welcome you.