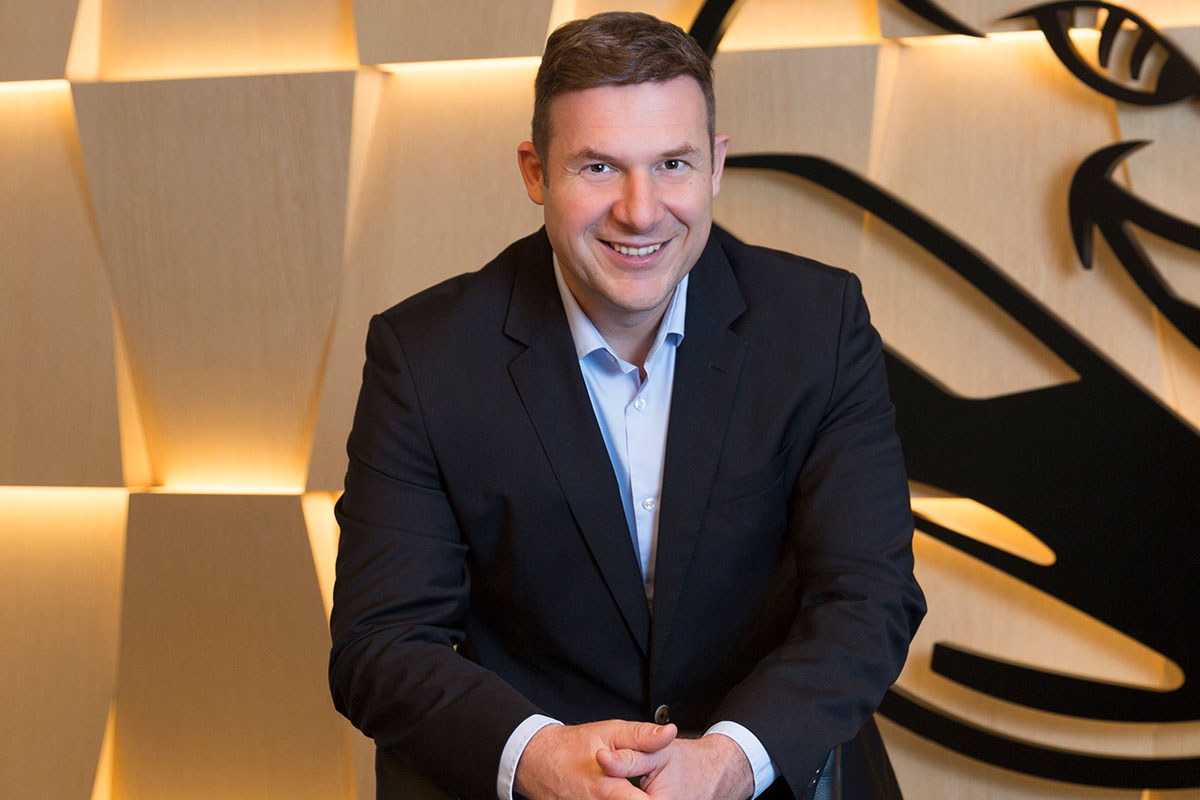 15 Jan

Hungarian energy, global success
Barnabas Csereklye, Managing Director, HELL ENERGY and CEO, QUALITY PACK, explains how the world's third-biggest energy drink company sets the bar for other manufacturers
From the heart of Europe, HELL ENERGY became the most dynamically growing member of the energy drink sector worldwide. After strong international expansion, the Hungarian company is now the market leader in 10 different countries and has a presence in over 50 nations around the globe. The group is one of the best examples of the circular economy; it uses its own capabilities in production, warehousing and logistics.
HELL ENERGY is a homegrown Hungarian success story, and one of the nation's most dynamic and international companies. How would you summarize the story behind the company?
HELL ENERGY is a family-owned company from Hungary. In 2005, the owners saw the growth taking place in the energy drink business and, after analyzing the competitors, recognized that they could create an energy drink that was premium quality with a good taste but at an affordable price. There was no doubt that a long process was ahead, but providing a competitive price was unthinkable without its own production. This was the long-term success formula. They created the drink in 2005, first of all they developed the recipe and did tastings. At that time, someone in the company said the drink tasted "hellishly good," which is an expression used in Hungary when something tastes or looks very good. That moment gave the drink its name—HELL—which is a powerful name that is quite fitting for an energy drink. In 2006, we secured the brand name; that was the beginning of the company and the distribution of HELL ENERGY drink.
After these first steps, what do you consider the most important milestones in the company's history so far?
In just four years, HELL ENERGY became the market leader in Hungary, after that in 2010 we built our own first filling factory. As a result, we are able to spend the amount others spend on their suppliers on product development and improving our technology. We saw the brand could make it on an international scale, especially in neighboring countries. By 2011, production was up and running. Hungary was the first market that we took from Red Bull, who had been present there for many years. As then so today our vision is to become the market leader in every country in which we operate. This is what happened with Romania, where we went after Hungary. Our main competitor is quite expensive in markets like Eastern Europe where the younger generation is price sensitive. Most of them can't afford it.
Typically, you need two or three years in a country to build up your market successfully. If you are only exporting your products directly to those markets, you have a local distributor who has your product in his portfolio as one of several hundred others. With this method, there is no real focus on becoming market leader quickly. Our strategy was different: we would arrive in a new market, build up our presence, invest in local marketing and sales. This way we have become market leaders in 10 countries, after Hungary, Croatia, Serbia, Macedonia, Slovakia, Romania, Bulgaria, but I can also mention Greece, Cyprus or, from the Caucasus region, Azerbaijan.
Over the company's 15 years, we have expanded exporting to more than 50 countries. In some countries we have set up a subsidiary, in others we will work with a distributor that has HELL ENERGY as a sole product, giving it their full attention. In yet more countries, we work with distributors who include our product in their portfolio. We want to become market leader in all the countries we operate in, but a lot depends on business partners, models, markets and even politics sometimes. Azerbaijan is a good example of this, after the excise tax on imported products was introduced in 2019 we had to face new challenges but we always try to adjust to the circumstances quickly.
After all you mentioned, where do you place the company in the global energy drink sector?
Today, according to estimations, we are the third-biggest energy drink manufacturer in the world. The number one producer, Red Bull, is very strong in Western Europe and the U.S. As opposed to our main competitor, we are self-sufficient and independent. We do our own can manufacturing, we have the filling factories where we use aluminum cans, and we do warehousing and logistics on our own as well. That's why HELL ENERGY group is fully vertically integrated and runs its own successful brand, based on our own capabilities. Big companies in the fast-moving consumer goods sector have done vertical integration before, but no other energy drink manufacturer in the world has these capabilities.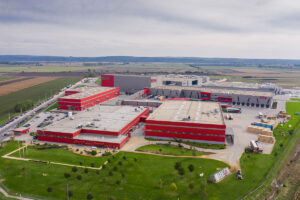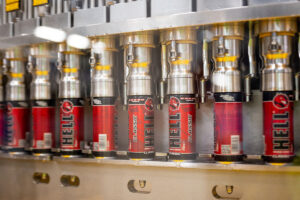 One of the most progressive and innovative projects the company has embarked on is the recent announcement of the world's "greenest" recyclable aluminum can—a project carried out in partnership with Hydro. Can you tell us more about this project, how significant is it and how will it help deliver on the company's sustainability goals?
Our business is a bit seasonal; high season starts in May and goes to about September. During the peak season, you might run into problems with the supply of your products from the fillers or the can factories. By having our own beverage can and filling factories, we can eliminate this potential risk. We used to have two can suppliers that would provide us with the empty cans for our filling plant. In the summer season, both of the can-making companies had full order books, or at other times they had problems with their technology and could not run their lines. This would then affect our supply of empty cans for filling in our own factory. So it was time to explore investing in can manufacturing and make the calculations to see when we would break even if we were to vertically integrate in Hungary.
At that point, there was no other can-making factory in Hungary. We launched a tender and an American company that is a market leader and a full system integrator in this industry won it. During the ramp up, our partner Stolle Machinery could help train us in making the aluminum cans. The aluminum comes from Germany produced by a Norwegian company called Hydro, which is our main aluminum coil supplier. They have a metal that is used for beverage cans that is very new, which contains at least 75 percent post-consumer scrap. This unique aluminum is called CIRCAL75, and the minimum 75 percent recycled content is guaranteed and certified by a third independent party.
We are the first and currently the only beverage company in the world that has signed a contract for this very environmentally friendly material. This is probably the greenest metal of its type in the world, as somebody has already consumed this product and thrown it away. It was collected, recycled and then the process is repeated after 60 days, which is the average time a beverage can takes to be manufactured, consumed, recycled and get put back on a shelf again. It is one of the best examples of the circular economy. You can repeat the process infinite times as you do not lose the quality and value of the aluminum in the recycling process. Currently, none of Hydro's competitors are offering this same type of third-party certificate for the minimum 75 percent post-consumer scrap content in our cans, which is the highest level today.
Do you plan to communicate or market this fact through your products?
We signed the contract with Hydro in June 2020 and since then have given many interviews. There are a lot of articles on the internet that talk about this. But we can do more and will do more. We are also communicating our achievement on social media and our website. We want to communicate to our consumers the actions we have taken toward making HELL ENERGY a green company. CIRCAL 75 is one of these. Nowadays, if you buy a HELL ENERGY drink, you buy a drink filled in beverage cans made from CIRCAL75 aluminum. We decrease our carbon footprint by 60 percent by using this sustainable material. Another important and environment-friendly action related to the aluminum coils is downgauging, which means that over the last three years we have successfully decreased the wall thickness and ultimately the weight of our beverage cans by 10 percent.
In terms of innovation, research and development (R&D), what other projects are you working on and are you currently partnering up with others to accelerate your innovation strategies?
Innovation is very important to us. Every year we come out with four new products: two in the summer season and two in winter. These are different flavors of our energy drink and different designs, especially in terms of the printing. One of the newest can designs uses the MESH technique, which creates a unique textured surface with up to 12 different variants per production cycle. The new can also reflects ultraviolet (UV) light. This product is made especially for the hotels, restaurants and cafes (HORECA) market. The can lights up when UV lights are used, which is common in bars or clubs. This innovative product is a special edition we are going to launch within a few weeks
Another innovation is for the benefit of our female consumers and helps them open cans without potentially damaging their fingernails. The finger tap is a little bit raised so that you can open it with the edge of your finger and not your nails. For this we received an industry award for innovation in 2018. It's a simple solution that was recognized by industry experts, but not so simple a task, as there was quite a bit of engineering and testing that went into it. With the opening of our new aluminum can-making factory in 2017, we said we wanted to introduce ourselves with a new innovation that will solve a well-known problem and help our consumers to enjoy our beverages.
Innovation is always important when it comes to product development. Our new category of drinks, energy coffee, was also an innovation in our company, as were our functional drinks that are enriched with vitamins and other ingredients with several benefits. One of our brands, a drink called FOCUS, has been proven to enhance your attention capability by 26 percent, which has been certified by a third party and a public notary. The testing of this product was conducted in a university class, which was quite successful. We have another innovation for those consumers who live an active life, where you have less sugar content but branched-chain amino acids and vitamins are included. We continuously invest a lot in R&D for our product developments.
Leveraging the latest production technology innovations is essential. What is your approach to stay on top of these trends?
Industry 4.0 is an important standard for us, we are constantly exploring how different machines can connect and communicate with each other via manufacturing execution systems (MESs) to build efficiencies, automate our production processes and make them more lean and reliable. This means I can watch the production lines on my smart phone, for example. I can view and control efficiencies, spoilage, downtimes, defaults and defects whenever I need to and in real time. This is a very good tool for our teams working on the shop floor but also for management, in order to have transparency and allowing us to act fast.
Some of our company milestones include the first filling factory built in 2010, with both a canning line and a polyethylene terephthalate (PET) line. These two filling lines were manufactured by KRONES, a German company that is considered the world market leader of the industry. In 2018 and 2019 we have installed another two high-speed lines from KRONES in our second filling factory. Regarding PET, we have only one line for PET bottles that we use mainly for carbonated soft drinks and iced teas. In terms of environmental consciousness and in line with our company's corporate social responsibility strategy, we had set the goal of reducing PET to a 5 percent share in our portfolio by 2020, which we have achieved. Our new target is to reduce PET to under 1 percent by 2025. I can imagine that we will eventually even sell our PET line, as we are dedicated to aluminum due to its clear advantages: its 100 percent infinite recyclability, longer shelf life and cost efficiency. With PET you do not gain these advantages; moreover, it is one of the biggest polluters in the world and a root cause of many environmental problems, especially in our oceans.
To what extent do you expect to set the bar in the industry and inspire other manufacturers to follow your steps?
We strive for excellence, and our factories are certified and audited every year to the highest level in our industry, which is FSSC 22000. We want to be a good example, not only as a Hungarian company that has achieved global success and market-leading status by selling our products in over 50 countries, but also in terms of best practice manufacturing. We have received many awards from the industry that we are proud of. We want to continue setting an example by using the most modern technologies and lean but efficient processes. We want to become a benchmark in our industries in terms of bottling and can making. Our innovations in manufacturing and product development are all recognized by our consumers and by the industry with awards.
It is important for us to be acknowledged not only by consumers but also by the industry. The same goes for warehousing and logistics, where we have also invested in the most modern technology. In 2019, we invested in a fully automated high-bay warehouse, which is connected with the can-making and filling factories, ensuring wall-to-wall production. The warehouse is 30 meters high in which we can store 31,000 pallets. There are no humans inside, just the six trains that automatically pick up the pallets from the shelves and take them straight to the commissioning area where lorries are loaded.
Empty and filled can pallets travel on this conveyer that is operated with our fully integrated SAP system. The wall-to-wall production setup is reliable, efficient and green because you save on energy that would normally be consumed by lorries or forklifts and thereby cut emissions. There are only three other factories in Europe that have a kind a wall-to-wall production as we do, but not one of them belongs to one company alone.
You mentioned your €245 million investment toward production lines, packaging and warehousing. How are these investments contributing to the quality of your product?
Quality is one of the biggest and most important focus points for HELL ENERGY. You need to have the most modern and most efficient equipment plus the best workforce, who work together like a Formula One team. You need all the necessary measures to ensure the highest quality in production. We have certifications for FSSC 22000, which is the highest attainable level, in both our can-making and filling factories. We also comply with halal and kosher requirements. We have ISO 45001 energy certification and the German DPG accreditation as well. We are continuously audited for these certifications. Bureau Veritas is one of our auditors that conducts the audits and it claims that ours is a good benchmark for the industry.
I'm very proud that our company works in an environment that is safe and which uses the latest technologies and most efficient processes, as well as having highly skilled and motivated staff. Without motivated and well-trained staff, you would not be able to achieve the highest efficiencies of your technologies and guarantee the highest quality of your products.
In September 2020, the Hungarian Minister of Finance cut the tape at our third filling factory. We had a ceremony to mark the launch of the new milk-filling factory for our energy coffees. It is a 13,000 square-meter factory with an annual capacity of 300 million cans. This factory is now up and running; it was completed in just eight months during a challenging time with COVID-19 and the related restrictions. We had our technology suppliers coming from Spain, the Netherlands and Germany. This was our latest expansion of our production facilities and a big milestone for the company as we used to produce the coffees outside of Hungary. Through this integration, we are able to fully control the supply chain and ensure the high quality of our milk-based products as we don't need to rely on external co-fillers with their risk of non-performance. Having the production in house gives us flexibility in terms of product development and, most importantly, our production capacities can support our double-digit annual growth.
Outside of the European Union (EU), you have also made a massive splash in India, one of the world's biggest beverage markets. On what other markets are you currently locking targets and planning to rise to the top?
We are currently building our existing markets. That is our focus, to increase market share in all the countries we operate in, but there are also some new markets, like India, that we entered recently and where we have already witnessed dynamic growth. Besides India, there are also some other new countries we have entered where we have big plans and are working hard to succeed. One of these markets is the U.K., where we see Brexit as a good chance for us to enter the market. There are hundreds of thousands of people living in the U.K. who hail from Hungary and other eastern European countries who know our products but could not buy them before. We expect to see a steep increase in sales in the U.K., not only from foreign nationals, but also from British consumers. They have seen Bruce Willis, who they remember from films like Die Hard and Pulp Fiction, now being the face of HELL ENERGY.
I believe the U.K. is going to be a successful market for us and I see this as a good opportunity to invest more and enter with other categories, not only classic energy drinks. For example, we have the energy coffee drinks, whose market is growing even more dynamically than the energy drinks market. We see huge potential in this category. We have an excellent product and brand, and the U.K. has great potential for this category, too.
Another country that could be interesting for us is Morocco, as it would be the first market we have entered on the African continent. We see good opportunity in Morocco and in the whole of Africa as well.
Can you tell our readers a bit more about your collaboration with Bruce Willis?
We signed a contract with Bruce Willis in 2018. We had other Hollywood stars on our radar but we found him to be a good match, because he was not engaged in too many other commercials, and he was personally interested in the company and its history. We needed to give him a full presentation of our company and share samples of our products. After agreeing on all terms, we signed the contract, which was a big milestone for the company. I personally went to see him filming the commercial for HELL ENERGY in New York City. It was a very successful commercial, so we have decided to prolong the contract for another two-year period and have prepared a new commercial for the HELL and ENERGY COFFEE brands. This time, Willis was supported by a Puerto Rican actress, TV host and Miss Universe beauty queen Zuleyka Rivera, who was the dancer in the Despacito video. We thought they would make a perfect couple who fit our two brands flawlessly.
What about the Formula One sponsorship you had with Williams?
From 2009, we sponsored the Williams Team for two years. Our logo was present on its cars, uniforms and hats. We were part of the Formula One family for two years. After this, we decided to invest in other types of marketing but it helped us to build our brand internationally.
How is your brand perceived by the market and how do you want it to be perceived?
The quality component is very important to us. HELL ENERGY is a premium product that is produced in Europe that offers quality. This starts with quality raw materials and ingredients. For example, we don't use any artificial sweeteners, but best-quality granulated sugar made from sugar beets. We use only high-quality ingredients and vitamins produced with the latest technology under full quality control. We can ensure that quality stays premium during the whole manufacturing process. The shelf life of energy drinks is two years thanks to the pasteurization process where you must control the heat with a specific time duration. Or you can use preservatives, which is what some of our competitors do. Preservatives are artificial so considered not natural, even maybe not that healthy. Pasteurization is more expensive as it needs steam and energy, so it's much more costly than just putting preservatives into your product. But if you do that, you cannot call your product premium, because preservatives are cheap and, as I said, not natural.
It is very important for us that consumers see our brand as a premium product that is affordable. The key is to innovate and to deliver constantly the best value for money. The second important component is related to our corporate social responsibility strategy. Our environment-conscious thinking determines our actions and with our unique business model we show a best practice in the circular economy. We do a lot of charity work in addition to all the measures taken to reduce our impact on the environment and cut our carbon footprint, such as our CIRCAL75 can as well as the downgauging of the wall thickness of a can.
Recycling of beverage packaging is important and a must do, but it is not enough to solve the global plastic pollution. Therefore, brand owners are challenged by consumers to reduce their use of PET packaging and switch to more sustainable solutions like aluminum cans, which are infinitely recycled without losing their high quality. PET is not infinitely recyclable like aluminum, it can be done once maybe twice but it always loses its quality during the recycling process and after several times it will be useless waste. More and more consumers are becoming environmentally conscious and they make their purchases based on real facts about products, how they are manufactured and what impact they have on our environment. For consumers, it is important to have a premium brand that is affordable but also to be a company that acts environmentally consciously and is sustainable, as well as one that looks after corporate social responsibility, gives to charities and helps the community.
We are one of the biggest employers in Northeast Hungary and have approximately 1,000 employees, so that's over 1,000 families that we are responsible for. Our employees work in a safe and modern environment, with high-tech machinery and systems, and good opportunities to make their careers fulfill their dreams.
How would you rate the success of the company's bond issuance last year?
We have a good corporate rating as the bond issue was very successful. There was a minimum requirement to achieve a rating of B+ and we got BB, which is two tranches better. We are happy with this rating. It is also good when compared to other Hungarian companies listed on the stock exchange. After the annual review, I can announce that we maintained this good rating, which sends a very good message after a challenging year. Our financial results for 2020 haven't been validated yet, but are looking great. We have very little impact in our business resulting from the pandemic. It is mainly the HORECA market that has and is still suffering because tourism has decreased so much. However, currently we are not that active in the HORECA segment in comparison to some other beverage companies that have suffered declining revenues up to 30 percent.
We have experienced no decline during this period. Our sales have increased by around 20 percent by the end of 2020 when compared to the previous year. Profitability has also increased, but only by around 3 percent because of the large investments we have made. The outlook remains positive as our business is running very well and we continue to increase our share in key markets. The energy drinks market was not as affected as soft drinks or iced teas, where there was a bit of decline in consumption. This did not happen for energy drinks and especially not those in the energy coffee category.
To conclude our interview, do you have a final message for our readers?
Right now, it is a difficult time with this pandemic, when people are facing extreme challenges all around the world. And in times like this, we must take care of each other and our families. This is the most important thing for us now; safety and wellbeing always come first. Taking care of each other but also taking care of the environment that we live in and that we will leave for future generations. As a multinational company, we want to make a difference and we are working on being recognized as a best practice in the circular economy. This is why sustainability and environmentally continuous thinking are so important to us.
And these are the type of challenges that I personally find really exciting to work on, that's why I joined the HELL family in 2015. I enjoy thinking about these problems to which we try to create the best possible solutions, not only for our company, but also for our environment and society. It makes me happy to work with my team on great projects and create sustainable value, this is what keeps me motivated—during a pandemic as well.