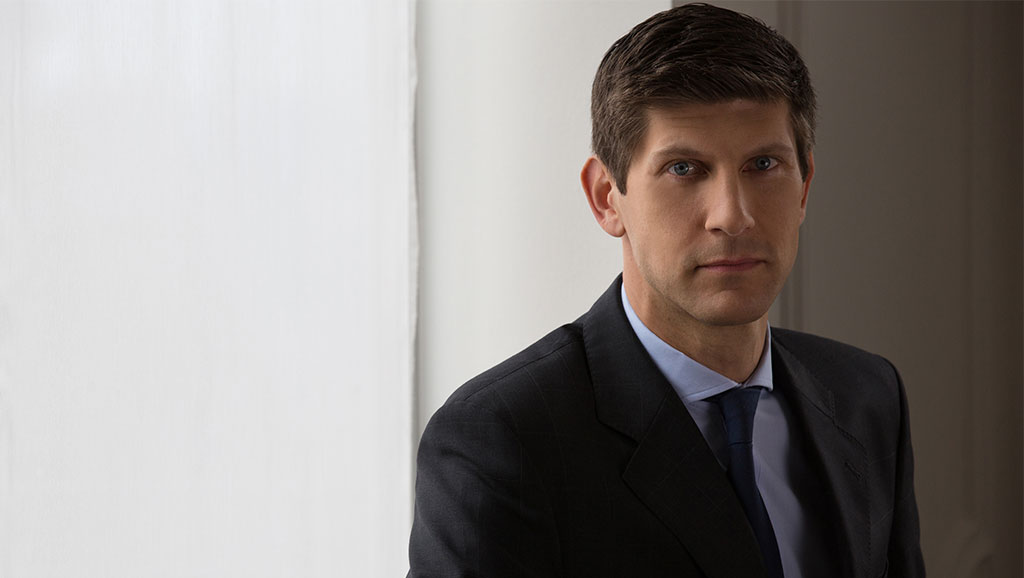 28 Sep

International, innovative hospitality education that is rooted in Swiss values
Benoît-Etienne Domenget, CEO, Sommet Education Group, presents a broad ecosystem of world-renowned hospitality management and culinary schools
Sommet Education Group is a leading player in hospitality management education, dispensing the famous Swiss hospitality education model. Its institutions—Glion, Les Roches and Ducasse—have a total of nine campuses around the world and have produced graduates from over 100 countries. Could you give us a brief tour of Sommet Education?
Sommet Education Group offers a full ecosystem of hospitality management schools and culinary schools, with three world-renowned institutions: Glion, Les Roches and Ecole Ducasse. Sommet Education's vision is to be the leading and broadest player in hospitality education. When it comes to education, we aim to offer the broadest spectrum of education paths. At Sommet Education, you can do three days of education at Ecole Ducasse, an initial education in a bachelor's at Glion and Les Roches, or a specialized master's or MBA. We offer the full academic spectrum for young graduates, young professionals and for talented professionals wanting to stand out in the hospitality management business.
What are the core values and unique model that you use to shape the industry talents of tomorrow? What kind of skills and talents do develop within your students?
We come from two iconic institutions in Switzerland—Glion and Les Roches—and, therefore, Sommet Education is deeply rooted in Switzerland and in the Swiss education model. We value academic excellence and practical education on the same level. Our curricula are built as such, offering both very strong academic learning and strong practice. This dual model is at the core of our values. While being close to the Swiss education model, we also highly value internationalism: we have students from 100 nationalities coming to us and our campuses are spread out across the globe. The day that students first enter one of our schools, they become part of an entire ecosystem that has multiculturalism at its heart.
The second element at the heart of our DNA is innovation. We work for two main stakeholders. Firstly, the students, with the objective of equipping them with the best skills possible, everything we train students for is what the industry wants. Secondly, the industry, with which we are in constant interaction. This is part of our model and drives our innovation. In this way, we continue innovating and creating new programs.
In summary: we are deeply rooted in Swiss values and Swiss education through this dual education model, and at the same time very international and innovative.
In 2019, Sommet Education acquired 51 percent of Ducasse's education activities. What was the vision behind this move, how has the acquisition and integration gone, and how has it benefited the group so far?
Before that acquisition, Sommet Education consisted of Glion and Les Roches: two institutions highly positioned in various rankings such as QS and others. We wanted to expand our education path in a broader way. Indeed, hospitality is more than hotels, it spans over hotels, restaurants, gastronomy, luxury and all businesses that really have the customer at the core of what they're doing.
We wanted to expand our education path into culinary arts, so we looked at what could be done. It became apparent that partnering and joining forces with Alain Ducasse was the best way forward for us. One reason was that we believed in the same values: excellence, quality, a balance between being rooted in tradition and knowledge while also being avant-garde. This new alliance has enabled us to create interesting bonds, bridges and links between our three institutions: for example, starting from October 2020 our students at Glion will be able to spend two weeks in their first semester experiencing the culinary world of Alain Ducasse in our new campus in Paris. That is the kind of innovation and extra value that we wanted to bring to our students.
To what extent is the group also expanding its international network, building new collaborations and exchanges with other industry players or academic partners? Do you have other acquisitions in mind?
We are fortunate to have a very strong presence in Europe but also in Asia, thanks to our campus in Shanghai. In addition, two years ago we started a partnership with a Thai group in order to help them build a campus in Bangkok. We have our eyes where it happens: Europe, China and we've been in Asia for the last 15 years. We are the first movers in that respect, always focused on internationalization and innovation. We are always interested in expanding as long as it brings value to our students and to the industry.
As part of their studies, our students have the ability to transfer from one campus to another to experience different cultures, different environments and to study abroad. We are always adding value for them and working to expand our network and offering for them.
COVID-19 has been dealing a major blow to the global economy, particularly to air transport, tourism and hospitality. What's your outlook for the industry post COVID-19?
There is no denying that the whole hospitality industry has been hit hard. However, in my view there is also no denying that hospitality as a whole is going to be as it was before: one of the driving forces of the world economy. 10 percent of global gross domestic product and 10 percent of the jobs on the planet are provided by the hospitality industry. In the previous financial crisis in 2008, hospitality was shown to be extremely resilient and to fairly quickly cope with issues such as we are experiencing now. What is new with this COVID-19 crisis is probably that it is very global, very sudden and the reaction to it has been quick everywhere—which is probably good news.
My view is that this crisis is also a way to rethink our models and come up with the next hospitality model, which is not going to be exactly the same as before COVID-19. We are not going to see a status quo. Industry players have prepared, they have planned and now they are inventing the next hospitality. I think that is an opportunity to reconcile trends and wishes that sometimes have been opposed in my view. There is a great opportunity for all of us to recenter on principles such as sustainable growth, local consumption or domestic tourism and local discoveries. This won't be easy but I think this is the future.
Hospitality is one of the greatest industries and has excellent values such as solidarity, taking care of others, willingness to service and willingness to please. This is part of the world economy and of tomorrow. I am positive and optimistic about the future of hospitality, and I am even more confident that it will be one of the driving forces of the world's economic rebound post COVID-19. I also believe that the hospitality industry has an important role to play in the post-COVID-19 world, not only from an economic standpoint but to convey values that are extremely meaningful for tomorrow.
The pandemic has forced most education institutions to accelerate the shift to digital learning. How did it impact Sommet Education?
Our response was extremely quick. When we saw the first signs, we anticipated as much as we could what was going to happen and we acted swiftly in order to be able to ensure the continuity of our studies, irrespective of our ability to run on-campus education. Gradually, one by one, we decided that physical, on-campus education had to be switched to remote and distance learning. This is what we did, and we did it very fast.
Our faculties have been amazing. Three months after the outbreak, they have been able to produce more than 5,000 live sessions with our students; 5,000 videos have been performed in order to ensure seamless continuity in studies, irrespective of where our students were in the world. We have been able to keep the true promise of education institutions, which is the continuation of studies. In addition to that, we have also created additional academic content for the students.
Events like the pandemic don't happen so often fortunately, so those moments have been an opportunity to create and adopt content that can be given and conveyed to the students, to further build their skills as leaders of this industry. As an example, together with our institutions and others we have built a leadership series called "Leading hospitality in turbulent times." The idea was to give our students knowledge, ideas and understanding of what's needed in crisis times, and how best to cope and manage those situations. This is a unique opportunity to create extra curriculum content for students. We have also developed and created online certificates that more than 5,000 students have attended. Ultimately, the response of our faculties and our students has been very much in synch: looking forward to continuing their studies and to having additional academic content.
We have also built on the digital transformation of the company to further develop a wide range of digital courses and solutions to respond with utmost flexibility and academic rigor to the situation and new students' needs. Recently, we have been launching new learning experiences: Glion-Les Roches Connect, the first phygital and one-of-a-kind bachelor blended program that combines 10 weeks' distant learning and 10 weeks' face to face.
We have enhanced our flexibility in learning methods as well by implementing live broadcasting of courses for late arrivals due to travel constraints, and we have invested in technology and innovation from virtual campus tours to state-of-the-art innovation hubs in Les Roches Crans-Montana, for example.
Competition is growing globally in the education sector, with numerous institutions opening and branching out. How do you work on building your brand, your credibility and image of excellence outside of Switzerland?
I believe that you need to stick to who you are, to your DNA and to your mission. Our mission is very clear: to give the best academic content and the best transformative education path to our students. That's what we need to do, morning, afternoon, at night, every single day and without any compromise on the quality or excellence of the education path. Reputation and credibility ultimately follow. When you look at our QS ranking, what stands out is not only the quality of the academic content but also the recognition of our institutions as an employer.
Every year, hospitality players around the globe hire our students. They continue to do so because they know they can have the talents they need by hiring our students. At the end of the day, you don't really need to think about building your reputation or about building your brand: you only need to stick to the very core of what you are and what you do—which in our case is giving our students the best education path focused on excellence, quality, innovation, job placement and so on.
We also count and rely on our community, and support it as best we can, starting with our 28,000 alumni. We just launched a challenge with UNWTO, the United Nations' specialized agency for accessible tourism. The challenge is a call for projects aimed at boosting the recovery of the hospitality sector and we will grant 30 scholarships in our institutions to people with innovative, sustainable and technology-driven solutions. The top three entrepreneurial projects will also be supported with seed money. This solidarity education initiative is our way of responding to the current situation with what we do the best: sharing our knowledge.
Before joining Sommet Education in 2015, you had an impressive career in the Accor hotel group where you spent 14 years. What is your mission at Sommet Education?
I have always been extremely passionate about the hospitality industry. I started my career at Accor by learning the very basics of hotel operations, and I'm still in love with this business and the industry at large. When I was offered the opportunity to switch to education, I found it a privilege because we have an intensive mission, which is to lead and help the future leaders of the industry develop themselves. When I was in the hospitality industry, I sometimes witnessed the talent gap that everybody has seen in the sector. In Europe, Asia, the Middle East, Latin America and everywhere in the world, hospitality is a growing industry and new hotels are being built. Ultimately, however, building a great hotel is not that complicated, but keeping a restaurant or a hotel great requires a lot of time and energy. What will make the difference is who is working there, who is taking care of the guests—and that is our mission in our institutions, to train the future leaders of this industry.
My ambition is to continue doing what we're doing. Education is something that you need to take very seriously and we are highly committed to our students. We want to provide them with the best education possible and prepare them for the best professional opportunities. The question that we ask ourselves—which guided our acquisition of Ecole Ducasse, which will guide all our future acquisitions and everything we do—is: do we bring something additional and something extra to the students and to the industry? If the answer to both questions is yes, decision making is far easier.