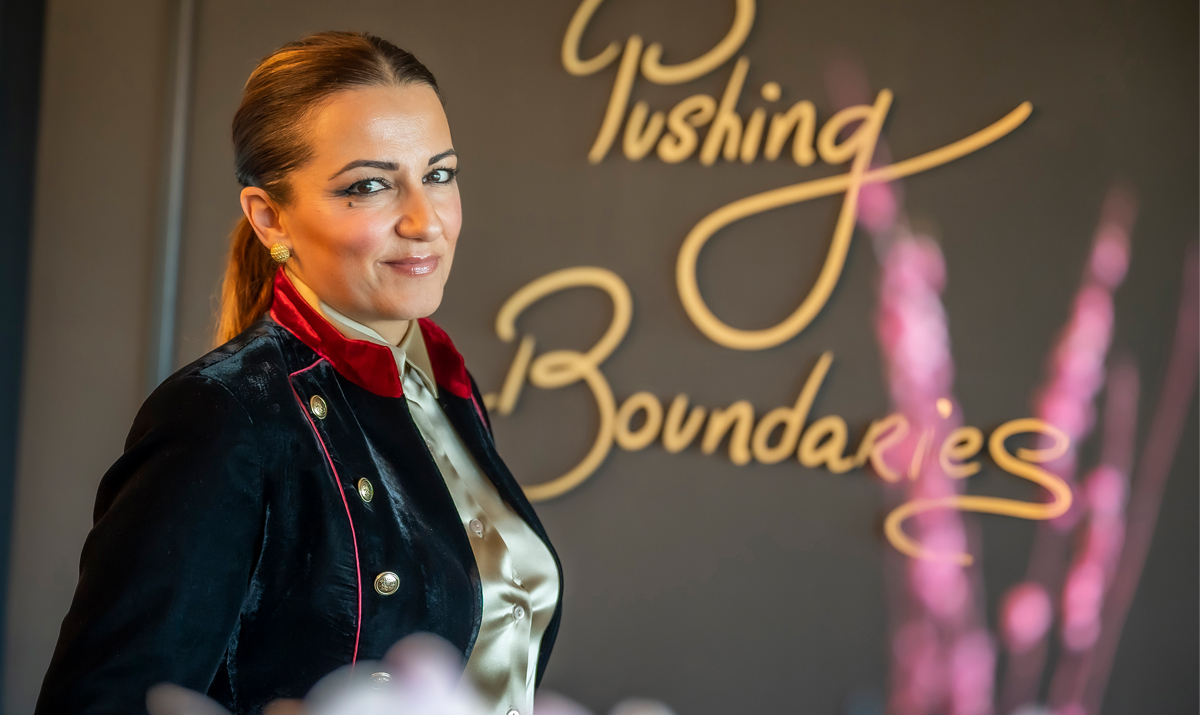 11 Jul

Interview with Claire Zammit Xuereb, Hospitality Director & Board Member of AX Group

Founded in 1975, AX Group has grown significantly, posting earnings of $41.5 million in 2022. The family company is present in many sectors with various assets.  To start, can you give us a quick overview of the group?  What are some of your main assets today?

The AX Group is a Maltese family-owned business which has grown steadily over the past four decades to become one of Malta's most successful diversified businesses. Our reputation for excellence is built on a legacy of delivering innovative, high-quality projects that consistently enhance the value of the core sectors in which we operate, including construction, development, healthcare, real estate, hospitality, and renewable energy. AX Group is also a strong advocate for workplace diversity, a principle we have put into practice for well over 30 years. We currently employ over 1,000 people and around 70 percent of our workforce is comprised of foreign nationals, many hailing from outside the EU. Embracing multiculturalism has brought about new opportunities, a wider talent pool, and different perspectives to the organization.

 The AX Group story begins in 1977, when the founder Angelo Xuereb, my father, set up his own civil engineering enterprise. The company quicky established itself as an efficient, reliable, and multi-disciplined contractor capable of delivering projects of all sizes and specifications. Over the years, AX Construction has completed numerous prestigious projects (such as the parliament building), restored various land-front fortifications, and now works on the construction of the new Caravaggio center within St John's Co-Cathedral, which has added value and quality to Malta's infrastructure.

Following its expansion across the construction industry, AX Group made a leap into hospitality. AX Hotels now comprises a portfolio of seven highly regarded award-winning hotels and many restaurants, bars, and rooftop lounge F&B outlets. Large scale operations are in full swing at the ODYCY Hotel, our 600-room hotel which is right on the coast of Qawra and has recently reopened to guests. We also have another unique concept coming very soon: the Verdala Hotel and Spa. With so much to offer in hospitality, the group contributes substantially to the country's tourism sector and therefore to its economy.

Aside from the hospitality sector we are also very active in the healthcare sector with AX Care, with the only retirement village in the country—Hilltop Gardens—a new concept where independent living is encouraged within exceptional facilities.

The group is also synonymous with quality landmark development projects. AX Development is comprised of a highly accomplished team of architects, engineers, draughts persons and designers who are focused on seeking out new avenues for growth which enable the group to plan and conceive valuable property projects with foresight.

We stand out with our quality. AX Group has established itself as a leader in providing top-quality products and services in various business sectors. Our commitment to quality is evident in everything we do, from the development of their properties to the delivery of their services. AX Group always strives for excellence. We are not happy with the average; it is in our DNA to aim to be the best in all that we do. We were first in so many different projects time and time again. We are leaders in Malta because we are known to be way ahead of time in so many aspects and competition follows our lead in many ways. This of course carries with it great responsibility which we take very seriously.

We are guided by our three core principles: encouraging the creativity of our people to develop innovative solutions, a commitment to meet challenges with resilience and an open mind, and a promise to act with integrity in the interest of the communities we serve.

Can you go into a little more detail about the AX ODYCY Hotel and Verdala Hotel projects?

ODYCY is not just any ordinary 4-star hotel; it is a grand establishment with our primary focus being on providing exceptional quality while maintaining a high volume of guests. At ODYCY, we firmly believe in upholding our company ethos of delivering excellence in everything we offer.

ODYCY presents a wide array of experiences within its premises. It encompasses various distinct brands, including namely the ODYCY Hotel, which is part of Phase 1 of our ambitious development project for Qawra. Additionally, the ODYCY Lido boasts several lagoons and AX Group-owned signature brands like Cheeky Monkey and Trattoria Ricardo. All these innovative food and beverage concepts fall under the overarching ODYCY brand.  Moving forward, Phase 2 of our project will witness an expansion of the ODYCY concept, while Phase 3 will introduce the ODYCY Suites.

Considering the extensive area of the ODYCY Destination, travelers will have the freedom to choose from a diverse range of accommodation options, culinary experiences, and an array of other facilities. We pride ourselves on catering to the unique preferences of each guest, allowing them to curate their perfect vacation.

Moreover, ODYCY is not limited to attracting visitors solely during the summer months. In response to the evolving dynamics of tourism, we have adapted our approach to embrace winter tourism as well. This transformation is in line with Malta's recent efforts to enhance its winter business prospects. ODYCY, with its 600 rooms, will play a pivotal role in achieving this goal and making a significant impact on our island's tourism industry.

You stepped up as director of AX Care at the beginning of last year during a really challenging time for the elderly population. The segment provides tailor-made programs for the retirement community, including physio and hydrotherapies. How has the COVID-19 pandemic changed the focus of care for the retirement community in Malta, and how has AX Care stepped up to fill in new needs?

Due to the elderly population being deemed vulnerable to Covid, they harbored significant skepticism about leaving their own homes and choosing care homes as an alternative. This presented a challenge for us as we naturally experienced a decline. In order to regain our standing, we had to reassess our strategies and make some crucial decisions, such as pursuing a higher quality offering, setting ourselves apart from other senior homes in the market.

Currently, many elderly care homes in Malta follow a business model that are a mix between private and public. However, we chose to adopt an exclusively private approach, targeting the higher end of the market, allowing us to cater to discerning individuals who seek exceptional care and accommodations for their loved ones.

Malta's travel and tourism sector is significant, bringing in more than $2.1 billion and making up around 15 percent of the country's GDP before the pandemic. Tourism is returning, with Malta hitting 2.3 million visitors in 2022, about 83 percent of its pre-pandemic total.  How has the rebound of tourism translated at AX Group? What kind of new trends do you see post-Covid?

During Covid, we restructured our company. We centralized all our functions from an administrative viewpoint and all the support services that are offered to all our hotels. This has enabled us to be more cost effective and more efficient. Now we are in a position where we can plug in many more properties and play. We are starting to offer our services to partner with other hotel owners who run the business for them, and we are enjoying the muscle that we have in the markets. Today we are the largest hotel group on the island and that carries a lot of weight.

Post-Covid, we see that travelers are now after experiences and just experiences; they are not interested in a price, or a hotel. They have great intentions behind their travel. Our job is to identify those intentions and tweak our products accordingly, constantly, to be relevant to the market.

Our biggest challenge post-Covid is human resources, both when it comes to quality and quantity and the way we recruit, the way we engage, the way we retain people, the way we communicate with them, the way we manage them. Everything about human resources has changed. This is our next biggest challenge.

What is your strategy to retain talent, but also to train talent for the future?

As a group, our aim is to become the preferred employer of choice, offering an environment that empowers our employees and fosters their personal and professional growth. We understand that creating a workplace where individuals can thrive is crucial to our success. By prioritizing their well-being, progression, and development, we foster a culture of loyalty and engagement. This not only helps us retain our talented workforce but also leads to valuable referrals for new recruits.

Like many organizations, we have experienced a significant influx of individuals from overseas, particularly from Dubai. Recognizing the diverse skills and expertise available in global talent markets, we took proactive steps to tap into this pool of talent. We value the international nature of our team and the enriching cross-cultural dynamics it fosters. Our commitment to attracting top talent from across the globe has played a pivotal role in our success as an employer and enabled us to build a strong and capable workforce.

What efforts has Ax Group made to successfully model itself as a luxury brand in hospitality? What main values do you want to see associated with the Ax Group brand?

I strongly believe that Malta needs to prioritize quality over quantity. Our current stage of infrastructure cannot handle the increasing volume, making it essential for all stakeholders, especially the government, to recognize this reality. Without this understanding, we will struggle to cope with the demands we are placing on ourselves, jeopardizing our ability to sustain growth.

In our approach to new developments, we must be smart and strategic. It is crucial to ensure that these developments add value rather than detract from what we already have in place.  Furthermore, we have an opportunity to fill the gaps in niche markets that currently exist. By providing a strategic offering that caters to specific needs, we can create a more diverse and sustainable tourism landscape. This approach will not only attract visitors seeking quality experiences but also help us differentiate ourselves in the market.

We must also prioritize the preservation of Malta's unique characteristics that make it an appealing destination. By focusing on quality, we can enhance the overall visitor experience and ensure the long-term sustainability and growth of our tourism industry.

The company is also involved in sustainable development, including solar panels. What new demand is there for more sustainable travel and stay, and what kind of new green products is the company delivering? AX Group is also a founding member of the ESG Alliance. Can you give us an overview of your ESG initiatives?

We are committed to using our creativity to identify more sustainable solutions and to continue implementing them across all our divisions. Small changes can make a difference, and we will not hesitate to move in new directions when we see an opportunity to create positive change.

We continue to implement strategic ESG goals across all our business units by taking a proactive stance to cut emissions, decarbonize operations, and inspire eco-friendly and community focused change. Last year AX Group took a significant step forward in its ESG mission by becoming a founding member along with 12 other reputable business leaders to create the Malta ESG Alliance (MESGA). This private sector consortium is actively working together to tackle local environmental, social, and governance priorities to contribute to a more sustainable and less carbon-intensive Malta, with the first major aim to put forward a climate change initiative. MESGA is meeting with politicians, authorities, and policy makers to put an ESG agenda in motion and is always guided by three core pillars: educate and sensitize people on ESG concepts; implement measure and report initiatives; advocate for good policies.

Our investment into solar panel technology at Imselliet Solar Farm on the limits of Mgarr continues to pay dividends through clean energy and reduced carbon emissions. Along with our Imselliet Solar Farm, we have also successfully installed solar panels across the AX Business Centre in Mosta and Hilltop Gardens in Naxxar, which are generating over 590,000 kWhrs of clean energy per annum. Furthermore, we are also putting forward plans to invest in energy-efficient appliance technologies and utility alternatives that will help reduce the total energy consumption of our operations in the long term.

In addition to our large-scale projects, we believe that widespread little changes can leave a big impact. As such, we have implemented several waste reduction initiatives across many of our business units. In select hotels we have switched from using consumable miniature soaps to refillable dispensers to save on wastage. We have also reduced our plastic bottle consumption within our hotels by 90,000 bottles per year, which equates to savings of around 2,700kg of plastic and 11,000 Kgs of CO2. We are now looking to roll over similar changes and initiatives across all our business units and to continue educating our own people on the small changes they can implement on a day-to-day basis to strengthen the collective efforts of the group.

We recognize that the hospitality industry is prone to generate high levels of resource consumption. Within this sector, we continue to lead by example by minimizing our environmental impact through embedding a series of strategic initiatives with robust targets. Energy and water conservation remain high on our priority list. We are committed to monitoring and regulating our hotels' energy consumption through accurate building management systems while we work toward conserving electricity through energy efficient boilers, lighting systems, kitchen equipment, and other electrical utilities. Across all our hotels, we also continue to implement efficient processes that reduce water such as through installing low-flow faucets and showerheads.

Wherever possible, we encourage recycling for glass, paper, plastic, used oil, light bulbs, print toners, and organic waste. We also encourage guests to make use of our towel and linen reuse initiatives to cut down on unnecessary laundry which leads to wasted energy. The environmental benefit of our laundry reuse program alone has led to significant water and energy savings, as well as reduced chemical use. We have already shifted our attention and partnerships to cleaning products that are made with bio-based oils and other natural cleaners. This switch has dramatically reduced the use of chlorine-based products within our properties and further reduced our environmental footprint.

The catering industry is also responsible for a huge proportion of the world's food waste, a lot of which is easily avoidable. To this end, we source seasonally fresh local products and ingredients as standard procedure in all our food and beverage operations, which efficiently minimizes harmful food miles whilst providing diners with higher quality and healthier cuisine. We have always had the drive for sustainability in our ethos but it has become crucial in today's world. Travelers are looking for places that respect the environment.

According to the MTA, there were 127.5 million annual overseas overnight trips from North America before the pandemic. In November, Malta was awarded bronze at the U.S.'s Travvy award for destinations in the Mediterranean. What does the U.S. market represent for AX Group?

The American market is a very lucrative market in our opinion. In general, the North America/U.S. is a key market for our Valletta boutique properties and currently stands as one of the top five markets for Rosselli AX Privilege and one of the top 10 markets for AX The Saint John. Despite the lack in substantial volume, which is of course partially a result of limited flight connectivity, this market records a strong 'average consumption per guest per day' confirming that such market is key for quality tourism. General traits observed and usually associated with this market include, cultural, heritage and gastronomic tourism.

AX Hotels continues to work closely with several travel agents, DMCs and affiliates who have a strong presence in North America. Furthermore, specific promotional campaigns geared towards this market are sometimes promoted, helping the hotels gain further exposure within this sphere of travel. Such packages are never solely based on accommodation, but also include food and beverage elements (such as a tasting menu at UnderGrain, our Michelin Star restaurant) as well as cultural experiences within Valletta.

 

What is your final message to the readers of Newsweek?

Malta may be a small country, but we are a nation of ambitious individuals who have a great passion for growth. Whether you visit us for investment opportunities or to experience our vibrant culture, it will be our utmost pleasure to host you.