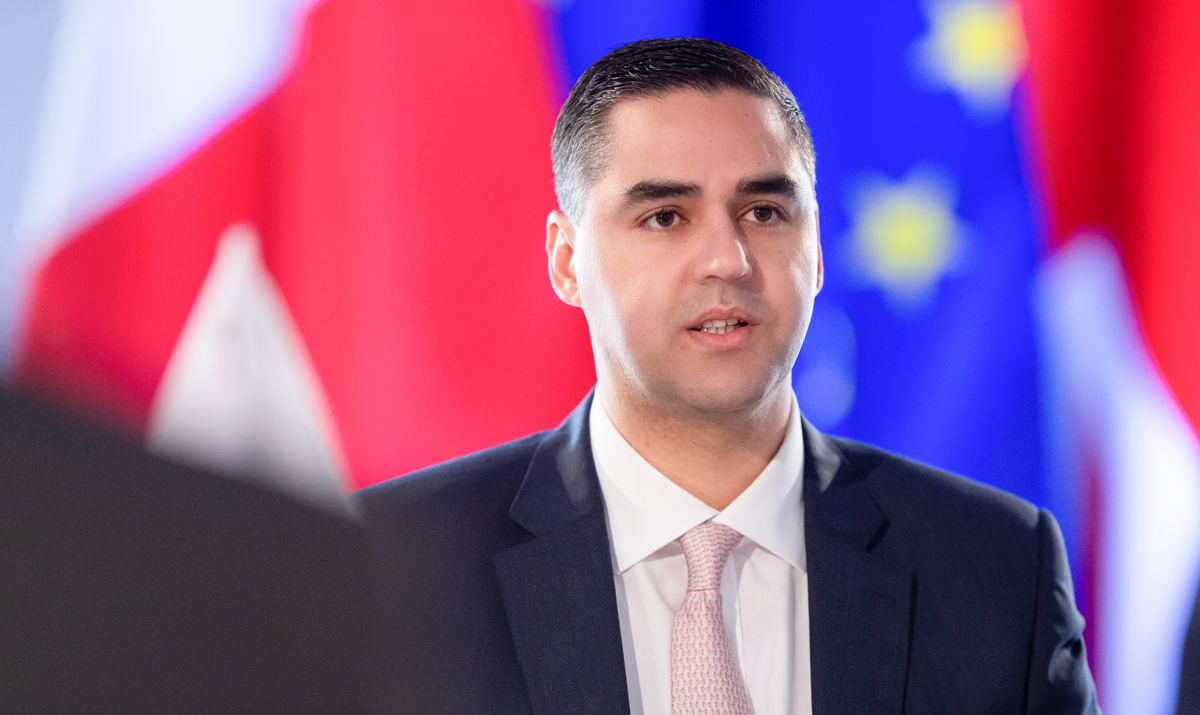 24 Jul

Interview with Ian Borg, Minister of Foreign and European Affairs and Trade of Malta

Although hit hard by the pandemic, Malta's gross domestic product rebounded by 5.9 percent in 2021, higher than its strong growth rates in 2019 before the crisis. The latest projections by the Central Bank of Malta estimate year-on-year economic growth of 6.8 percent in 2022. Now, Malta is among only four EU countries with projected growth rates of above 1 percent in 2023. To begin the interview, could you tell us about Malta's recovery following the pandemic? What sectors were hit the hardest and what measures were taken by the local government to mitigate challenges?

We are an island state, and that makes a lot of difference, especially regarding the sectors which were badly hit. I will come to that later. I think that we managed to do a pretty good job because we took immediate decisions, in both directions, to absorb the shock as a government rather than leave it on the businesses, on the SMEs and on the families. The government was immediately making sure there were good health services to fight the pandemic. Then, economically, the Government was giving wage supplements to keep the workforce going. Furthermore, vouchers were given to families to stimulate the economy once it was reopened. We knew, like everyone else, that the pandemic would not last forever, and therefore having a resilient economy, a resilient work force and a trained work force that readily available as soon as the pandemic was over was crucial.

The government started to assist, and this was taken to another level when the war in Ukraine broke out, especially with the issue of energy. Immediately, the government started to assist businesses and families by absorbing the negative impact of the energy prices. We're still doing this up to this present date. Another area where we had to assist was logistics, with supply chains which were not always smooth, to say the least. Prices were exorbitant, even more so for an island state where you cannot just transport goods in and out of the country via mainland transportation, but you need either sea or air connectivity. Airlines were badly hit and are still not back yet to their levels of connectivity, but they are almost there. Tourism rebounded very well last year, and numbers look promising this year, which is helping the immediate growth of the economy. Tourism makes 25 percent of our economy, so it's an important piece of the puzzle; yet airlines and connectivity remain an issue. Therefore, we need to keep supporting the developments of our airlines, their routes, and, not least, the national carrier.

Trade is extremely important for Malta given its position in the Mediterranean and its proximity to North Africa. The EU is its main trading partner, accounting for 53.3 percent of Malta's imports and 39.3 percent of exports in 2020.  What factors make Malta an ideal place for logistics and trade? What kind of key trade partners does it currently have, and which partners is it looking at for the future?

First, Malta is strategically located between two important continents. The largest consumer population, which is the European Union block, and other partners in the continent like the United Kingdom, and Africa, which in my opinion, is the land of opportunities. We speak a lot about the challenges of Africa, but I believe Africa is the land of opportunities because they have immense resources, including human resources. It gives opportunities for new sources of energy, not least the renewables coming from solar and wind. They have immense tracts of land; therefore, the location of Malta between Africa and Europe is strategic.

We also have an important transhipment hub. The Malta Free Port is one of the largest container ports in Europe and in the Mediterranean, with connectivity within the region but also transatlantic operations. It's an important place for transhipments from Asia to America. Due to our size, we have an administration which is very close to the public and industries. Our political stability, with a one-party government, enables us to make decisions swiftly, which is becoming a rarity in Europe. This is very valuable for those wanting to invest or work with the Maltese authorities. Another advantage is that we are an English-speaking country, and, as an EU member, we are part of a market of 500 million citizens without any restrictions for the movements of goods, services or humans. That is why we not only look inward, but we look outward in terms of trying to punch above our weight when it comes to trade.

Malta recently stepped up for a two-year term on the UN Security Council, the first time in 39 years that the small Mediterranean nation is back in the chamber as an elected member. What does overseeing the security council mean for Malta? How does the position help reflect Malta's importance as a key player on the worldwide stage?

We took the presidency of the council in February 2023, and we will do so again in April 2024. The system works in a way where you have 15 members, and every member rotates in the presidency every month. Since we were elected in June last year, we stepped up our preparations when it comes to the calendar of events, the teams and the priorities. We planned our priorities to be around children in armed conflicts, women, peace and security, literacy, as well as climate change and how it is or will change the security and peace perspective in the world. The latter is a topic we are working on as members of the Security Council, but also in the various roles we have in the commissions and the committees and the other work that is derived from the Security Council.

February happened to mark the first anniversary since the war in Ukraine and, therefore, we organized a debate in the Security Council precisely on the 24th of February, marking the first year since the Russian Federation invaded Ukraine. I was pleased to see most of the countries represented at the foreign ministers' level. That shows the importance given to this debate, coupled with other activities that were ongoing in New York, for example the emergency session of the United Nations General Assembly and other working dinners and events that we organized. The message was loud and clear. After the pandemic this was the last thing the economy needed. The strong voice of the international community was that the Russian Federation should stop this war in Ukraine. They should retract their troops, retract their people, their ammunition, from the sovereign territory of Ukraine. Then, if they have claims to make, or they would like to make a point, this should be done through the normal channels and diplomatic tools, but not by trying to impose the rhetoric that "might is right." Therefore, while we were set to have the 14th of February event on how climate change and the sea level rise is affecting peace and security as the signature event, the Ukraine events naturally took over.

In terms of the war in Ukraine, what specific challenges has this conflict created for Malta? What measures are you taking to overcome these new hurdles?

We are part of the European Union, so we are part of the sanction decisions. We are implementing those sanctions, and they do affect the respective economies. When you are sanctioning not only individuals but also economic activity, it means that your economy and your economic players have to adapt themselves to those new circumstances. That is one direct way how Malta, like the rest of the European Union, is being affected.

The second one is energy. It is a main area where some of our European friends were relying on energy coming from Russia, and that disrupted the whole market. It also meant that we had to be agile in finding new sources. Malta was not buying any energy from Russia directly, but since we are buying energy from Italy, from the main European grid, we were affected indirectly. Most of the energy we use is locally generated and is gas driven, bought from SOCAR, so it's not complete exposure. However, the amount we buy from the interconnector via Italy was reflecting the European energy prices, and therefore the government decided to step in and make up for those energy prices. That meant we had to readjust our budgets to assist on the energy issue and reduce the capital injection on other areas.

We are a neutral country, meaning that we do not have any military. Therefore, we do not supply weapons. Further, we did not supply money to buy ammunition but we're still part of the European peace facility which is giving money for the Ukrainian cause. Our money is going to non-lethal assistance, and that is also another indirect way this war is affecting us. Despite all this, besides the economic aspect and the financials of it, I think ultimately we must remember that we are human beings and that morally we felt that neutrality should not stop us from condemning the aggressor and supporting the victim because in this war, it's crystal clear here that there is one aggressor and one victim.

 

You also mentioned sustainability as one of the big present challenges: the threat of rising sea levels, rising temperatures and the threat to vulnerable countries such as Malta. One billion people will be at risk of rising sea levels by 2060. Could you detail what the Malta 2030 National Energy and Climate Plan entails? What steps is the country taking to lower its carbon intensity?

We are the smallest member of the European Union, and that poses quite a number of challenges to meet the targets, be it by 2030, or the other targets set for 2050. We are not shying away from these challenges, and we have our own plan and strategy on how to achieve those numbers. We are also looking at important projects that can give us the numbers, and that is why we also issued an international call for an exclusive economic zone in our maritime borders which invited international players to propose sustainable energy projects. This can be a game changer. Several projects are being carried out by the private sector and we are also assisting them to make sure they deliver, both from a financial and an administrative point of view. All these small projects are contributing to the renewable energy numbers that are required. Being members of the European Union, we are also part of the Fit for 55 Package.

Overall, these are the right steps to meet the challenges that climate change is bringing, linked to the acceleration in the change in temperatures. Entire island states and coastal areas are at risk. For some, even their very own existence is threatened, and if targets are not met, entire communities and populations will be displaced. This will undoubtedly create a security threat, to say the least, as well as more migration, most of it illegal migration, which another challenge for most of our countries. That is why we wanted to bring the subject up on the Security Council's agenda for the first time, to look into it and discuss it, not only from the environmental disaster effect it can have but also from a security point of view. In this open debate we had a very healthy discussion, with only a few countries not constructive on the subject. We are now optimistic that, because it was brought to the forefront of the Security Council agenda, other presidencies will continue to take stock every now and then of what the international community, what the governments, what the authorities are doing to avoid these disastrous predictions.

Maltese and American relations are at an all-time high. Malta imports fuel, industrial parts, and foods from the U.S., while exports to the U.S. include medicines and MedTech, integrated circuits and semiconductors and tech parts. Additionally, the U.S. has a strong footprint in the country. According to the U.S. International Trade Administration, one out of 30 jobs in Malta is linked to a U.S. business. How significant is the U.S. in terms of a business and trade partner for Malta?

I think it is a reality that big countries, with the United States being the largest economy, do have figures that are higher than smaller countries like Malta. Several things that we import, since we import them from EU markets, do not reflect their origin, so we may have bigger numbers coming from the U.S. but, since the last import comes from the EU, it does not reflect in the US-Malta data.

Our size does not cause us to shy away from reaching out to the biggest economy. I think that our investments, trade products, and services with the U.S. are on the increase. I would like to highlight the excellent political relations that we're having, now more than ever, with the United States. Malta had some challenging times. We did the necessary reforms in order to have political stability restored, reforms in the rule of law, and reforms in the various ways of how our authorities function. This gave us the credibility to sell our jurisdiction as one of quality, based on the rule of law, on a very transparent and open market. I think this also helped us in improving the political relations with the U.S.

Having a seat on the Security Council and playing a part in many multilateral forums has enabled us to work closer to the U.S. administration as well as with other countries that are also sitting on the Security Council. It gave us an opportunity to work together, and I think we already achieved a lot, especially during our presidency month of February, on the various conflicts. Whether it is the Ukrainian debate, the Middle East peace process, issues like the DPRK and the concerns arising out of it, we are seeing an unprecedented high level of engagement between our two countries. We are also working together on many other issues in the neighborhood, such as regarding the political instability of Libya and other questions in the north of Africa.

What does Malta represent in terms of opportunities for FDI? What key areas is the country now focusing on that may be of interest to U.S. investors?

I think we should always aim to enhance our services, industry, and touristic product. I believe now is the right time to improve on the quality of our service industry, IT infrastructure, IT investments and tourism. It's not only about numbers, but also about the quality of the tourism we attract. Foreign direct investment, accommodation and other types of infrastructure for tourism are more than welcome. Sustainable development is another area where we seek investment; and by that I mean renewable energy projects and services related to renewable energy, such as the electrification of our public transport, electrification of our private car fleet, all the way to the offshore project in our exclusive economic zone. The health and education sectors are also thriving. We have an excellent health sector, and when it comes to education, Malta is a place where people love to visit and study. Those are other areas which I would not dismiss. Connectivity in terms of the maritime and aviation industries is also very important in our economy.

You have been instrumental in balancing Malta's economy and securing heightened relationships with foreign markets across your different roles and involvement with the government. Could you summarize for us what your vision is for Malta's economy? What are your main personal priorities as current Minister of Foreign and European Trade and Affairs?

The Labour Party has been in government for 10 years, and we can identify three phases during these ten years. The first phase was about giving the economy a new impetus. We started by making sure women participated much more in society, in the economy, by creating more job opportunities, making work pay, and therefore having a smaller unemployment rate and fewer people relying on social benefits. We also created economic opportunities for local and foreign investments. In the second legislature we focused on improving our infrastructure. Our economy was doing very good, notwithstanding the infrastructure, so in the second legislature we stepped up the game in infrastructure to reflect the successful economic performance. In this third legislature, we want to make our economy and our country a more sustainable one; that is also the vision for the future. We cannot keep increasing the numbers with the same pace because it will not be sustainable. We are a small island, and it is among the most densely populated in the world. It's now about striking the right balance between a growing economy and a sustainable one: sustainable when it comes to the environment, our seas, our public areas and being less dependent on carbon emissions, making full use of the approximately 300 days of sun and some strong winds that we have. I would say that this is the phase that we are in currently.

What would be your final message to the global audience of Newsweek?

The best way to learn more about Malta is to visit, meet locals, and experience the country, because even though it's a very tiny country, it's a real economy. It's an economy that works, an economy that is providing quality of life to the locals, quality of life to the tens of thousands of people who choose to study or work or live in Malta, or even retire here. It also offers a good return on investment to those who believed and already invested in Malta. Therefore, spending some time to visit our island is the best way to confirm what my colleagues and I say. Also, I can't forget to mention this: Malta is full of history. It was strategically occupied by rulers through the centuries and all the rulers, nations, and cultures that ruled Malta left their impact and imprint, be it on the cuisine, on the language, buildings and fortifications, on the arts. It's a place where you don't have to travel far to find the next beautiful spot or the next historic site.