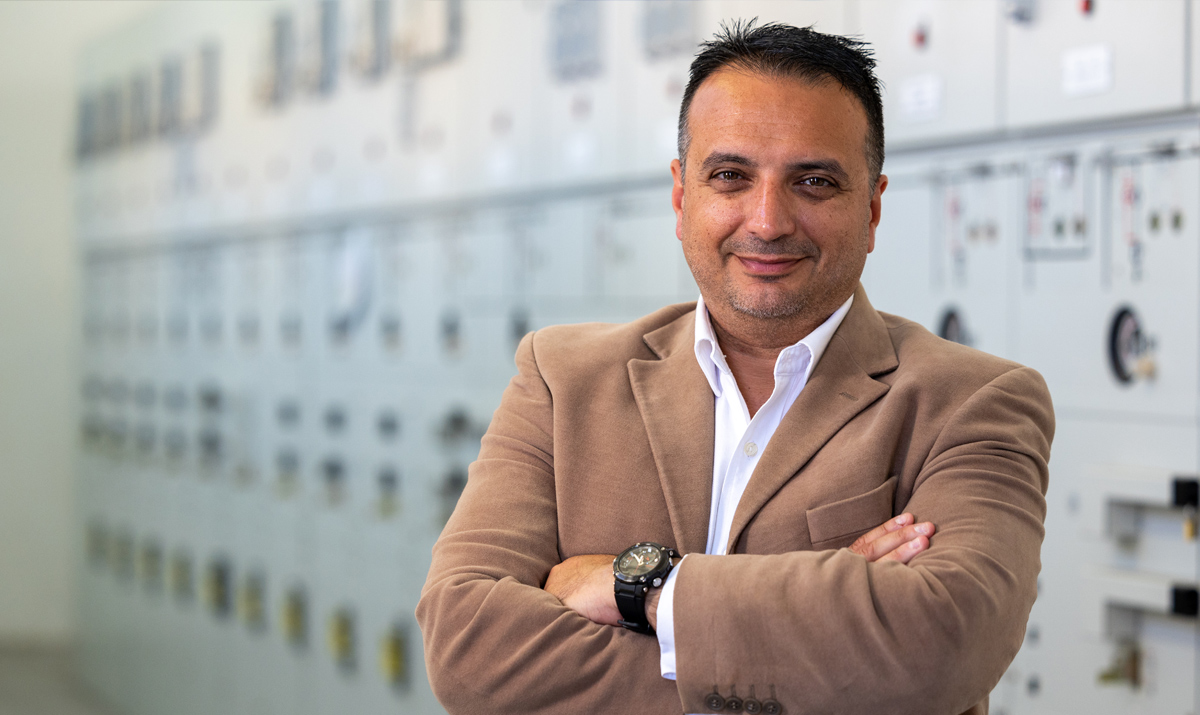 24 Jul

Interview with Jonathan Cardona, CEO, Enemalta

Since 1977, Enemalta has been the sole energy services provider in Malta and a key economic enabler for the country, entrusted with the growth and development of the national electricity distribution network. Why don't you start this interview by telling us a bit about the challenges that come with maintaining and upgrading Malta's electricity network and the role and contribution of a company like Enemalta in that regard?

We are the sole distribution systems operator (DSO) on the island, serving around 320,000 clients. Our main role is to ensure sustainable and reliable electricity distribution across the Maltese islands. Our challenges are very similar to those faced by other DSOs in mainland Europe. The main challenge right now is electrification and the energy transition to reach the net-zero targets of the European Union. This is resulting in an ever-increasing demand for electricity on our grid. Our technical planning team is continuously identifying bottlenecks and implementing solutions to ensure that our system is upgraded. Another challenge that we are facing is human resources and finding skilled personnel.

The production of electricity in Malta is reliant for a large part on natural gas. In 2021, natural gas contributed 78.9 percent of the total electricity generated, while 12.2 percent was generated from oil and petroleum products. How is Enemalta working alongside the Maltese government to optimize these energy sources in the mix, and what role do you see natural gas playing as a 'transition energy'?

Seventy percent of the electricity used in Malta is produced by local power plants, 20 percent comes from an interconnector that we have with Sicily, and 10 percent comes from renewables. Currently the government is planning on having a second interconnector in place in the coming years. This should make it possible for us to be less reliant on one interconnector. So it will be a redundancy in and of itself. We are also reinforcing our grid. We are trying to enable, in the medium term, more renewable energies. The introduction of renewable energy introduces new challenges to the grid which would require reinforcement to be able to balance the new sources. So, what we're doing is we're working in tandem with the government to ensure that we are enabling such projects.

Minister for Environment, Energy, and Enterprise, Miriam Dalli, recently unveiled Malta's goals to generate a minimum of 50 MW from offshore wind farms or 65 MW from offshore solar plants by 2030. The minister also mentioned that Malta's energy policy will center around renewable energy. Considering Enemalta's recognized and demonstrated commitment to green energy, how is the company facilitating the national and global shift to green energy? What are some of the recent measures or initiatives that you've taken in that regard?

Our core function at Enemalta is maintaining and upgrading the grid. Whatever we do fits into this narrative. So, when we are strengthening the grid, we are enabling more renewable energy. We are allowing for more solar farms when we are upgrading our network and introducing new sub stations and new distribution centers, with the potential growth and enablement of more renewable energy into the system in mind.

What are the prospects and challenges associated with offshore renewable energy sources like wind and solar and how is Enemalta involved in harnessing these?

The major challenge with renewable is the lack of stability in the generation of energy. Solar farms are dependent on sun availability, while wind energy is very much dependent on wind. We cannot rely solely on these resources unless there is a sufficient back up and battery storage. We're working in conjunction with Interconnect Malta, which is another government agency who will oversee large-scale battery storage. We're working together with them because at the end of the day they need to be plugged into our system. So, we are working together from a technical aspect.

The last three years have not been short of challenges. The ongoing Ukraine war has had dire repercussions on global energy and fuel prices. In response, the Maltese government allocated around $340 million to subsidize energy and food prices in 2022, completely cushioning the impact of the energy crisis on Maltese families and businesses. What has been the performance of Enemalta within this difficult context? What can you tell us about the challenges associated with energy subsidy program?

Energy prices started to increase before the Ukraine war: there had been a gradual increase in energy prices when the Covid pandemic started to dim. Demand was increasing globally, and the supply was not meeting the demand. Then the Ukraine war amplified it significantly. The government pledged that it wanted Malta to maintain energy price stability, as has been the case since 2014. The government is compensating us, to make up for the shortfall between what we pay to buy energy and the lower price at which it then sells it to consumers. On our side, our trading desk, the unit which is responsible for purchasing of liquid natural gas and energy through the interconnector, is working through a hedging mechanism to ensure that we minimize the impact as much as possible. From our end, we try to be more efficient and more productive. Our main focus is being very attentive on the markets and making the best of the window of opportunities that come along so that we can save the government a significant amount of money. We're quite happy with what we have achieved so far.

Enemalta has been actively engaged in energy interconnections with neighboring countries, including its pioneering Italy interconnection, which effectively ended the Maltese Islands' isolation from the European energy network in 2015. How have these interconnections improved energy security and contributed to the diversification of Malta's energy mix?

Interconnections are key, as they ensure another energy supply. If anything happens to one of the power plants locally, you know you can load more on the interconnectors. It's not just a source but also redundancy for any of the other plants. It helps because we are buying from the Sicilian energy mix.

Digitalization and technological innovation have leaped forward considerably with Covid. This is also true with the energy sector constantly evolving. Enemalta has embraced these changes through digitized energy measures. Can you tell us what have been some of the biggest innovations and most groundbreaking technologies or solutions that Enemalta has introduced lately? What have these brought to the country and consumers? 

We are doing some innovative pilot projects to manage energy dispatch so that we will be more cost-efficient in analyzing the demand side and adopting the methods we are using to distribute energy. For example, we're looking at vehicle to grid, that is vehicles which are fully charged, and if the customer wants to sell energy to the grid, a project that is still in its early days. We are also looking at the possibility of having more batteries on small rooftops PV systems, and we're looking at intelligence systems which are closer to the consumer.

Energy storage is increasingly vital for grid stability and maximizing renewable energy use, particularly in Malta. With a significant future increase in electric vehicles and renewable energy on the Maltese Islands, battery power is increasingly important. What is your outlook for battery and storage capabilities, and what steps has Enemalta taken toward promoting energy storage technologies and integrating them into the energy infrastructure of Malta?

We are doing this together with other government agencies. We are studying, making cost benefit analysis on introducing battery storage, and looking at what government grants might be required to make them cost effective. Batteries are still on the expensive side, but like everything else, it's only a matter of time before they become more economically feasible. We are doing the necessary technical studies and cost-benefit analysis to make our proposals to the government for a proper way forward. We believe in battery storage. Given the ever-increasing amount and reliance on renewable energy systems, batteries are a key element because they will help in stabilizing and evening out energy distribution in the network during the peak period. The challenge is during the peak period when everyone is returning home in the evening and switching on basically everything, like air conditioners or cooking appliances, heating and what have you. That is when there is a significant ramp up in a short period of time of energy uses. Batteries will help a lot with that. There is potential for batteries bringing down these peaks, which in turn will make it more economically feasible to distribute energy because you don't need all the reinforcements you would need without batteries.

As Malta's primary source of energy, the institutional role of Enemalta is clear and the societal impact of your work is key, particularly also in your initiatives to empower and train the next generation of technicians and energy innovators. How would you describe Enemalta's institutional role in empowering and promoting Malta as a hub for innovation and green transformation?

We are working closely with educational institutions to try and make the courses more constructive and bring more students on board. Through a Memorandum of Understanding with the University of Malta, we support students and researchers in conducting studies on our network and infrastructure. There will be more dependence and reliance on the energy sector, and you will need more talented people. In fact, this year we have seen a record number of people joining the company. So, we have a higher number of students working with the company.

With regards to corporate social responsibility, we're trying to become a cleaner company. We are installing photovoltaic systems on our own building where that permits, for example. We're trying to adopt the best practices in our operations.

What is your final message to the readers of Newsweek?

This decade will be the energy decade because we are seeing a complete transformation, from the systems used in the past to a future system. The whole energy distribution is changing nearly upside-down bit by bit. It's a very interesting space to watch because it will make a big impact on everyone's daily life.