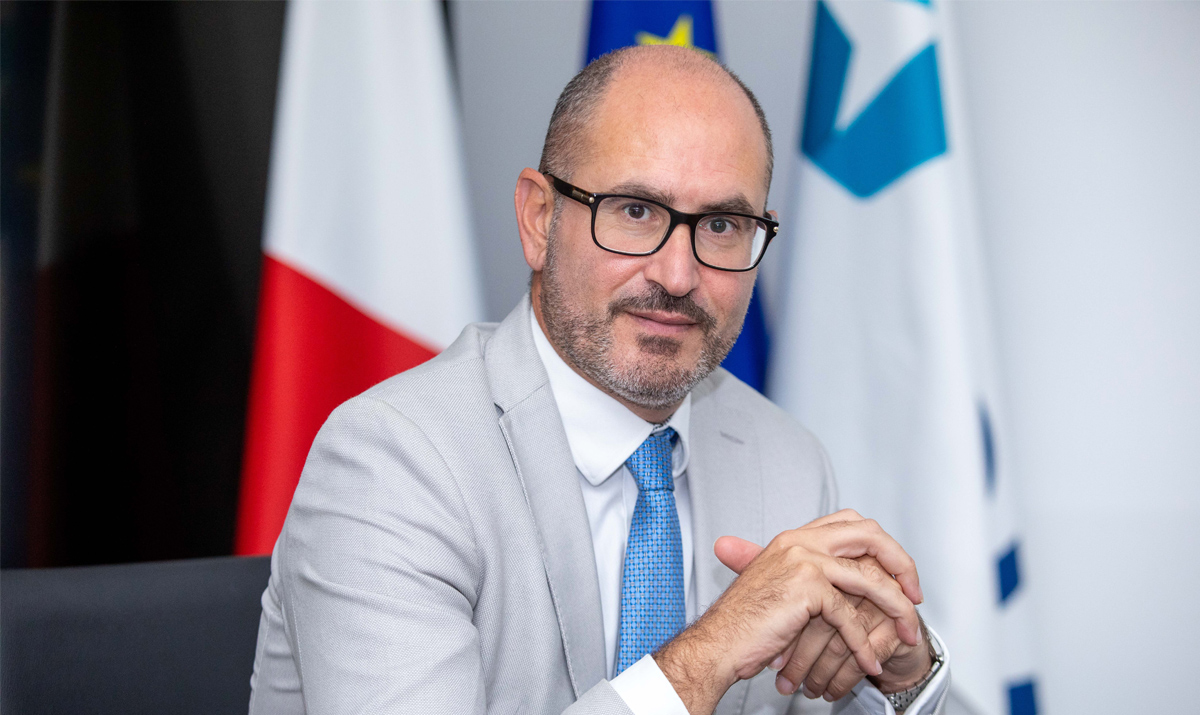 24 Jul

Interview with Kenneth Brincat, CEO of Malta Digital Innovation Authority

Malta has sped forward in the last half decade on the digital innovation front, beginning with the launch of three bills in 2018 to set up the framework for new digital sectors, including the launch of the Malta Digital Innovation Authority (MDIA). Since then, the country has actively promoted and funded its tech sectors, with the goal of becoming a digital hub for Europe and the world. Tell us about the growth of Malta's digital tech sector. How has it gained in prominence in the last decade, and what is needed for the sector to reach its goals as a world-wide digital hub?

In 2018, we set up the legislative framework which put us at the forefront of digital innovation, not just in Europe but in the world, as we had the first regulatory framework for cryptocurrencies at that time. We also had an authority, MDIA, which was very difficult to find in other countries at the time; we were the first one, even though other countries have produced similar authorities since. The MDIA both regulates technology and promotes innovation, which is not a common aspect. It's a bit complex because regulation and innovation normally don't go together. If you have a rigid regulation, you could stifle innovation. That was the biggest challenge we found as an authority: having to both regulate but also promote innovation.

Yet we found the right balance. There were of course lessons learned in the first five years; for example, that in order to attract business we should first let innovation and technology grow, rather than regulate upfront in a rigid way. Sometimes we think that in order to attract business in a particular niche, you first create a regulatory framework, and the country goes out saying we will be accepting that niche of technology. But it is not the right way to do it: the right way is to first give incentives, let it grow, and then regulate. The same thing with gaming. Malta was successful in that too because it incentivized companies to come to Malta and then started to regulate when regulation was needed. That was a success story.

Regarding other innovative technologies, Malta created the Virtual Financial Asset Framework which has now been introduced by the European Union, five years after its launch in Malta. Malta was the first European country which introduced such a framework. We had an industry already developed, unlike many other countries which are developing such industries only now that the European Union has enacted such laws. During these last five years in Malta, we had the time to grow this industry, to learn, and to enact change its practices, which gave us a clear competitive advantage. At the regulatory authority level, we had the time also to learn and to understand what was needed and to adapt ourselves to what is required. I think that was a very good move by our country to have had such a legislative framework in place five years ago. Technology is dynamic and you must be agile to change. That is something which, as a country, we should always keep in mind.

In the coming weeks, we will be changing our legislative framework to have a more flexible and dynamic one because, at the moment, our framework regulates the IT contracts, and it mentions particular technologies. The new framework will be more open. AI is making a lot of headlines these days, although this isn't an emerging technology. It has been there since the 1950s, but the metaverse is something new. Tomorrow there might be another technology, and so with this new framework we don't have to go and change our laws again, but we will have a flexible and dynamic legislative framework ready, as we need to be agile to regulate such technologies when they come into place. I think it is a proactive approach that Malta is taking. It is a forward-looking approach, which is very important in the technology sector.

For our readers, can you summarize the reason why the country has been so successful when to comes to cryptocurrencies?

Cryptocurrencies involve both a financial component and a technological component. Financial services are regulated by the Financial Services Authority in Malta, whereas technology is regulated by the MDIA. We work hand in hand with each other. Malta being small offers this kind of flexibility and cooperation between authorities. This system works quite well. For example, if you want to open a company you go to a particular authority; if you want to a license, you have to go to a certain authority; if you want to have employees, you have to go to another authority, it's a long process. We, being small, have good collaboration, not just in MDIA but in the whole ecosystem we have in Malta. We work hand-in-hand to attract foreign direct investment in our country and make it easier than other countries.

When it comes to AI, we were not the first. However I believe it is not important to be the first, but it is important to be the best because it makes a big difference. In AI, we were among the first to launch a strategy in 2019, with a 10-year vision until 2030 and an implementation program of three years. So the overall vision is for 10 years, but we divided that into three implementation plans of three years each. The first one will be completed by the end of 2023, and the MDIA is overseeing the implementation plan of our AI strategy. We are at around 72 percent of the overall implementation of such plan, and we should conclude about 80-82 percent of the plan. This year as well, we will be finalizing the drafting of the next implementation plan for the next three-year period which is very interesting considering AI is growing so fast.

The European Union is thinking about having a legislative framework regulating AI. We will be taking the same approach. We are involved in discussions at EU level, like any other EU member state. Our intention in regard to AI is different from the VFA whereby we started and then the European Union enacted subsequently. Here we decided to go hand in hand with the EU and implement a plan when it is approved and implemented by the EU. However, we have already a regulatory framework and a safe test environment from the aspect of technology. In 2021 we launched a technology assurance sandbox. The EU in its AI act ruled that each country needs to have such a sandbox for AI. In Malta, we already have a sandbox with six residents in it. If you have an AI solution, you can test it to see if it is reaching the milestones. If not, you have the time and system to adapt and get in line for a particular milestone, so you know that your solution is according to international standards.

You have launched a $165,000 funding program for smart city innovation to city councils. It is also working with the EU to develop stronger protection of citizens and promote transparency.

It was a pilot project with a small budget, but the intention is to see how it goes, this first pilot project. If it is a success, we will continue to invest in our communities. The idea was to give our local communities the funds because local communities are creative; but they lack expertise and funding. So, we launched this scheme as a competition or a contest where they came with ideas, and the best three ideas were given the funding to implement them. They are in the implementation stage at the moment, and we will see how it goes. Two of them were about traffic management and environmental challenges, including noise, sound and air pollution. The third was about the collection of waste. AI and automation are there to help. There were many other very creative ideas.

MDIA is celebrating its fifth anniversary this year, which is a big milestone. How would you summarize the biggest achievements of your organization in this time frame?

I think the biggest achievement was our establishment and reputation that we managed to obtain, not just locally, but internationally. Having a new authority coming up from scratch to establish itself is no easy task. Today we have delegations from all over the world coming to visit us. Many countries don't have such a similar authority, so they want to share and learn more from us. We have attracted that level of attention. In regard to our operations, the sandbox was a great achievement.

SMEs and start-ups are an integral focus in Malta's current growth strategy, accounting for around 56 percent of total value added to Malta's GDP. How would you assess the current environment for SMEs and start-ups in Malta? What kind of systems are currently in place to help these entities reach their potential? What more needs to be done?

Malta has a very good funding ecosystem now for SMEs. We have different authorities, including Malta Enterprise, which helps SMEs to start up, scale up and grow. There are other types of incentives by different authorities which help start-ups and SMEs.

In March 2023, MDIA kicked off the Digital Innovation Hub. It's part of European network with the European Union having at least one in each country. France, for example, must have around six or seven, likewise in Germany and other big countries. In Malta, there is only one due to our size and it is managed by the MDIA. Our hub is named DiHubMT (Di for Digital Innovation), and the idea is to have the physical space for startups to use as an accelerator because they need a good space to work and to test their ideas. We will have the equipment in place and they can use it. One of the important pieces we will have in place is a high-performance computer, which is very important in AI because it can crunch data in a very fast way for research purposes. We do have one in Malta at the university, but it's very old. MDIA will have one in the Hub for the exclusive use of start-ups and SMEs, for academia and public institutions, and access to funding. The DiHubMT will also have entrepreneurship programs to help start-ups financially and provide a pool of expertise, not just in technology. We will have a pool of expertise in every area to assist the SMEs and the start-ups.

Malta's tech sector is growing rapidly, which is causing a wide gap in available talent in areas such as compliance, cybersecurity, AI, blockchain and big data. Malta has done well to prepare itself, with universities opening related courses in specific programs, such as the DLT and blockchain program launched at the University of Malta. What new skills are the most in demand from the tech sector in Malta, and what is MDIA doing to ensure these gaps in skills are being met?

Given our size, finding people is quite a challenge. We are few. Yet there is an upscaling program by Tech.mt which is another entity working to upscale and reskill our workers. Technology is dynamic, and so you need to reskill your workers. The MDIA also has a scholarship for AI students, for whoever wants to take up master's or PhD in AI or innovative technologies. It's quite popular. We have quite a good number of students from universities; and not just Maltese universities but even some other countries. That's one of our schemes.

Lately we started thinking about how to introduce technology to our kids from the grassroots. We have launched a summer school recently, together with MCAST, about innovative technologies. It's a fun program that will be about practice more than theory, and discussions, which is very important for kids around 13-15. With the University of Malta, we have launched a boot camp for younger kids. These kids will go to university at the age of 10 to know more about what is fake and what is real and to know more about machine learning, for example. So we started thinking about the grass roots. We have also launched a comic in English and in Maltese. Currently doing our first episode, we have the idea of having a new episode every 6 months. The first topic is about cybersecurity, which is an important aspect of technology.

According to the U.S. International Trade Administration, one out of 30 jobs in Malta is linked to a U.S. business. How would you rate the importance of the U.S. presence in Malta's technologies sectors, and what role do foreign investors currently play in building up the sector?

 

The U.S. is important for Malta. Given our size, any interest from the U.S. would be welcome. Our industry has a good percentage of involvement from the U.S. and so it is important for us.

You stepped up as CEO of MDIA in 2021 after holding a position as COO of the Malta Business Registry. What vision do you have for both MDIA and Malta's digital sectors in the long-term?

 

The regulation aspect is important: not just the regulatory aspect but also the awareness of having a safe environment including in terms of cybersecurity. Sometimes we don't think about safeguarding ourselves until it happens to us. Cybersecurity is fundamental and it is an area which always needs improvement, not just in Malta but everywhere. It's characteristic of the human being: unless it hits you, you don't care, but once it hits you, you start to care. It should be the other way. Cybersecurity is a reality. I think that Malta should and is already trying to instill this mindset into our businesses to safeguard themselves. That is something that I would like to see, in particular as co-chair of the National Committee of Cybersecurity. This is something we are working on and something I would like to see in our country: a culture whereby our industry takes all measures to safeguard itself. Cyber-attacks have even been used in the Ukraine war. In a few years' time, there may be a cyber war, so we need a culture whereby everyone safeguards his interests and the public interests as well.

What is your final message to the readers of Newsweek?

Malta is not only a nice country but a very business friendly country. It looks into innovation, especially in technology. We invite any business ideas to grow in our country. Come over and we will assist.