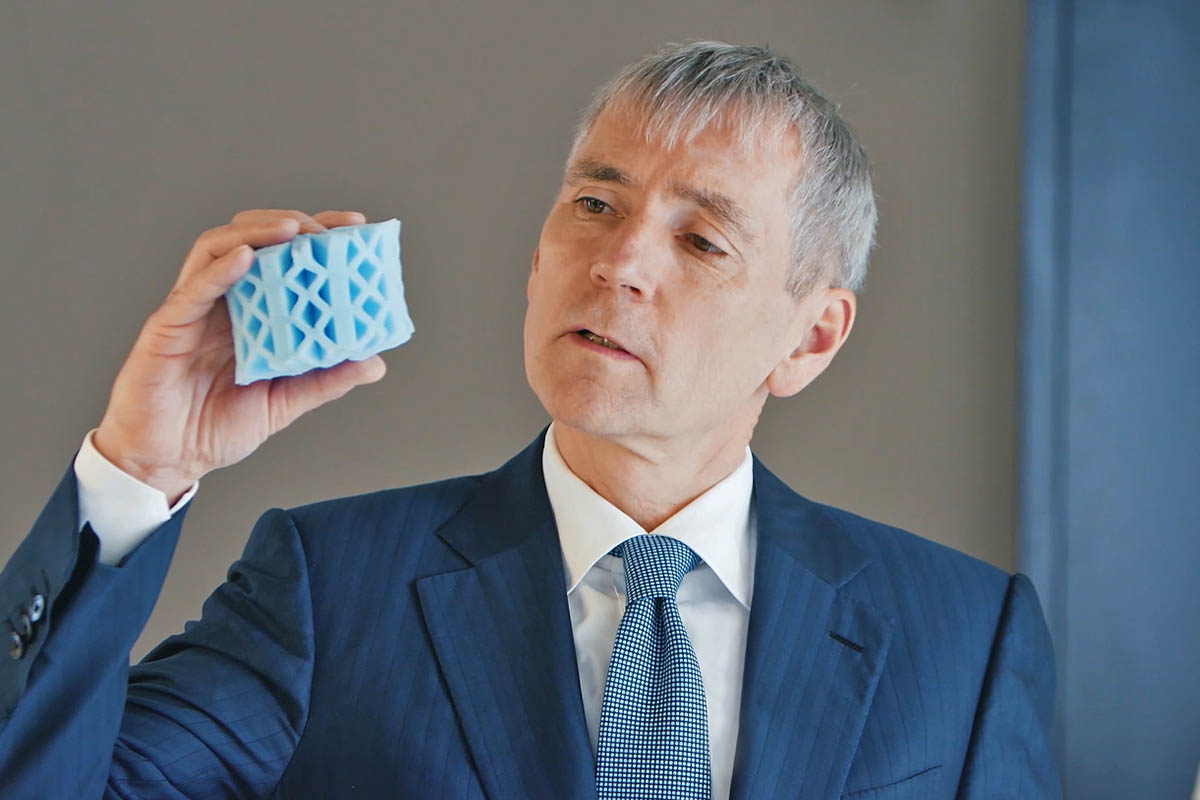 17 Nov

Modern business favors those outside the box
Sandi Češko, CEO, Vanema, outlines the importance of embracing new business tools such as information technology and sustainable practices and his recipe for entrepreneurial success.
You established Studio Moderna before moving on to your current position as CEO of Vanema. Can you give us a history of your pathway to success?
We established one of the first computer companies in Slovenia in the late 1980s. When an opportunity for a new health-related, back-pain relief device arose, we did not completely trust the product. My friends with back pains tested it and found it significantly reduced their back problems; we received positive feedback from all users. We then launched Studio Moderna, which was the name of the service company my father established in the late 1960s in Yugoslavia. This business grew much faster than our computer business. I joined Studio Moderna, and we became a direct marketing company and distributor for American companies. We grew very fast in Eastern Europe. In 2002, we decided to launch our own brands and products. We started with Dormeo, which is now a global brand. It was the first bed-in-a-box mattress on the market, about 12 years before Casper who launched the same concept in the U.S. When Casper started in the U.S., we already had about €150 million in revenue just in Eastern Europe.
We bootstrapped the company from zero to $500 million in revenue. What is unique is that we never raised capital; it was all organic growth. I invested first in talent. We brought talented people to the company even though we did not have specific jobs for them. With such huge growth, people found the right opportunities and challenges they were looking for. We also invested in information technology. It is a small company, but we had a seat at Microsoft's customer advisory board because of the unique architecture we were using to make our own application for customer relationship management based on Microsoft's technology.
How did this evolve into your current Vanema business?
When I sold Studio Moderna to private equity funds, I invested in some new technologies, Octaspring being one of them. The bedding business, with headquarters in the U.K., is now in our new company called Studio Moderna Brands. It sells mattresses, toppers and pillows from America to markets across Europe, Japan and Australia. The same technologies are also used in the business-to-business vertical located at Vanema's headquarters in Slovenia. Vanema is a Slovenian start-up company working on implementing the Octaspring technology. Octaspring is a Belgium technology invented by Willy Poppe, a genius entrepreneur who made a spring from foam. The advantage of this concept is that it uses half the foam in the same volume of product; if you have a mattress, sofa cushion or car seat, we can take 50 percent of the material out. We have done a lot of tests in laboratories and with leading automotive and furniture companies. We are at least 50 percent more eco-friendly and 100 percent more comfortable.
Our Octaspring technology enables us to reduce materials in any foam-made product. The product is much lighter, and when it is used in transport sectors, such as aviation, automotive, vessels and trains, we reduce weight and therefore energy consumption. We can dramatically reduce carbon dioxide footprints while increasing comfort. The most important application is in the sleep business, but we are also present in upholstery and aviation. We have very ambitious plans, although they have been put on hold a bit due to the current state of the aviation sector. That said, we are getting a lot of inbound calls from original equipment manufacturers and first-tier suppliers in the automotive industry. They remember our technology and advantages. The pressure is growing. We are lucky that companies can no longer get away with greenwashing. We will move into any industry with foam products.
What new technologies is the company developing in the bed mattress and seat markets?
Vanema is partially involved in the mattress business through production and research and development with sister companies such as Dormeo UK. Vanema is developing the first completely personalized and customizable mattresses on the market. The mattress is assembled using Octaspring technology like a Lego system. Each spring and color have different densities and firmness. With this, we can assemble mattresses with hundreds of support zones that are completely tailored to one's body and sleeping preferences. One can take a photo of oneself with your smartphone to create a digital avatar of your body from which we can take precise measurements. We then ask customers questions about how they sleep, for example if they want a softer or firmer surface, if they have shoulder or back pain and their sleeping positions. Our artificial intelligence algorithm then creates a personalized mattress. If you buy a king-size mattress or double-size mattress, you can have your own configuration and your partner could have his or her own configuration in the same mattress. To produce these products, we must heavily robotize, automatize and digitalize our production. Our production is concentrated in big factories and manufacturers. We have factories in the U.S., Europe and China. While these are not owned by us, they do house our machinery, which is semi-automatized.
We will also have a new smart factory that will be completely robotized and digitized to bring our products closer to the market. It will not be a big, centralized hub like the assets we have now, but a smaller hub in every major city. The maximum requirement would be around 10 people who will manage the entire process. This will be the first completely personalized mattress at very affordable costs, maybe only 20 percent more expensive than a regular mattress. It will perfectly address mass customization, which is a very important trend. Personalization is also coming to upholstery, car seats and everywhere. Sitting is the new smoking; we sit for too long and do not have proper ergonomics. We address this ergonomics issue by replacing one block of foam with individual Octaspring comfort and support points. We work on these projects with a leading scientist and universities such as Delft University of Technology. We will be ready by the end of the year to start the first production line in Slovenia and sell our products in Europe. The first markets will be the U.K., France, Germany and Eastern European markets. The next step is taking all the glue out of the manufacturing process. We are in the testing phase on our new production line. This will make our mattresses healthier and easier to recycle. We want our products to support a circular economy.
What differentiates Vanema's business strategies from its competitors?
We strive to create solutions instead of only pushing products for other companies and partners. We are not capital intensive because there are plenty of assets available. Our main objective is to create better quality products. We create firm business concepts and technologies, including in marketing and advertising. Bed retailers are becoming bigger; shops are growing from 100 square meters to 250-500 square meters to satisfy all customers' expectations in terms of different materials, pocket springs, memory foam, latex or different price points and brands. However, we do not need a huge space. We can partner with big-box retailers because we have the technology. It will take us only 10 square meters to offer hundreds of different configurations; we will be 50 times more efficient in terms of space than traditional mattress retailers. This will result in a big reduction of greenhouse gas emissions and a rise in our customer service. In the current market one must create a completely new paradigm in the supply chain. We must locate manufacturing facilities as close to buyers as possible. We are bringing in a lot of marketing expertise to educate consumers. We must revolutionize everything.
What is Vanema's strategy to market its products in Slovenia and the world?
We are quite channel agnostic but are strong in digital media. We are not an Amazon that can change people's habits. Our strategy is to set ourselves up as a customer's concierge; we want to satisfy people and be convenient to contact and make a deal. We partner in France with M6 and TF1 for home shopping retail. We help our partners enter new product categories and expand into different forms of communication. We also work with digital retailer Mediashop, which is now expanding into new products and distribution categories in places such as Sweden and Japan. We are vertically integrated only in the U.K. and the U.S. Elsewhere we make partnerships with media companies and existing retailers to expand faster. I want to put Slovenia and Vanema on the map as the leading world center for new foam technologies in the next two years.
What advice would you give other entrepreneurs looking to start a business?
Opportunity for bright entrepreneurs has never been bigger. Traditionally, most businesses are faced with large entry requirements such as huge capital investments; opening a shop or a factory is capital intensive. Today, everything is over capacity and must be redesigned. Entrepreneurs must create new concepts and improvements in terms of going green and quality of service. In the past one would repeat things that went well and try to make these processes more efficient. However, what worked in the past does not necessarily function in our new world. The whole philosophy of business has changed. In this sense, coming from a blank page and thinking creatively is a big advantage for young businesses. Companies today must become software and design companies; everything must be supported by information technology concepts. Traditional barriers for entry in terms of capital are decreased. The biggest mistake entrepreneurs can make is assuming things from the past will continue to work. Taking risks is important; try and test different things and you will come to a new answer. There is more space on the edge than in the center. People tend to group up and go where everyone is going. On the edge there is a lot more freedom and visibility. However, one should take calculated risks. Even if one fails, they need to survive.
What is your business style and how has it translated into your companies' success?
I always ask my colleagues to challenge my ideas, which is far cheaper than if the market kills them. This is difficult because conformism prevails in societies. If another kills one's idea today, one might take revenge on the next idea. People prefer to be in a more comfortable space where everyone applauds but nothing then happens. We want people to be honest and contest new concepts. While on one hand I am democratic, once I believe I have the right idea, I will push it through; everyone must execute it. Sometimes you must take risks and push your team out of everyone's comfort zone. This is how many interesting things have happened at Studio Moderna, such as our bed-in-the-box concept and our omnichannel retail strategy. I never hired consultants, but always listened to our customers when they were happy and especially when they had complaints. As Bill Clinton once said, "Don't follow the headlines, follow the trend lines." People like to be fashionable. However, you must ask yourself what the underlying trend is and what is really happening. One must torture oneself and brainstorm a lot.