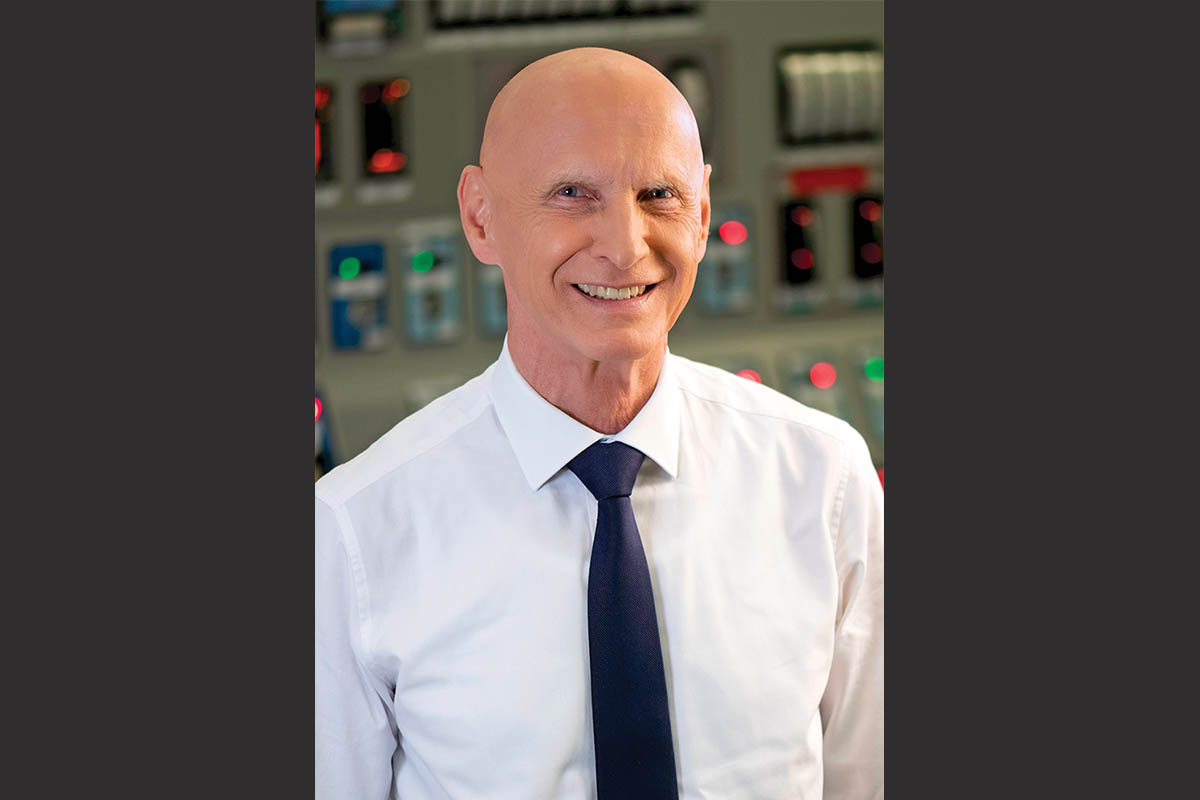 17 Nov

Nuclear energy vital in reaching Slovenia's emissions goals
Stanislav Rožman, President, Nuklearna elektrarna Krško, talks about what it takes to be a top worldwide operator of a nuclear asset and the importance of nuclear power in Eastern Europe's energy transition to renewables.
Can you give us an overview of Nuklearna elektrarna Krško's mission and history?
We are a state-owned company; the electricity sectors in Slovenia and Croatia are under state ownership. We operate a nuclear power generating facility that is run according to the fundamental principles of a bilateral agreement between Slovenia and Croatia. The agreement was ratified in 2003 by both parliaments and addresses the basic interests of both sides. It is a unique situation because both parties have equal shares, which is not typical for a normal company. Corporate governance is thus based on consensus; at each level, decisions must be made by agreements. There are some exceptions. For example, if there is an immediate decision required for the safety of operations, it can be made by either side or by the company's management. The agreement defines the basic principles of delivering electricity to utilities, the cost structure, yearly business plans, industry support and maintenance of the unit. It also defines the participation of both in terms of providing workers, waste management and financing of activities. Additionally, there are principles that are defined at the utility level between GEN Energija and Hrvatska elektroprivreda. As an operating company, we are a non-profit organization. All costs are covered, but we must agree on a yearly business plan and cost structures. This is done according to the delivery of electricity paid by monthly invoices on both sides.
We started commercial operation in 1983 and are approaching 40 years of commercial operation. We cater to around 20 percent of Slovenia's electricity needs and 16 percent of Croatia's. We are a company of around 640 employees. We hold an operating license with no time limit, with a periodic safety review every 10 years done according to Slovenian law. This involves safety assessments of technical and organizational aspects. We then provide an action plan to the regulatory body and receive approval for the next decade of operation. Although 40 years was the planned lifespan of the facility, we are getting credit for another 20 years of operation and are working on establishing a precondition for this to happen.
How does the nuclear plant coincide with national plans to reduce carbon emissions by switching to renewable energy sources?
We must take global warming challenges seriously. We need to pay attention to how we use energy and restructure the energy sector to have a lower carbon dioxide footprint. We do not have much time to act and to react according to what is happening in our environment. Slovenia's strategic orientation, described in the Integrated National Energy and Climate Plan and presented to the European Commission, is that we will achieve climate goals based on renewables and nuclear energy. This is different in Croatia where the country is focused exclusively on renewables. However, they are interested in relying on nuclear energy on a long-term basis to achieve their climate goals. Our share in this effort is important and comes out of the percentage of electricity we produce from nuclear energy. For us nuclear is considered a clean source of energy and very comparable to renewables. We believe that by working hand in hand we can achieve our climate goals; none of these two energy sources should be excluded. We cannot say for certain that we can meet our requirements based only on renewables; we have some limitations in Slovenia. This is the reason for long-term operation of the Krško Nuclear Power Plant. Our contribution will not change in the future because we are not increasing our own capacity. We have a capacity of around 700 MW. This will be raised slightly based on some technical upgrades and components replacements, but not significantly. Our contribution is critical for Slovenia and Croatia in achieving their climate goals.
How is the company addressing safety at its nuclear power plant?
We have an ambitious vision and are not happy being an average operating company. Our vision is to be globally recognized by our safety standards and standards of operation. We are doing very well. There are many international performance indicators that suggest we are among the top 10% best performing nuclear units globally. This is drawn out of safety assessments done by the World Association of Nuclear Operators and the International Atomic Energy Agency. Our challenge is to stay on top. In the last 10 years we have invested around €350 million in upgrades under our 10-year safety upgrade program. We are approaching the final stage of this upgrade, and most upgrades will be functional this year. The remaining upgrade is building dry storage for spent fuel and is expected to be in place by the end of 2022. We have been very well supported by our owners who understand the importance of safety. We are the only atomic unit in the country, and we cannot be at risk of any deviations or incidents. The scope of our upgrade program is comparable to most utilities in Europe and in some respects beyond, especially our capability of cooling the spent fuel pit. In the future we will transfer those spent fuel elements to the dry storage, which is a passive facility that does not require electricity sources or cooling water.
The safety upgrade program is specifically focusing on natural disasters—not so much tsunamis, but earthquakes. We are living in an area of moderate earthquake risk. According to the basic design, we are on the safe side. Although earthquakes do not happen frequently, they have happened in our lifetime without any consequences or risk to the public or our employees. We also need to consider potential flooding, extreme weather conditions and commercial aircraft strikes. We have the two following objectives: to prevent and to mitigate. All technical solutions focus on resilience of the electrical systems; we must have electricity available in any situation for our own needs to rotate safety equipment and pumps. We also must have cooling water available. In terms of a commercial aircraft crash, we can control and monitor the station from a distant location. By the end of 2021, all these systems will be functional.
We set our objectives high, not only in technical measures but also with our workers. Of our 640 employees, approximately 280 people have university degrees, with the remainder having college degrees. We heavily invest in their skills; one of our key activities is training our hires yearly. Our operation standards depend on having a qualified team. We go beyond the normal standards put down for workers in this environment in Europe and beyond. We have a high number of qualified senior reactor operators in shift positions and management positions. We all understand priorities and phenomena and make appropriate decisions. We pay a lot of attention to the safety culture concept, which is a behavioral model established by the World Association of Nuclear Operators. This involves establishing proper day-to-day habits, being respectful of nuclear energy and acting and reacting appropriately. These measures are a precondition for an organization to be successful and achieve its lofty objectives. We are transparent and are internationally exposed. We accept international assessments on a yearly basis from different organizations, such as the World Association of Nuclear Operators. In the past, we have received America's Institute of Nuclear Power Operations and continuous assessments from the VNI International Agency. We are very exposed and open; exposure puts positive pressure on our development.
What kind of impact did the pandemic have on your company's operations?
The COVID-19 crisis did not affect our performance, which is good news. From the beginning, we put in all suggested preventive measures and were very strict in following them. It has paid off. We did not have an uncontrolled situation as far as infection and absence of people. During the first wave we were conservative in creating preventive measures. We completely isolated the operating crews and shift crews by providing them full-service living in isolation. We later learned that these extreme measures were not necessary, and we could have the same restrictions as other sectors. We shifted some work activities to allow for the possibility of working from home. However, our industry operates in shifts, and we cannot do it all from home.
The most critical part this year was a refueling outage, which meant the shutdown of the unit. This requires many activities in maintenance, refueling the reactor and inspection activities. These require around 2,000 people at the station in a period of one month from different areas and countries. That was a risk and difficult from an organizational point of view. We completed all planning activities in the prescribed time and restarted the unit without consequences. We have learned how to live with the COVID-19 situation and how to face these challenges. We are still following strict measures.
What future goals has Nuklearna elektrarna Krško set for itself?
We want to successfully complete the safety upgrade program, which is on track. Our next goal is to complete the 10-year periodic safety review, which is ongoing. Results will be presented to the Slovenian authority at the end of next year or latest in 2023. Another short-term challenge is obtaining a positive safety assessment. We believe we will be successful. This will involve international participation. All bordering countries will participate, which they have announced, including Germany. This process will start publicly at the end of 2021 or the beginning of next year. Other activity revolves around the Safety Aspects of Long Term Operation mission coming from the International Atomic Energy Agency in 2022 or 2023. These are prerequisites for long-term operation of the plant. There are always risks of delays because of other players and political impacts, which can be expected. However, we will do our part. The rest needs to be handled by other stakeholders such as governmental ministries in Slovenia.
Competitiveness is one of our additional focuses. Today we are very competitive compared to other sources of electricity in the region. Fossil fuel production has much higher operating costs. We completed the depreciation process from the original investment many years ago. It is well known that operating units today, which have passed 30-40 years of operation, are economically competitive. With time we are expecting a lower rate of investment, which will reduce our own costs on a yearly basis. This will improve competitiveness because the real intensive investment cycle is coming to an end in 2021/2022. We are optimizing working processes using new technologies; digitalization is taking place. Most of our processes are digital and supported by computers, which has reduced our operating costs.