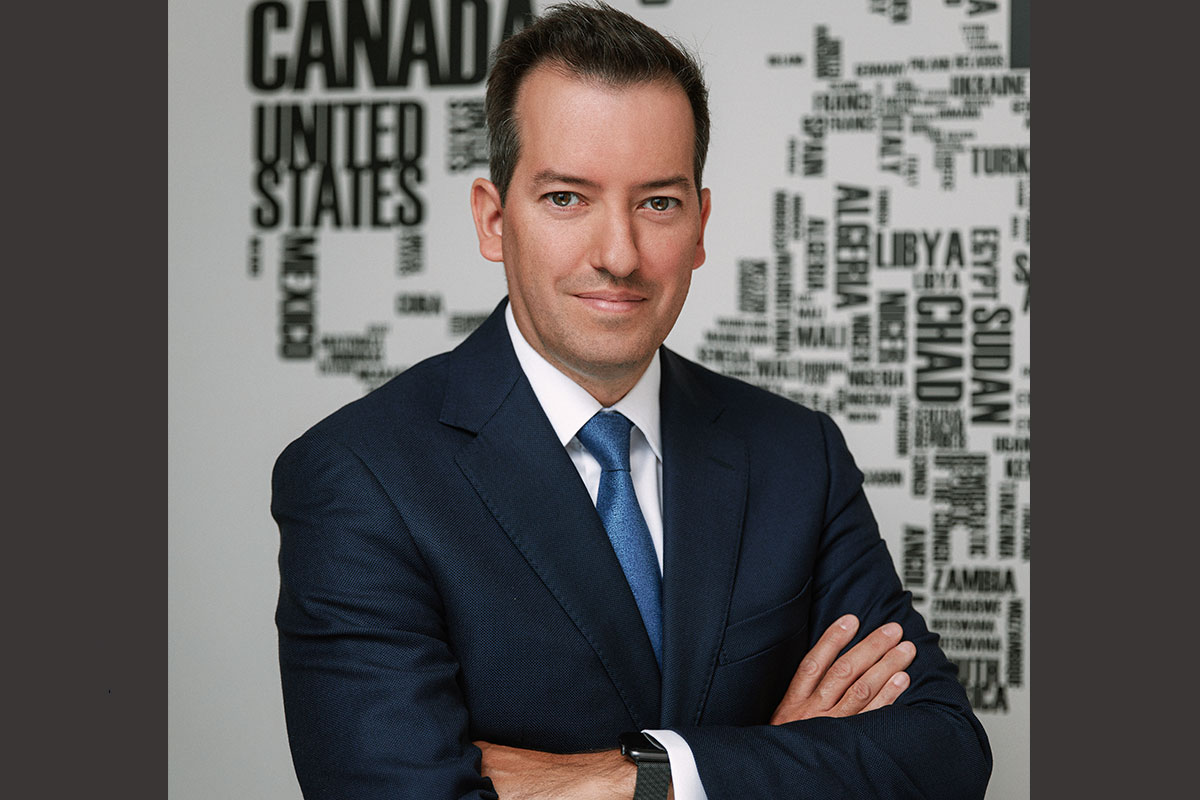 15 Jan

One of the EU's economic champions is set to become even stronger post-COVID
Róbert Ésik, CEO, Hungarian Investment Promotion Agency, reveals the new incentives in place to attract investors in value-added manufacturing, business services and innovation
Prior to the coronavirus pandemic, Hungary was Europe's second-fastest growing economy, with 4.9 percent annual gross domestic product (GDP) growth that put it just behind Ireland. Could you give our readers a general overview of the Hungarian economy, and how you would rate the country's attractiveness as a global business and investment destination?
Hungary was one of the fastest-growing economies in Europe before COVID-19. In the first quarter of 2020, we had GDP growth of 2.3 percent, which is significantly higher than the European average. I believe that we entered this crisis in a much stronger position than we were in the previous 2009-2010 financial crisis. Our expectation is that the Hungarian economy will be much more resilient this time and we will come out of this crisis even stronger than we were before.
The factors that have made Hungary attractive from an investment perspective are multiple. The first one is the stability that the country has shown, both from an economical and political perspective. Second, Hungary has put a strong focus on foreign trade and foreign direct investment (FDI), which has proved to be a very successful approach. Aside from these factors, the Hungarian economy has some fundamental attributes that make us attractive, such as our well-educated labor force that is available at a competitive price and which matches the needs of the labor market, thanks to the dual educational system that we implemented a few years ago.
We also have one of the most competitive taxation systems in Europe, with two key pillars. For corporations, we offer a single-digit flat tax on corporate income of 9 percent—one of the lowest in the whole European Union (EU). For individuals, our approach is that people should not be taxed too much on their salaries. We try to limit the tax burden on labor and cut certain taxes each and every year. In fact, we have a six-year program to reduce the social contribution tax, which is payable by employers on top of gross salaries. In 2016, the level of this tax was 27 percent. To make it simple, if you had an employee earning a gross €1,000, the employer had to pay €270 on top for social charges. Despite the COVID-19 crisis, the government decided to continue its policy of cutting taxes and, since 1 July this year, this tax level has been decreased to 15.5 percent or €155 in the case of a gross salary of €1,000. These are just those two examples that testify to the competitiveness of Hungary's taxation system, which I believe has been recognized and is highly appreciated by entrant investors.
A third element we can emphasize is the highly developed infrastructure that Hungary offers. We have the third-highest road density in Europe and one of the most developed highway networks. Budapest as the capital city is connected via highway to all the major cities in Hungary and, in the near future, we will complete the missing segments that are between those major cities and the borders of the country. This is very important as, from a logistics perspective, there are three international rail and road transport corridors crossing the country. A fourth corridor is the Danube River. These infrastructural developments will help us to further capitalize on our strategic geographical location.
When it comes to infrastructure, it is not just transport infrastructure that is important, but also mobile broadband coverage. Hungary has one of the best mobile data coverages in the world. Not many people know this, but we are in the top-five countries worldwide for mobile coverage, which is very important from a business point of view.
Last but not least, the Hungarian Investment Promotion Agency (HIPA) is very active in channeling discussions with investors. We offer a one-stop-shop service, trying to address all the needs of investors, answering all their questions and providing them with site-selection advisory services to make sure that they find the most suitable locations within the country for their operations. We support them both administratively and financially, since we offer a wide range of incentives as well. The Hungarian government has a very strong policy of incentivizing investments, which has become one of the key pillars of our economic policies.
What are some of the most important economic sectors in Hungary and how are they advancing?
We have been particularly strong in the automotive sector, which accounts for approximately 30 percent of our production industry's output. All three German premium brands will soon be present here with full automotive manufacturing plants. Audi and Mercedes already have their operations up and running and, in mid-2018, BMW decided to build a new facility in the city of Debrecen. This makes us unique.
We want to ensure that this sector remains future-proof and, therefore, in the last six years we have been focusing on the two key megatrends that prevail in that industry: electric mobility and autonomous driving. In 2019 alone, Hungary welcomed 10 different investment projects in the e-mobility sector totaling €2.9 billion, which included SK Innovation and Samsung SDI, two very large key players from South Korea that are leaders in electric-vehicle (EV) battery manufacturing. Both these giants have picked Hungary as their only location in Europe to produce their battery solutions for the electric vehicles of the future. Audi has launched its e-transformation project and is producing its e-engines only in Hungary, while the German Schaeffler Group is currently building a greenfield facility in the city of Szombathely for e-mobility components and Infineon will be building critical components for inverters in the city of Cegléd. So, we have really strengthened Hungary as a hub for electric mobility in Europe and become a leading location in this area.
After our initial success in positioning our country as the manufacturing hub for Europe, our attention in recent years has turned more toward high value-added projects. Out of our total population of 10 million, we now have 4.5 million people in our labor force paying taxes. Compared to 2010, that represents an increase of 800,000 workers in a decade. That now allows us to shift focus from the job creation aspect of investments to the local added value of developments. Our aim today is to focus on local value creation and to increase productivity both in our manufacturing and services sectors.
In line with that we have changed our incentives system. Instead of requiring additional job creation from investors, we now focus on productivity gains. That means that if an investor decides to double its capacity by introducing new automated manufacturing lines instead of augmenting headcount—which requires retraining personnel and an investment in technology—that company could be eligible for financial support from the Hungarian government, despite the fact that they are not creating new jobs.
In addition to the car manufacturing industry, a second sector to highlight is the business services sector. Hungary, especially Budapest, has become a hub for corporate business service centers, centers of excellence and software development centers. In 2019 alone we made 14 agreements with different investors to either establish or expand their presence in the business services arena. Sanofi, for example, selected Hungary as its location for global business services and Tesco chose Budapest to be a location for regional business services and IT. This is a trend that we will try to further strengthen because the jobs and positions offered by these companies represent high local added value and they open up international career opportunities for Hungarian youngsters, without them having to leave their hometown or the country.
Hungary attracted a record number of FDIs last year. Investment numbers grew 24 percent compared to the previous year, with 101 investments in 21 different sectors coming from 20 different source countries. What has HIPA's role been in this? How does it contribute to the success of the country, attracting investments and spearheading large-scale projects, and what have been some of the achievements you are most proud of as the agency's CEO? 
HIPA is essentially an economic development organization focused on investment promotion—we are a management consulting company that offers information and advice to prospective and existing investors. Essentially, we do three things: first, we try to position Hungary internationally as a location businesses can invest in; second, we provide management consultancy services, information and advice to our clients; and thirdly, we come up with suggestions for political decision makers on how to improve the business environment, which we call policy advocacy.
Over the last 6.5 years—between 2014 and the first half of 2020—HIPA has negotiated 538 projects with a value of €20.3 billion, creating more than 92,000 jobs in the country overall. Through these projects, I believe that we have been able to contribute substantially to the economic development of the country. The international rankings and statistics around economic development and FDI confirm our results. The IBM Global Location Trends report published every year shows that Hungary—which ranks 92th globally in terms of population and 34th in terms of export volume—is 16th when it comes to FDI, measured by the number of jobs created by FDI projects. For us, as a country ranked 92nd in terms of population, being in 16th position for FDI is a great result. What we are also especially proud of is that HIPA has been nominated as the region's best investment promotion agency for the third time by Site Selection magazine, the U.S. publication focused on investments.
BMW in particular is an investment project that we've spearheaded and that we are very proud of. After 1.5 years of discussions and looking at 160 different cities in Europe, the company decided in favor of Hungary's second-largest city, Debrecen, in 2018. This project and all the activities around it will significantly boost economic development in the country. We can equally be proud of investors like BlackRock, the world's largest financial asset management company, which has decided to come to Budapest to create an innovation hub. BlackRock Budapest now has about 800 employees and its establishment has proved to be successful decision for them. Last but not least, the success we have achieved in electric mobility and in the EV battery industry is quite remarkable and has clearly positioned Hungary as a significant player. One by one, members of that industry's value chain are increasingly selecting Hungary and its sub-region.
The COVID-19 virus is still raging around the world. Hungary has taken some very strong measures to mitigate its impact, including the closure of its borders to foreign visitors. The government's economic protection action plan announced in April has helped save 120,000 jobs and the more recent "war" plan drafted by the government aims to provide additional oxygen for economic players. What is your analysis of the current economic situation and what measures will be key for accelerating recovery post crisis?
Coronavirus is a challenge from both a healthcare and an economic point of view. Of course, the priority is to protect the lives and health of our citizens—I believe that Hungary has been relatively successful in managing the first wave of the pandemic and we have been able to keep the numbers of infections relatively low. We were also able to purchase all the personal protective equipment we needed, which mainly came from China during those early months. We are currently in the second phase, which we need to manage while making sure the economy continues to move on. So, the main challenge now is how to keep the healthcare situation under control and at the same time to ensure that the economy can continue functioning.
So far, I believe that we have been successful in doing that, partly because of our economic protection action plan, which amounts to 18-20 percent of GDP. The plan has four pillars and its main focus is on protecting those jobs that we have been able to create in the last 10 years. The first pillar includes wage support programs and flexible work schemes that allow employers to use the hours lost because of the pandemic later on when demand from customers is catching up. The second pillar is about supporting companies that were ready to make investments in spite of the pandemic. We believe that those companies that are able to make bold moves and investment decisions even during these difficult times have the chance to come out of the crisis stronger and overtake their competitors. We must support them. This is an opportunity for us to strengthen our position as a country as well, which is why we have launched different investment promotion incentive schemes related to COVID.
Thirdly, the economic protection action plan also targeted specific sectors: either sectors which have gained in strategic importance because of the pandemic—like medical technology or the food industry, which became of critical importance—or sectors which have suffered the most, such as tourism and hospitality. Special tax deductions and programs were put in place in those sectors. The fourth pillar of the action plan is about providing liquidity to companies in these critical times to avoid their bankruptcy. Nine new loan programs have been launched, including those of the state-owned export-import bank Eximbank, which started credit and guarantee programs as well as insurance programs to help companies that have faced difficulties.
Within these four pillars, HIPA has played a certain role. We have launched two incentive programs, both funded by Hungarian state budget based on European Commission approval. The European Commission adopted a temporary framework in March, allowing members states to support companies with up to €800,000. We have designed a program that we have called a "subsidy to improve competitiveness." Under the framework of this program, we are providing financial support to companies that on the one hand commit to keep their headcount and on the other hand undertake some investment obligations. In this case, up to half of the investment amount to a maximum of €800,000 is paid by the state. In total, 904 mid-sized and large enterprises have taken part in this program. These companies are planning investments to the value of €1.2 billion in the upcoming months as they have to complete investments by mid-2021. This program has proven to be very successful and the budget allocated to it was increased from €140 million to close to €500 million. HIPA is the managing body for this program and the one in direct contact with those 904 companies.
A second program was started in July, offering a compensation scheme to support corporate competitiveness by targeting large enterprises that have suffered COVID-related losses. Financial support was capped to the level of losses occurred and the companies have committed to helping relaunch the economy by investing €590 billion in the upcoming period to mid-2022. 71 large companies are in discussions with us about these projects and programs. Altogether, that's €1.2 billion plus €0.6 billion—€1.8 billion— in additional investments that will come from enterprises in the country as a result of these programs.
Innovation is a priority for Hungary, and the cornerstone of its overall development strategy. The country spends close to 1.5 percent of its GPD on research and development (R&D), a number that is growing but still pales in comparison to other European economies. You have yourself spent 15 years working for some of the world's largest IT companies—including Alcatel, Siemens, Nokia and Amazon—so there is no one better to speak about innovation in Hungary. Can you tell us a bit about the kind of schemes and incentives has the country put in place to promote innovation and research, as well as to attract international talent, headquarters and investors?
Between 2010 and 2014, Hungary reestablished itself as a strong manufacturing base in Europe. Since 2014, we have been turning our attention toward R&D. In line with this new focus, we have we redesigned our systems for supporting R&D projects and investments. We have several tools at hand, including first of all a system of tax allowances for companies that undertake R&D activities. Whatever a company spends on R&D, twice as much can be deducted from its corporate income tax base. On top of that, we have introduced a cash subsidy system that is available in Budapest and countrywide as well. A company that commits to at least €3 million in R&D spending—including personal expenses and the depreciation of R&D related assets—and commits to create at least 25 new R&D job positions—is eligible for financial support up to 25 percent of the R&D investment. This is an R&D cash subsidy scheme operated by HIPA. We have seen a growing demand for this type of financial incentive in recent years.
Based on the IBM Global Location Trends report, we are ranked 9th globally for R&D investments. This confirms that we are on the right track in terms of attracting high value-added investments. There are some sectors in the country that are definitely leaders in R&D. The ICT sector is clearly one of them and some of the companies that I used to work for have a strong presence in the country, such as Nokia with over 2,000 people, Ericsson with around 2,000 people and NNG, a Hungarian-based navigation software company with about 1,000 employees. Budapest has also been selected as a base for some key companies in cloud computing and chip design.
The other area where we are very strong is the pharmaceutical industry. Hungary ranks in the top-20 worldwide for pharmaceutical exports and is also the location for significant R&D activities led by international and local companies. One of the local champions is Gedeon Richter, which is a pharmaceutical company that is not only successful in Hungary but internationally as well.
To conclude this interview, what would be your final message for our Newsweek audience?
Before COVID-19, Hungary was one of the EU's economic champions and I think we have a very good chance to come out of this crisis stronger than ever. I think investors should continue to take Hungary into account when they are looking for a competitive business location in Europe. From our side, we can offer our full support to guarantee that investors find the best possible solution for them in our country.