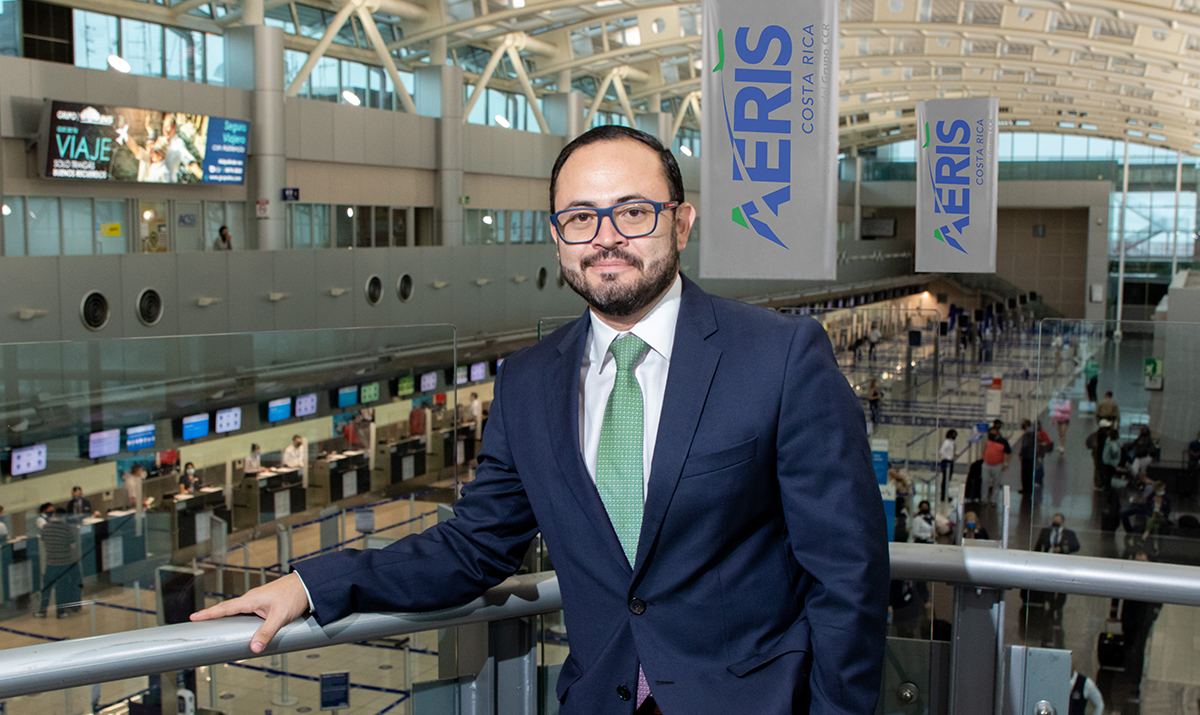 15 Mar

Onwards and upwards in Costa Rica
Ricardo Hernandez Larios, General Director, AERIS Holding, S.A., in helping oversee Juan Santamaría International Airport, runs an organization that is seeing a much speedier post-pandemic recovery than had been initially anticipated.
As the main port of entry to Costa Rica, Juan Santamaría International Airport is international visitors' first and last impression of the country. As the holding company responsible for all operating obligations at AIJS, AERIS is an important player in the Costa Rican economy. To start this interview, could you give us an overview of AERIS Holding, its key assets in Costa Rica. Can you also give me some of the key facts and figures about the airport, traffic volume, connectivity, and operations?
AERIS Holding Costa Rica is part of CCR Group, which is one of the biggest players in terms of concessions in Latin America, and we also have the fortune to be the first PPP project in Costa Rica. As such, we take very seriously the responsibility of being the first and last impressions that tourists have of the country. We are very customer experience oriented and aim to bring the best to the airport. We have a program called "the Pura Vida Experience" within the airport. The idea is to provide a first immersion in Costa Rica for the visitor, so they realize they are in Costa Rica, they feel the warmth, the smiles and the excellent customer service that Costa Rica offers. We want to start their journey into the country, from the very first time they step out of the airplane.
Constructive dialogue is very important to us and one of the key pillars for our success. Coming back from the pandemic (when Costa Rica, for the first time in its history, had to close its borders) we sat down with all the different institutions: ICT, the Minister of Health, Civil Aviation, airport police and airlines, to discuss how could we reopen fast and rebuild together the trust of the passengers. In 2019, we were moving more than 5 million passengers. Right now, we are up to 95% of that, which for an international destination country is outstanding. We achieved this through dialogue and consistency. Since August 2022, the time Costa Rica reopened, we have never looked back. The reopening was done with consultation, very consistently and coherently. It was very well orchestrated, and you didn't hear Costa Rica removing or reinstating requirements. That's something we want to also showcase in the airport. The smooth experiences we want passengers to have are only possible through collaboration, because there are a lot of different and very important stakeholders that you have to work with along the way, such as the airport police, immigration, airlines, etc. AERIS' role is to operate and invest in infrastructure, but we also work with all these stakeholders, and that's why dialogue is important. It infuses all our activities, and that is what we believe to be the key differentiator.
Can you also give me some of the key facts and figures about the airport, traffic volume, connectivity, and operations?
From San José international airport, we cover 36 different destinations and we have 25 different airlines coming. For a rather small country with a relatively small airport, this level of connectivity is outstanding, and that mix gives us a lot of resilience. Indeed, when you have this plethora of different airlines and destinations, and high demand, you can be more stable in the face of crisis because you are well diversified.
In addition, we always strive to do more than what is in our contract. Our mission statement is that we want to exceed the parameters established in our concession contract. That's one of the reasons why we are a very successful airport. In 2022, we won the Skytrax award for best airport for Central America and the Caribbean, the best airport staff for the same region, and the Airport Council International Quality Awards for best airport in the size between 5-15 million passengers. We are certified "Great Place to Work" and certified by ISO 500001, which measures our energy consumption and sustainability.
Sustainability is one of our key pillars. That is something that is in CCR Group's DNA, and it is the vision of our shareholders. This is also very well aligned with Costa Rica's image of sustainability. The airport is a very important piece of our infrastructure. It offers connections to the rest of the world, but in a sustainable way, always looking to the future and making a positive impact in the community in which we operate.  During these two years of pandemic, we kept investing, even though everything was shut down. We invested $8 million in the relocation of our fire station, to free space for the airport's extension. We relocated it from the North to the South so the airport terminal could keep growing. We also renovated the airport's food court. This was a very brave project as we awarded that contract two months before the pandemic. The pandemic hit and the airport was shut down, but again we did what Costa Rica does: we sat down at a table, wanting to continue, wanting to honor our commitments. The authorities did the same, and we continued the project, so we had a successful opening.
AERIS, as part of CCR Group, has the backup to keep on going through very difficult times and can be a very good partner; that's the difference that AERIS brings to the table. We are a public and private partnership. We are partnered to the government which supported us in bad times. We were able to keep investing and to keep operating even during the pandemic, although we had zero revenue and despite all the financial complications that all enterprises and businesses in the sector face. Thanks to the support of CCR and our partnership with the government, we were able to be a catalyst and cornerstone for Costa Rica's tourism recovery.
According to the Central Bank of Costa Rica, the country's GDP will grow by 4.2% in 2022 and 2.7% in 2023 driven by a post-pandemic revival in the tourism and business services sectors. Considering that the Juan Santamaría International Airport already welcomed 3 million arrivals by August this year, doubling its 2020's figures, what are your hopes and projections for Costa Rican tourism for the year ahead?
We expect to record the same number of passengers in 2023 that we had in 2019. In other words, we think we will recover to pre-pandemic traffic two years earlier than expected. We are achieving this thanks to our dialogue with ICT and our partnerships with airlines, with whom we communicate regularly. AERIS also offers an incentive package that provides additional routes to airlines that want to service the country. That is our way of trying to rebound a little faster, because we also have empathy with airlines, we know the airlines experienced very bad times during the pandemic, and if we can help them in any way to make the business case of coming to Costa Rica stronger, we do so. That is what we expect for 2023.
Over the past decade, AERIS, as a joint venture between HAS Development and Grupo CCR, has developed Juan Santamaría Airport into a world-class airport from which the Costa Rican economy has greatly benefitted. Could you share more with us about your current expansion and renovation plans and the other plans and projects you have in the pipeline? How are you working to enhance the airport's appeal?
We are working with the government to update the master plan. The master plan is the vision of how the airport needs to be evolving for the next 20 years. This is very important because of the changes in how we travel. That is something that we spent all 2022 trying to understand: how the passenger is now behaving and what the passenger expects. One of the most important pillars that we are promoting for core development is technology. We are investing in technology and working on understanding how the passenger evolves. For example, we are working with Immigration Authorities and Civil Aviation to implement e-gates so travelers can use, enter and depart the country using technology without having to go through the typical process of interacting with an agent. In addition, we are signing a three-level expansion to the terminal, which is called the InFILL project. On the basement level, the baggage handling system will be modernized. In the base level, the check-in terminal will get more counters but with additional technology and a lot of self-service options, like self bag-drop and self check-in. Indeed, we want to evolve with the passenger; the passenger is more sophisticated now, and the new and younger passengers who travel want to do everything by themselves. On the next and last level, which is the arrivals level, we are expanding our technology and are going to increase the capacity by one new baggage carousel. We are also going to add more customs machines so there is more capacity to process those passengers. Additionally, we are designing a plaza for the area where the old fire station used to be, so that when passengers arrive, there will be a beautiful plaza with commercial options. Family can wait here, and we have a ground transportation center. This expansion is in the short-to-medium term plans.
For the long term, we are updating the master plan which we must do every four years with the government. Again, we are focused on technology. Airports needs to be efficient processors, so we are focused on efficient processing through technology, sustainability and competitiveness. Everything we do has to be at the right size and the right cost so we can keep the tariff of the airport at a competitive level and keep attracting new airlines.
Consumer have increasing expectations in terms of digital solutions, how are you integrating the latest technologies into both your operations and the simplification of the customer experience? Can you point me to some of the latest innovations that you have introduced that you are particularly proud of or that you will be introducing in the future?
In the next couple of months, we will add around 20 self check-in kiosks so there will be more options to check in. We are also working on the E-gates, whose implementation will be done in 2023. We are working on that now. A major innovation that we did is the food court. Traveling is stressful, so when you are departing the country, we want you to remember you are still in Costa Rica; you can relax and have a good time. The passengers are really welcoming to that. After the last security X-ray filters, we have an organic commercial area, which is a walk through that merges retail with food and beverage options, with an amazing view to the volcanoes that you can see from the airport. When passengers finalize their check-in through the filters, they feel like they are still in an oasis, still in Costa Rica, and they can relax. That is the "Pura Vida Experience" that we want to offer.  We have a big pipeline of projects, a lot of technologies available, that can expedite the way passengers flow through the airport. However, those projects have to be done in collaboration with different authorities because you are also dealing with national security matters.
In May 2022, Costa Rica welcomed 600,000 airline passengers from the United States alone, confirming once again that the U.S. is still Costa Rica's main tourist market. Considering Juan Santamaría International Airport has just cut the ribbon on its new flight to Washington D.C., how is AERIS strengthening the air bridges between the U.S. and Latin America and boosting economic recovery in both regions?
We are working very closely with the ICT. Every year we do a tour to the headquarters of all U.S. and European airlines so we can see how their flights are doing and see what we can do at the airport level to make them more comfortable or make their business cases stronger. How can we partner together to bring more routes? We also made our internal analysis, and we give the airlines in those trips opportunities that we saw in hard data. We have a very strong statistical department here at AERIS. One of the projects that we expect to roll out in 2023 is biometric boarding gates, for U.S. airlines and flights traveling from SJO to the U.S. With this you won't have to scan your boarding pass. You can expedite the boarding process. We are always analyzing where the best prospects are and how we can keep collaborating with the airlines to make their business case even better or create new ones. It's a continuous endeavor and we have these meetings once a year with the US airlines.
Costa Rica's dedication to environmental conservation has earned it international recognition. In parallel, Juan Santamaría International Airport has demonstrated its own green commitments by drastically reducing water consumption in the airport, decreasing greenhouse gases, and implementing a wildlife control program, to name a few. Could you tell us more about how sustainability informs the airport's operations and reaffirms Costa Rica as a global sustainability leader?
Sustainability is a key part of our strategy. We work under the model of the triple bottom line. We have concrete actions within each one of the sustainability dimensions. For example, the 2021 Sustainability report showcases the impact of the company in protecting the environment in which we operate. We obtained, in 2021, ISO 500001, as we made a very important technological change in the terminal to drastically reduce emissions and energy consumption. Now when we evaluate projects, we not only evaluate in terms of value and return, but we have a new dimension which is the sustainability dimension and looking at how this project impacts emissions, energy consumption, waste, and water production. That is as important as the financial value the project brings.
Also, we implemented a monitoring system of quality of water. In four years, we were able to reduce almost 20,000 cubic meters of water consumption in the airport. Besides, we presented a very important reduction of emissions that gave us the level 2 in Airport Carbon Accreditation. We have a 24-7 program of fauna protection, and we are always very careful about how we can operate in a sustainable way. Every time we are going to impact one area, one of the first things that we examine is how we can protect the wildlife. For example, this year we found a very important beehive in the airport, and we did all the procedures necessary to safely relocate them without harming the bees. Sustainability is not only the environment, but the impact that you have in the community. We also have programs that foster education in nearby communities. We have an initiative called "Libros Para Todos," and we have now a whole generation of people who have graduated from high school with books that were donated every year from AERIS. We also have this positive community impact in our sustainability effort. This is just a glimpse; we have more programs.
What would be your final message to the readers of Newsweek?
What makes Costa Rica different and great among all the other options the world offers is that Costa Rica is a country of dialogue and peace. That is reflected in everything that we do. We respect our neighbors, we respect our partners, we respect nature. When you invest in Costa Rica, you will have the highest level of legal assurance in the region. You will have an amazing network of collaboration, not only among your stakeholders but among all companies that operate in the country. The public and private sector are very close. We are focusing about how we keep making this great country better, and that makes all the difference.