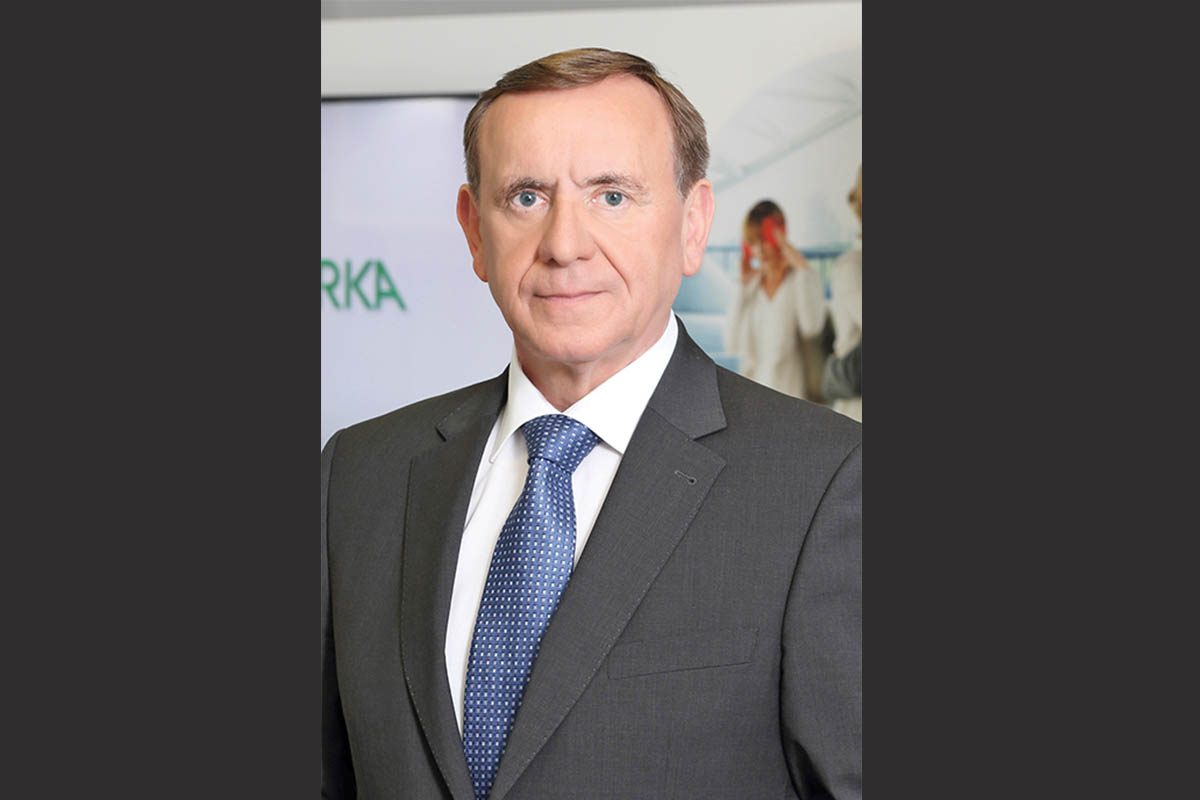 17 Nov

Slovenian pharmaceuticals giant expands through vertical integration
Jože Colarič, President of the Management Board and Chief Executive, Krka, discusses his company's growth strategies and his continued efforts to drive sustainability in all areas of operation.
Can you give us an overview of Krka's history?
Krka was established in 1954 with only nine employees in the small city of Novo Mesto in Slovenia. Now, we have almost 13,000 employees all over the world. A total of 46% of our workers are abroad and the rest are in Slovenia. We are one of the leading generic pharmaceutical companies. Last year, our turnover was €1.5 billion, and our net profit was €289 million. Our yearly earnings before interest, taxes, depreciation and amortization margin is well above €30 million. We have products registered and sold in other continents, but the majority of our business is done in the territory between Vladivostok in the far east of the Russian Federation to Reykjavik in Iceland.
We have been present in the domestic market for almost 70 years, but abroad we became very active in the '60s out of former Yugoslavia. Until late '80s, we were a kind of bridge between the western pharmaceutical industry and the east because we got licenses from the source in Japan, the U.S., Europe and elsewhere. We were producing the products based on the knowhow of the originators from the West and selling them in the territory of former Yugoslavia and other socialist countries. With the fall of the Berlin Wall in 1989, everything changed. We were not needed anymore as a bridge between the West and east. We had to go our own way, and we transformed into a generic business. Today, practically all products that we produce and sell are products from our portfolio, which are based on our knowledge of our raw materials. On a yearly basis, we produce and sell a little bit more than 16 billion tablets or capsules. We are well known for our high quality. Our products are safe and efficient.
What kind of products does Krka produce?
We develop and produce prescription pharmaceuticals that are used in human health care. This represents more than 85% of our sales. Within this group of products, the majority are for the treatment of cardiovascular diseases, such as high blood pressure or incorrect cholesterol levels in the blood. The second group is aimed at the central nervous system, such as antidepressants and tranquilizers. The third group is for the treatment of gastrointestinal diseases. We also have a strong painkillers segment. We recently began providing products for diabetes and oncology.
Besides these prescription pharmaceuticals, we also develop and produce over-the-counter products that do not require prescriptions. These are predominantly cough and colds products or painkillers with lower dosages. This is our second largest group of products. We also produce and sell veterinary products, mostly for household pets. Last, we have a thermal spa business that we inherited in the 1970s, which represents only 2% of our sales. We provide spas and a network for doctors to treat patients that come out of hospitals. During the COVID-19 pandemic they were very successful in attracting Slovenian citizens and patients from abroad.
For the last few years, we have been investing 10% of our revenue into R&D activities. We have 700 experts, predominantly in Slovenia, who together with our partners all over the world. This 10% is high compared to our generic pharmaceutical competitors. We work very closely with institutions and partners all over the world, including universities. In Slovenia we work with the University of Ljubljana and University of Maribor.
What kind of assets does Krka own and how do they bolster the company's operation?
We have development and production facilities in four towns in Slovenia. Most of them are in Novo Mesto where our headquarters are. We have factories in Germany, Poland, Croatia and China, the latter of which we acquired in the last two years. The biggest factory abroad is in the Russian Federation, very close to Moscow. It produces approximately 80% of Krka's medicines required for the Russian market. Being a local producer is key and gives us many advantages. These factories are all practically new and modern. We do not have old equipment because we invest a lot on a yearly basis. A few years ago, we were awarded in Slovenia for having the most digitalized and automated factory producing capsules and tablets. We use artificial intelligence to compete with competitors. We are constantly pressed by our competitors and by different authorities that demand our products be of the highest quality, produced quickly and sold at acceptable prices.
Which markets has the company been the most successful in?
We divide the world into six regions: the domestic region Slovenia, which is a small market with only 2 million people; southeast Europe, which is former Yugoslavia, with Romania, Bulgaria and Albania; and Eastern Europe, which is our biggest market and spans over the former Soviet Union excluding the Baltic States. In this last segment, the Russian Federation is our number one market, Ukraine is second and Uzbekistan is third followed by Belarus. We also have a strong market position in Central Europe. Poland is the second largest market for Krka after the Russian Federation. We are present in Western Europe, with the biggest market being Germany. We have a factory there that we acquired in 2007. We are present in the UK, Ireland, Scandinavian countries, France, Benelux, Portugal, Spain, Italy and Austria; we have a presence all over Western Europe. Finally, we have a segment of overseas countries. We are present in the Middle East, the Far East, South Africa and the Americas. [Annual?] sales in these six regions together amount to around €1.5 billion.
Is the company considering exporting products to the U.S.?
We received approval from the U.S.' Food and Drug Administration for production of antibiotics in the late '60s. We were exporting a lot at the time. Currently, we do not export to this market, although we retain the Food and Drug Administration approval for production of raw materials and finished dosage forms. We do not export simply because we do not yet have enough capacity for a large market such as the U.S. It is the biggest generic pharmaceutical market in the world. We are still expanding. We want to produce not only the 16 billion tablets and capsules [per year?] that we produce today, but more than 20 billion [per year?]. Once we do, we will re-enter the U.S. market.
What differentiates Krka from other pharmaceutical companies?
We have a vertically integrated business model, which means we do everything by ourselves from A to Z. We try to figure out the needs of the market and patients. Based on that, we develop the product before the product patent goes off because we are a generic pharmaceutical company, not an originator. We decide which product we would like to have and develop the raw material so that we are ready with our product before the patent expires. We produce the raw materials by synthesizing them at Krka's premises or with our partners. We produce the finished dosage in whatever form it requires, be it tablets, capsules, injectables and ointments. We sell them to distributors all over the world and the distributors distribute them to pharmacies and hospitals. In the end, money is collected from distributors, and we start the cycle again. Our model is quite different from other generic producers. Usually, companies outsource either the development or production of raw materials and finished dosage forms. Some outsource everything and concentrate only on marketing and selling the products.
Additionally, we have pills that contain more than one active substance. This enables doctors to prescribe specific products that treat diseases and even combined diseases. We can combine three pharmaceutical ingredients in one tablet. This was a novelty when we began and for some products it still is. In the last few years, we were able to offer the market all kinds of orodispersible tablets and different technologies that help patients take pills or tablets easily compared to normal forms of medication. Since we develop raw materials and finished dosage forms a few years before the patent expires, we have ingredients that have less impurities than what appears in the tablets, even from the originators. Two and a half years ago we had a good example with Valsartan, which is used to lower blood pressure. Our competitors had a lot of problems with impurities in the raw material, which was not the case with Krka. We were present on the market when other competitors were not.
We are currently preparing a revised strategy for 2026. We want to keep our leading positions in the global generic pharmaceutical business. We want to have as many new products as possible. Currently, 700 of our development experts are working on 180 new molecules. From these molecules there will be even more products produced within Krka's capacities and sold all over the world. We would like to grow at least 5% in both value and quantity terms organically and without acquisitions. The strategy will be fully rolled out in November 2021.
The key to our success and our key competitive advantage is our vertical integrated business model. It enables faster adjustment to market changes and high flexibility. We control and manage the entire value chain. We are embarking on the future with a clear strategy, new products and multiple markets. We have reasons to be confident. We have know-how, possess advanced manufacturing facilities and manage the development of active pharmaceutical ingredients. Most of all, we have creative and dedicated employees. Technology is nothing without knowledge, hard work and cooperation. I trust my colleagues and believe that we will continue to help people lead healthy lives.
Where does Krka usually source its expert staff?
Traditionally, Slovenia had two strong pharmaceutical companies. Krka was the fourth largest pharmaceuticals company in Yugoslavia. Now, we are by far the largest pharmaceuticals company in the territory of former Yugoslavia. While Slovenia has only 2 million inhabitants, it has a significant pharmaceutical industry. Slovenia has a very good education system. The quality of our primary and secondary schools and universities is high. Both University of Ljubljana and University of Maribor have very strong chemistry faculties. Ljubljana University has a well-known pharmacy faculty that is the best in the region. We employ experts predominantly from these two universities and from abroad. Having the products in the portfolio is not enough; it is essential to sell them. Within our 13,000 personnel, 4,000 work in marketing and sales. However, only a small part of this segment is in Slovenia. Our marketers are in the field informing doctors and pharmacists because prescription pharmaceuticals cannot be advertised.
What kind of effect did the COVID-19 pandemic have on the health science sector and Krka's operations?
We had a tremendous increase in sales in March 2020. However, everything cooled down the following April and May; we came down to normal sales levels. During the entire Covid-19 period, Krka was operating normally due to our vertically integrated business model. Production and supply of finished dosage forms was uninterrupted. We had no problems with raw materials, packaging materials, transportation of finished dosage forms or imports of raw materials. This will continue till the end of this year. In 2022 we believe issues surrounding COVID-19 might disappear, if not earlier.
In our portfolio of products, we have some products that are very helpful for the treatment of COVID-19, such as paracetamol and vitamin D3 tablets at different concentrations. We also produce dexamethasone tablets and injectables that are much needed, especially with severe patients. Patients suffering from other diseases such as cardiovascular diseases had uninterrupted supplies of our products during the COVID-19 break out. They were able to continue their treatments. If they stopped, they might endanger their health even more. While the COVID -19 pandemic did not bring us tremendous additional sales, we were able to perform our operations at a completely normal level. We even increased sales in 2020 and in the first half 2021.
How important is sustainability in the company's operations?
Sustainability is a crucial factor in Krka's ability to have long-term value creation and for the company to effectively implement intelligent business strategies. Managing issues involving sustainability, reaching sustainability goals and being transparent in reporting on sustainability are all becoming increasingly important. As a responsible and sustainable company, we continuously strive to implement these aspects into our strategy and business operations. Constant improvement is one of our main objectives; only excellence will suffice when it comes to health. We carefully plan the development of our high-quality products and processes under the knowledge that they affect human lives and the environment around which we operate. We have earned the trust of our patients and partners thanks to our knowhow, professional and ethical approach and high-quality standards in all spheres of our operations.
We are socially and environmentally responsible to improve nature preservation and the health and safety of patients and society. We want to help codesign our social environment. We incorporate these aspects in our research, improvements to production processes and investments in technology. We strive to provide a safe, healthy, stimulating and pleasant environment for our employees and in our cooperation with business partners, suppliers, scientists and educational institutes. We operate in line with the highest ethical standards in all business fields; governance and integrity are paramount. Cognisant of the fact that social responsibility contributes to the financial performance of a company, we pursue social, environmental and economic goals with equal fervour. The needs of our stakeholders are addressed through constant, proactive dialogue, which improves interpersonal relations and allows us to rapidly adapt to market changes.
We implement responsible waste and water management and rational use of natural resources and energy. We limit greenhouse gas emissions, maintain biodiversity and reduce noise, electromagnetic radiation and light pollution as much as possible. For example, we use the river's water to cool down equipment during processes. Whatever is used from the water is also then entirely cleaned. We have almost no air pollution in the area because on a yearly basis we invest millions of euros in equipment to keep the air clean. Whatever is problematic is filtered or burned before it is emitted. We halted light pollution at night by replacing almost all lights in Krka and reduced the usage of electricity by 47%. We did this for production in Slovenia and for factories abroad. Our company is named by the Krka River and our headquarters sits on its bank. The river has a characteristic green colour as does our corporate logo. This river flows a few meters away from us and has retained its green colour for years. This is a result of our efforts and something we are proud of. We would like to preserve this for future generations.
What major milestones has the company passed that you are most proud of?
I became the chief executive officer in 2005. Since then, we have increased the quantities produced and sold from 4.7 billion [per year?] to more than 16 billion [per year?]. Our [annual?] sales today are more than €1.5 billion compared to approximately €400 million in 2004. We used to employ 4,000 people, and now we employ 13,000 people. Equipment and money mean nothing if one does not have good colleagues to work with, be it in production, finance, development or marketing and sales activities. I would like Krka to be one of the leading generic pharmaceutical companies in the world with many new products to satisfy the needs of more than just the 50 million patients that take Krka's pills every day. We would like to increase this to 200 million and more. There are billions of potential patients who need our products to have a better life.