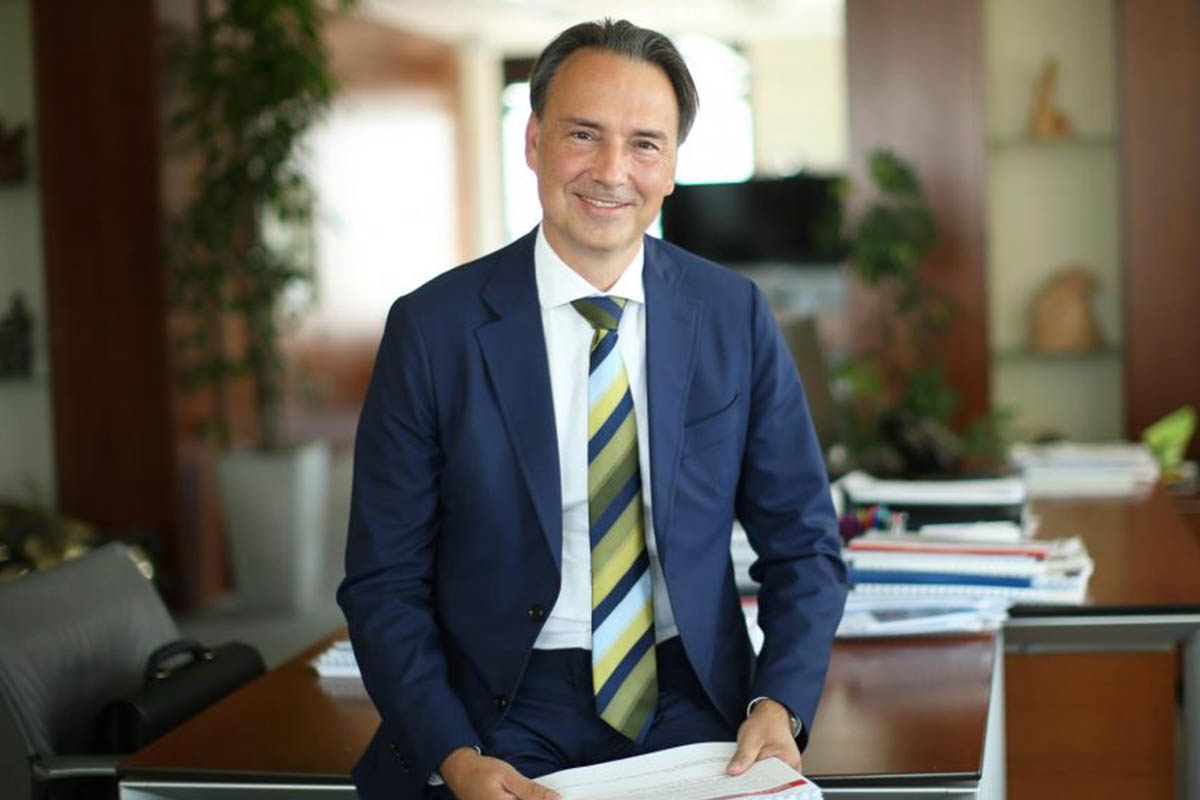 17 Nov

Slovenian retail giant eyes digital and regional growth
Tomislav Čizmić, President of the Management Board, Mercator, details the recent growth of online shopping and the company's plans to leverage the trend through its upcoming distribution center in Slovenia.
Can you give us an overview of Mercator's operations and finances?
Mercator is the biggest regional retailer, and it is by far the largest Slovenian retailer with almost one third of the market share. Mercator has been a leader in innovation throughout the years. We were the first to have a loyalty card program, online shops and a mobile payment application. We also have a solid footprint of stores, with presence in every part of Slovenia. For more than 70 years of its history Mercator has been one of Slovenia's most recognized and valued brands. We have an extremely important place in the Slovenian economy, society and culture. We have almost 21,000 employees within the group, with about 10,000 in Slovenia. We are the country's largest employer. We purchase more than €500 million worth of goods per year from Slovenian manufacturers. About 70% of our resources come from Slovenia. One of our key advantages is that we have by far the biggest loyalty program with our Pika card, which is present in almost every household in Slovenia. We have around 780,000 active loyalty card members.
In the past 20 years, Mercator has been responsible for much of the consolidation of the Slovenian retail market, which is how it has grown to be the number one player. With the arrival of new competitors to the Slovenian market, Mercator experienced a decline in the share of retail space. In 2014 Mercator was acquired by the Agrokor Group, which unfortunately succumbed to a financial crisis in 2017. Despite this, we were able to adopt a new strategy and make a total financial turnaround. In the last four years, we decreased our financial leverage from more than 14 times the amount of debt to just five times and doubled our earnings before interest, taxes and depreciation in only two years.
Fortenova Group is now the owner of Mercator by more than 90 percent because of a recent increase in capital, which means Mercator finally has stable long-term support for development. We can now build a new distribution center in Slovenia, which is the largest investment in Mercator's history and is extremely important for the future development of the company. The company is stronger than ever. We are now entering into the next phase of our strategy, which involves development, investment, growth and a potential merger and acquisition in the future.
How did the COVID-19 pandemic change the way the company and the retail segment operate?
Mercator's role during the COVID-19 crisis was extremely important considering we control almost a third of the market. Any major disruption in our supply chain and availability of goods in our stores is a massive crisis for our citizens; we are critical infrastructure in the country. We remained without any major shortages and supplied the market with basic products and food for everyday usage. Organizing the supply chain and all business processes was crucial. We relied on information coming from other parts of Europe to maintain our inventory of staple goods in our warehouses.
We immediately established a team of crisis managers, even before the pandemic was announced in Slovenia. Key to this was our central information team who gathered all data from stores and our logistics chain and kept abreast of any breaking developments in the pandemic. There was video conferencing twice a day between approximately 100 managers representing all the markets where Mercator operates. If one country needed certain products, another country provided for them, which was a major advantage. It was also important that we were able to diversify our supply sources. We are the largest partner for our local suppliers and were critical during the crisis due to their proximity and our solid relationships.
One of our biggest challenges was to ensure the safety of employees. We immediately provided all necessary safety measures and materials such as masks, sanitizing products and barriers for our cashiers. The same care was taken to protect our customers. We provided a safe environment, and—with a bit of patience—everything ran quite smoothly. As remote work became more prevalent, we observed that there was less takeaway and home cooking was on the rise. Certain types of ingredients were more in demand. There were 10 times the amount of online sales. We were and still are the only retailer that can cover almost all of Slovenia in terms of home delivery. We performed all necessary financial stress testing and developed the necessary contingency plans required to make sure we would have enough liquidity to be ready for anything during the crisis. In terms of social responsibility, we supported first-line essential workers, health workers and humanitarian organizations such as Red Cross and Caritas Internationalis. We provided additional food for those who were not able to get to the store. We later assisted sports and cultural organizations to make things easier during the crisis.
The main lesson we learned is that anything can happen and everything is possible. We always need to be prepared and have a strong and capable team that can communicate and make essential decisions quickly and agilely. Employee loyalty was extremely important as well. Dedication to the company is the most prominent value held by our team at Mercator. Many of our employees have been with us for more than 30 years.
How has Mercator leveraged digital technologies to grow its brand and streamline operations?
The necessity for digitalization also became apparent across the board during the pandemic. Mercator has a few notable advantages in this area. We opened our online business in 1999; we are leaders in the amount of experience we have in this field. Of course, our capacity was not sufficient. We needed to re-dimension the scale of the system in a short period of time to meet demand. We gained a massive amount of business intelligence on the processes and technologies that are necessary. Nowadays the most valuable component is communication with the customer and awareness of customer's needs and tendencies. This is supported by data analytics and artificial intelligence. Additionally, we are the first retailer in the region to create a platform for digital content called M Soseska, meaning Mercator's neighborhood. This relates to our slogan, which is Mercator is the best neighbor. The platform is accessible via YouTube, Facebook and Instagram and is integrated into our mobile app that supports online shopping and payments. Our digital channel is fully supported by our logistical and physical infrastructure.
How much of the company's portfolio is in real estate and what major developments is the company working on?
Mercator is one of the biggest real estate operators in Southeastern Europe. We have about €900 million worth of real estate in our portfolio. Apart from shopping centers, stores and facilities, the single biggest achievement in the history of Mercator is the new distribution center in Slovenia. The center has a total surface area of 85,000 square meters. Total investment in the project is around €170 million, and we are aiming for construction to be done by the end of the first half of 2023. This investment is possible due to Mercator's new owner Fortenova Group, which firmly supports future development of our company. It will be a highly automated warehouse that will make up for the lack of labor we have been facing. The facility will bring even further efficiency to our operations and will support our omnichannel approach. Our strong network of physical stores allows us to be able to create a centralized channel. We will be able to recreate a personalized offer for our customers that will provide what they need wherever, whenever and however they want it. Customers can choose to have goods delivered, pick them up at stores, shop in person or any combination of these options. The distribution center is designed specifically for Slovenia and will meet the required capacity.
What initiatives does the company have in place to support local producers?
When it comes to local products, one of our core strategies is to develop special commercial platforms called Radi imamo domače or RDI, which means we love local. There are more than 1,400 different products that are produced by local farmers and small producers for which we organize education, academies, marketing, logistics and production support. With these unique local products, we sell more than €15 million worth of goods. We also developed a platform called My Brands, which is a label we have in all the markets where Mercator stores are present. The mark supports local and regional brands from various production sectors. This both supports the local economy and gives us a unique competitive advantage.
What is Mercator's current strategy for growth?
We like to stay focused. Our strategy as a retailer is to develop our retail business through operational effectiveness, which includes building infrastructure like the logistics center and our store footprint. Today we have around 1,000 stores in the region, and we are looking to expand this network. Every market is important to us. As a part of the Fortenova Group, we have opportunities that we have analyzed in terms of organic and inorganic growth. There is a lot of potential in the Serbian market, which is an unconsolidated market and has less than a 50 percent share of modern trade. The other 50 percent is traditional trade and is quite fragmented. Serbia is a huge focus for us in terms of future potential. In the next three to five years Mercator will be a major platform that connects customers, employees and suppliers. We will finish building the infrastructure necessary to deliver the very best stores and distribution systems through our omnichannel approach. Mercator is one of the symbols that best represent Slovenia, and we have a large responsibility to maintain this. The pandemic has shown us the importance of our bond with local communities. We consider ourselves to be an ambassador. Mercator will continue to be the best local partner and retailer in every market in which we are present.