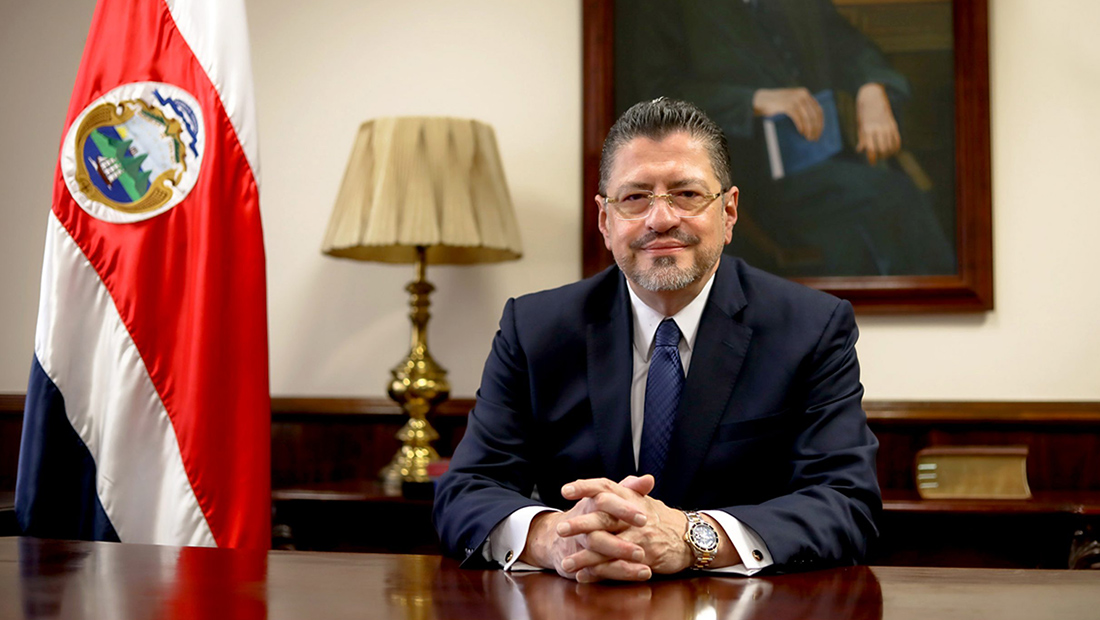 15 Mar

Small nation with a big voice
Rodrigo Chaves, President of the Republic of Costa Rica, highlights the rapid economic transformations the new administration has achieved and fresh opportunities for investment in the nation.
What makes Costa Rica an attractive market for foreign direct investment? 
Costa Rica is a small country with a big voice. Our big voice comes from a tradition of democracy, human rights and a strong commitment to the environment. We have an energy mix of 100 percent renewable power generation, great human capital and have become a central hub for foreign direct investment. In the modern world, nations must add value to their productive chains and delivery of services to be competitive. We are working hard to build human capital and skill sets to compete on the global stage. When foreign investors enter the market, our National Institute of Learning customizes skills required to produce what they need. We work very hard and productively in acquiring foreign language skills, particularly English.
At the same time, this government is actively correcting policy mistakes of the previous twenty years and improving our infrastructure. I recently ordered the release of 5G frequencies. Costa Rica will be one of the first countries in Latin America to have a fully deployed 5G network. Costa Rica is one of the most advanced technology centers in the world for microchips in biomedical products. We export around 10 percent of our gross domestic product through our high-tech biomedical sector. We have an incredible free-trade zone system. Whoever wants to invest in Costa Rica will not face red tape but rather open arms.
What is the government doing to overcome hurdles caused by the COVID-19 pandemic and other global crises?
The world has become a very uncertain place. Europe is facing the aggression of Russia towards Ukraine, which is unacceptable. The Organization of the Petroleum Exporting Countries is cutting back on production, which means oil prices could go up. However, if one looks through the lens of the U.S. dollar worldwide, Costa Rica is the exception. We went from almost 700 colóns per dollar to 620 colóns per dollar today, a 10 percent appreciation in a few months. Our macro foundations are judged as appropriate. We have a vibrant tourism industry that is reviving and bringing in foreign exchange. We are also increasing high-value exports of high-tech products from our free trade zones. Costa Rica's economy is very resilient. Of course, we have challenges with inflation of food prices and had to raise interest rates. However, in comparison to most countries in the world Costa Rica is doing very well.
We are currently doing what everyone else in the world must do, which is to ensure our house is in order. Bank of America recently shot a note to investors saying the budget we presented to congress for 2023 is heroic. We have overdelivered on all quantitative targets and benchmarks to ensure the sustainability of our microeconomy under an International Monetary Fund program. We achieved this through the extraordinary support of the Costa Rican people towards the new administration. The polls are showing 86.8 percent support for the government, which is unprecedented in the history of the country. Costa Rican people and the international community are happy with what we are doing, which lends us legitimacy in our structural reforms.
Costa Rica has returned to the international scene. We followed the World Trade Organization on restrictions on the trade of avocados that our predecessors imposed. We are negotiating a bilateral free trade agreement with Ecuador. I am optimistic that on November 25, 2022, Costa Rica will be admitted to the Pacific Alliance, another trade integration block. We also applied to the Comprehensive and Progressive Agreement for Trans-Pacific Partnership that includes 11 nations.
We are actively reducing and eliminating all bottlenecks possible. The Costa Rican chambers of commerce identified 155 specific bottlenecks. We created a program spaced over a maximum of six months that is broken down on a schedule of two, four and six months to address these issues. We are progressing fast, and it is very rewarding. We have restructured our electricity utility and taken it from having large losses to profit in only six months and reduced the electricity tariff by 30 percent. We are reinvesting in infrastructure and eliminating unnecessary regulations. We are working across the entire board to transform the county with a level of ambition not seen anywhere in this hemisphere of the world.
What expectations does the current administration have for Costa Rica's economy in 2023?
We believe Costa Rica's gross domestic product will grow by a conservative margin of 2.6 percent in 2023. The structural reforms we have implemented are breaking up internal monopolies granted by previous legislation to powerful private groups. We have broken monopolies in the production of rice, medicine and the pharmaceutical industry. We are creating more confidence in our private sector. Our internal private projections are substantially more optimistic than that of other nations in the Organisation for Economic Co-operation and Development. Provided that the global pace remains the same, 2023 will be a very good year for Costa Rica and its investors.
Where does Costa Rica position itself in relation to other nations around the globe?
Costa Rica is one of the shining lights of the American hemisphere. It is a country of democracy and sustainability. It is a country that focuses on human rights whether it be gender or minority groups such as the LGBT community. We value freedom of expression in the press. While these are major tenents of democracy, such characteristics are rare on the global scene today. Costa Rica remains a country in the middle. We have been an exception of political trends in Europe moving in one direction and Latin America moving in the other. We have remained angular on values shared by nations and communities such as the United States, the European Union, the Dominican Republic and Panama.
We are a nation that is extremely generous with immigrants. Around 20 percent of Cost Rica's population are refugees and illegal immigrants to whom we provide education and health services at low costs. We are now dealing with an immigration crisis with Venezuelans going to the United States, which we take very seriously. Costa Rica is a country of human rights. Our role is to continue being a nation that lives by our international commitments. We have rule of law and democracy, and we are going to continue to be a generous country when treating human calamities. We play a legitimate lead role in the Americas.
At the seventh session of the United Nations General Assembly in New York Costa Rica positioned itself as a world leader on environmental sustainability. We reaffirmed our relationship with France to organize the UN Ocean Conference in 2025. We also advanced the conversation on joining the Pacific Alliance. In a few months we have walked the distance that Costa Rica had not for the last 15 to 20 years. We are back on the world scene with renewed energy and enthusiasm.
How is Costa Rica supporting the integration of the region through the Central American Integration System (SICA)?Central America wants to integrate with the entire world. It was a difficult internal political decision to support the appointment of Nicaragua's Secretary General of SICA. Some people in Costa Rica said we should not. I made the decision independently of our political and democratic differences with Nicaragua. It was their turn, and SICA requires a Secretary General to restart integration works. Political decisions that fall to presidents are difficult, and my choice was made out of unanimity. Countries including Costa Rica must work together to produce the benefits of larger markets.
In what areas of the economy do you see the most opportunity for investors from the U.S. and other markets?
Costa Rica and the U.S. have been strong allies since 1854. The U.S. is our biggest trading partner, and our main source of tourism. We have a close relationship in physical terms and time zones but also in values. The CHIPS and Science Act is the most important policy statement regarding national security and the supply of the American technology industry since the 1940s. Costa Rica is well placed to take advantage of the country rethinking source markets towards nations that better serve their security and interest. We have been in discussions with the U.S. government at the highest levels to position Costa Rica as a key player under this policy. Intel recently expanded its chip production capacity for Costa Rica. It is a very important development and one that may not be factored into the Organisation for Economic Co-operation and Development's current economic projections.
Our high-tech sector is growing very fast. It happened first with biotechnology and now we expect it to increase with the CHIPS act. Our 5G platform will further raise our abilities for shared services. There is also potential in getting higher value added from our food processing industry. We are focusing efforts and opening our market. We already have free trade agreements with 75 percent of the world and are pushing hard to have more.
Additionally, Costa Rica is set to capture the latest trends in tourism. The industry is changing from a focus on relaxation towards new market segments focused on adventure, nature and cultural experiences. Costa Rica is one of the safest countries for tourism in the hemisphere. It has a well-integrated nature and adventure tourism sector including white water rafting in which we are seeing an increase in investment. Costa Rica is a country with natural ingredients. We are the only country that has reversed deforestation in the tropical world. We went from having 24 percent of our country forested to around 60 percent. Additionally, we are the only country where all forms of trapping of animals and hunting are forbidden. There is no perfect country, but we are getting as close as we can. We invite the world to visit and enjoy our beauty and great investment opportunities.