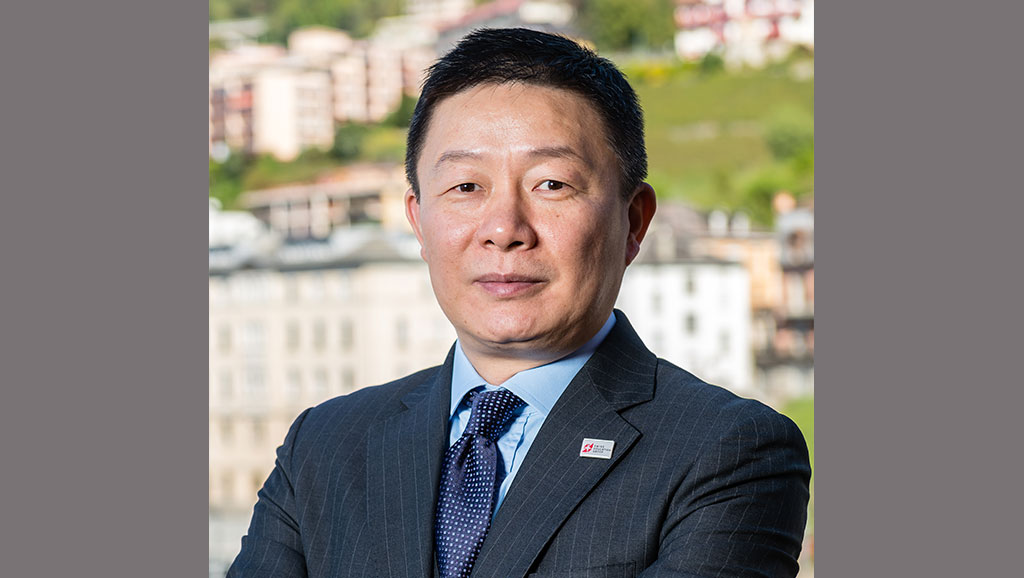 28 Sep

Unwavering commitment to a real world education, lifelong memorable experiences and global career opportunities
Yong Shen, CEO, Swiss Education Group, introduces an education group with worldwide alumni network, strong industry recognition and partnerships, aiming to expand globally
Swiss Education Group (SEG) is Switzerland's largest private hospitality educator, with five schools across six campuses. Over the past 30 years the group has accumulated vast experience in hotel management and culinary arts education, and become an ambassador for Swiss hospitality excellence. How does the group stand out in the hospitality management industry?
Our reputation stems from the strong industry and academic partnerships we have built and our extensive network of over 24,000 alumni worldwide. Our five schools offer a wide range of undergraduate, postgraduate, and professional programs ranging from traditional hospitality subjects to a wide selection of electives such as finance, human resources (HR) management, luxury management, innovation and entrepreneurship—all offered at our six beautiful campuses with state-of-the art teaching faculties.
Over the years, we have collaborated extensively with many leading hospitality and service businesses in Switzerland and around the world. In fact, it is this collaboration that ensures that what we teach is highly relevant today and for the future. Our faculty members typically have strong industry backgrounds and are passionate about the art of hospitality and education. Each year, our students benefit from valuable internship and career opportunities in hundreds of companies across the globe.
What has made SEG schools stand out is our faculty teams and professional support staff, who have brought the Swiss tradition of excellence to life in their interactions with our students. This is something consistently reflected by the high student satisfaction scores across all our schools.
What kind of synergies do you generate and leverage between your various brands, such as César Ritz Colleges Switzerland and Swiss Hotel Management School?
SEG is an educational enterprise with a portfolio of schools, all of which have unique brand positioning and focused areas of expertise. The schools are supported by shared services including finance, HR, information technology, career and alumni services, marketing and admissions. From a student's perspective, one can enjoy an extremely personalized experience on a particular campus backed up by very efficient professional support teams in SEG. After they graduate, they can join a much larger global network of alumni from all the SEG schools, enjoying fantastic networking benefits.
SEG is huge, with over 6,000 students from 111 countries. What is its significance in the hospitality management industry?
Twice a year, hospitality leaders from over 100 companies attend our International Recruitment Forum, allowing students to network with future employers and get exclusive access to the best career opportunities before they complete their studies. The facts speak for themselves: 102 companies representing 196 properties worldwide attend our International Recruitment Forum; over 4,000 interviews for internships and career opportunities take place during the forum; five years after graduating, 89 percent of our alumni hold management positions or have created their own companies; and five years after graduating, 96 percent of alumni in the hospitality sector are employed in luxury hotels.
COVID-19 has dealt a major blow to the global economy, particularly to air transport, tourism and hospitality. What is your outlook for the industry post-coronavirus?
The hospitality sector has been one of the hardest hit by COVID-19. It is a fact that we will have to live with it for quite some time and this will continue to affect our travel and mobility for a while. Personally, I remain optimistic about the longer-term outlook for the global hospitality industry, even if it will be difficult for the next 12-18 months until we have effective vaccines. The situation will vary somewhat geographically—in Switzerland, for example, we are already seeing a considerable recovery.
Currently, we are undertaking research in partnership with Mandarin Oriental Hotel Group, studying the effects of the ongoing pandemic on the hospitality industry. This project, which also includes leading Swiss industry partners, will identify best practices in crisis management, operations and recovery strategies, and the findings will be integrated into SEG member schools' academic programs. I envisage a hospitality industry that emerges from the current crisis more agile, more dynamic and more focused on the customer than ever before.
The pandemic has forced many educational institutions to accelerate the shift to digital learning. How has the crisis accelerated SEG's digital transition and shift toward e-learning solutions?
We reacted very quickly and proactively implemented virtual learning. We leveraged the resources we had on our learning management platform and we added Zoom to deliver live sessions. Our faculty teams across all five schools rapidly identified ways to segregate theory from hands-on practical content. Essentially, in a matter of a week and half, we switched to a full virtual-learning environment.
We established a Virtual Learning Boot Camp for over 100 faculty members and we even hired an external coach to help train our faculty on how to create quality interactions online. I am very pleased to say that it has been an incredibly positive experience for both faculty and students. We also conducted student surveys on virtual learning so that we could continue to improve.
The momentum of online teaching will continue going forward. In phase 2, we will be developing e-certificate programs and flexible-learning solutions. We have identified certain content in our programs that can be converted to recorded study materials and supplemented with live sessions and interactive tutorials. In a way, the emerging flexible-learning solutions have allowed us to expand our customer reach as well. We are now reaching out to working professionals who would otherwise not be able to physically attend programs on campus.
SEG has partnerships with the U.K.'s University of Derby, and the U.S.'s Northwood University and Washington State University. What is your strategy for further expanding your network to trigger more international cooperation with academic and industry partners?
Our long-standing university partnerships ensure that our students graduate with internationally recognized qualifications, making it easy to transfer academic credit to British and American universities for further study. We also have an international network of institutional partnerships that allow for exchanges of students and faculty, access to government scholarships and mutual academic credit recognition. Our future growth will continue to include a number of markets such as China, India, South East Asia, the Middle East, Eastern Europe and Russia. We are deepening relationships and continuing to have greater brand awareness in those markets, allowing us to be more sustainable and successful.
Our growth will necessarily require every school in our portfolio to continue to look at curricular innovation and unique partnerships, and to ensure that the level of care and personalized services meet and exceed the expectations of our students and their families. This is the fundamental recipe for success. We often take a step back and think about what has made us successful. What do our stakeholders, students and their parents really want? They want an excellent education, very good experience and employability—this is exactly what we offer them.
Innovation is a major pillar in this industry. In addition to the ability to constantly reinvent itself, as was demonstrated in the current crisis, how does SEG nurture a culture of innovation and can you give us some examples of major breakthroughs you've introduced?
Our schools reflect the reality of the hospitality industry, offering students the most authentic learning environment and furnishing them with the skills required in the workplace today. SEG is committed to focusing on technological breakthroughs that revolutionize pedagogical approaches and ensure graduates develop the skills required in the international job market.
New generations are becoming increasingly familiar with technology and, in recent years, innovation has been about employing new tools effectively. In 2012, SEG tested new tablet technology with iPads at César Ritz Colleges Switzerland and subsequently decided to provide a tablet to each of its students at all five schools. In doing so, the group became the first school in hospitality education to launch a one-to-one iPad program.
In 2017, Swiss Hotel Management School became the first institute of higher education in Switzerland and first hotel management school in the world to receive the acclaimed Apple Distinguished School recognition. This is an invitation-only honor, reserved for schools that meet the criteria for innovation, leadership and educational excellence, demonstrating a clear vision of exemplary learning environments. We use technology to offer students more flexibility. Learning resources are organized in a way that you can access them anytime, anywhere. We want the learning we provide to be continually refreshed, updated and relevant in order to prepare our students more meaningfully.
Due to the COVID-19 crisis, we were unable to carry out the practical aspects of our curriculum, but we were able to host an online cooking competition, for example. One of our deans was interviewed by CNN Switzerland and asked how it was possible to have a culinary competition when the judges can neither see nor taste the dishes made. We looked beyond the traditional sense of cooking shows and assembled a jury of highly experienced celebrity chefs. Out of 140 participants from around the world, they selected seven finalists, and looked at presentation, techniques and the selection of ingredients. For me, this is tremendously innovative.
You have just taken over as the new CEO of the group. What do you most want to accomplish in the role?
My focus is on growing SEG. We need to expand our global footprint and develop our network of both academic and industry partnerships. We will increasingly be partnering with leading national, regional and global brands, further building our reputation around the world. Expanding our global footprint is also about opening new programs in other geographical areas. At the same time, I want to make sure our own schools in Switzerland remain references of excellence. People want to experience true Swiss education and hospitality, and spending time in Switzerland is most certainly a wonderful highlight.
As we close a very difficult academic year, and look forward with confidence and optimism to opening a new one, what would be your message to the global student community?
In business, we say "a crisis is too good to be wasted." That is also true in life. To all the students out there, I would encourage you to maximize your learning from this global pandemic, and to develop more resilience and confidence to face any challenges that may come your way in the future.