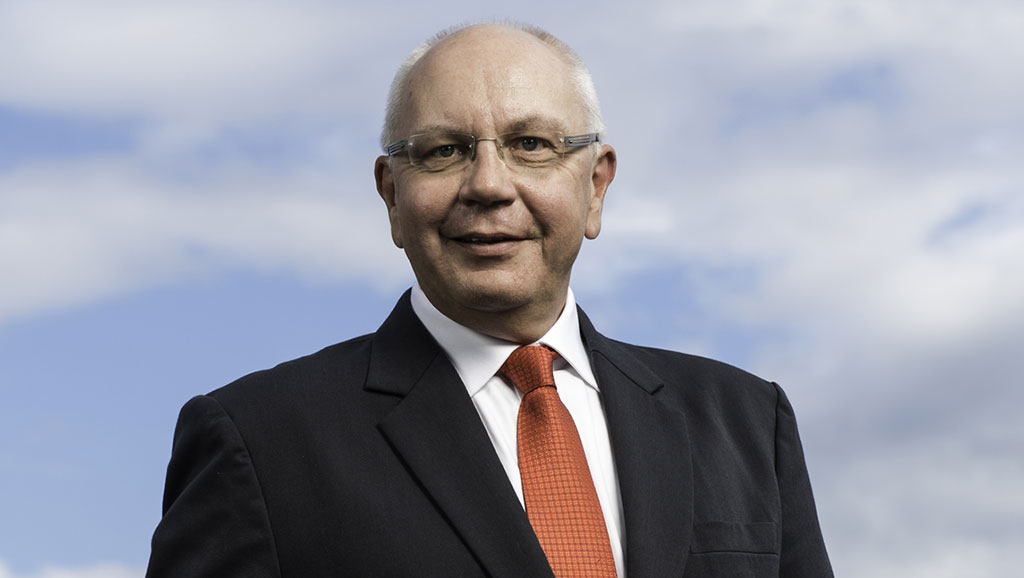 28 Sep

World's #1 hospitality school sets the benchmark for post-COVID education and industry
Michel Rochat, CEO, Ecole Hôtelière de Lausanne (EHL), explains how the group is expanding its reach and preparing the global hospitality sector for a different future
The Ecole Hôtelière de Lausanne (EHL) is rated number one in the world in hospitality industry by QS World University Rankings and CEO World Rankings. Could you introduce your institution and its specialties, values and unique model to help us understand its success, recognition and global reach today?
EHL was the world's first hospitality management school and was founded over 125 years ago. The Lausanne-based school grew into an international education group that is ranked number one in the world, which also operates an innovation village and has the world's only Michelin-starred training restaurant in a hospitality management school. Our success can be explained by our dual education system, which prevails in Switzerland. Our students get to spend part of their time doing internships, off campus and embedded in industry. They do this for a six-month period twice during their four-year curriculum. This experience sparks something very special between students and industry, and starts to build an extremely strong relationship that will last throughout their career. Our students undergo a unique education program, as we adapt about 10-15 percent of our curricula every year to be closer to the industry's present and future needs. We try to foresee the next six years in advance, which is quite a challenge. EHL is a community, and openness, innovation and entrepreneurship are part of our core values.
Because of the COVID-19 crisis, we had to switch our activities from on-site education to education online. In just a few days, we managed to transition 100 percent of our programs online. Our master's and bachelor programs will be taught 100 percent online until September and even exams will be online. In September, we expect to have about 80 percent on site and 20 percent online. At the end of the day, we did our very best to turn this terrible situation into a good opportunity for EHL to jump start its digitalization program and we managed to do that within a couple of days. This opens the door to many novel things to emerge soon.
What is your outlook for the hospitality industry post-COVID-19 and what have been the lessons that have come out of the crisis for the hospitality and education sectors?
Domestic tourism should boom, and the good news is that people will rediscover their home country and help their domestic market bounce back. This will bring a new opportunity for hoteliers. Step by step, international travelers will eventually come back to Switzerland and other big destinations but, in the meantime, this is a wonderful opportunity for Swiss hoteliers to reconnect with Switzerland and Swiss customers.
From an education point of view, we have witnessed the biggest digital boot camp in history. Global digital literacy has leapt forward during the lockdown, and education has had to adapt and innovate to survive during this period. There is a general realization that many things can actually be done—and done well—remotely. I am sure that, just like EHL has decided to push in this direction, schools around the world will take the opportunity to modernize their offer.
The coronavirus crisis has sped up a lot of things: it has accelerated digitalization, changed the way people think, created new solidarity between people, between generations and within families. People were granted extra time to reflect and to think about what they do, and about what they want to do in the future. This has been a health catastrophe but, for many people, it has brought a unique opportunity to take a step back—and this is a silver lining.
EHL has been a pioneer in the hospitality industry and a pole of innovation. A good example of your innovative spirit is the Swiss Food and Nutrition Valley initiative that you launched last year together with the Canton of Vaud, the Swiss Federal Institute of Technology Lausanne (EPFL) and Nestlé. Can you tell us more about this initiative?
This project will be one of our greatest challenges over the next year and will truly make us look like the Silicon Valley of Switzerland. The objective is to launch a new reflection on the nutrition of tomorrow: we need to rethink how we can design and produce food for the next 30 years. It is a very global project—we will look at what nutrition means in Europe, but also in Cambodia, in the U.S. and in India; we will analyze the prevailing nutrition systems in these countries and so on. We want to add our chefs into this ecosystem to help us think about how to cook, preserve and develop nutrition in a relevant and sustainable manner.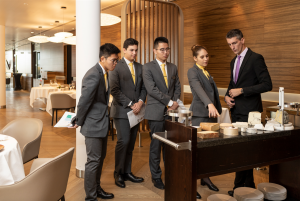 As a forward-thinking institution, how is EHL nurturing a culture of innovation?
The main area in which we innovate is in terms of digitalization. We want to launch new platforms to connect people together. Our next campus will be a fully digital campus, with about one million online students across different parts of the world and with different levels of education. We invest a lot in that domain today, working on platforms, connection systems and in blended learning, which is a mix of face-to-face and online education. We also look at introducing artificial intelligence to the hospitality industry, with robots, automatic delivery and that type of technology. Today, the categories of customers are changing fast: within just one hotel there are all kinds of services being provided according to clients' differing needs. There is a lot to do in that domain.
In addition, EHL is thinking of opening up to different domains—today we are focused on the hospitality industry but tomorrow we could be focusing on other fields such as healthcare. In today's world, it makes sense to combine hospitality and health.
What kind of opportunities has the coronavirus crisis introduced?
Worldwide, people have started to think in a different way, which I hope will still be the case over the next few years. The younger generation has values of, for example, openness and acceptance—the COVID-19 crisis has aligned the world with the values of the new generation. Young people now realize that there are lots of opportunities for them that are consistent with the values that they have and the crisis has put them on the same level as everyone else. They are no longer a lost generation, as some might have once wrongly presumed.
What new trends in hospitality do you think will emerge as a result of the pandemic?
I foresee many new ways of approaching travel arising, with a lot of innovation in hospitality, leisure and business travel. People will behave in a totally different, mindful and sustainable way. There is a lot to rethink: at the local level and more broadly. Swiss people will rediscover the many wonders of Switzerland and will rediscover hospitality in Switzerland.
EHL's Asia-Pacific branch campus in Singapore is due to open in July 2020. Its mission is to help talented students from Singapore and beyond to build a successful and fulfilling hospitality career that unites Swiss excellence and Asian refinement. Could you explain more about EHL's Asian ambitions?
We are planning on welcoming our first Singapore-based students in October 2021. Singapore is a wonderful hub for us as we have a lot of students from India and China, for instance, who want to study at the world's best schools but also want to remain in their region. For them, traveling to Switzerland or Europe is quite expensive or can be an emotional strain; so studying in Asia will be a fabulous opportunity for them that brings Swiss hospitality excellence closer to their doorstep. Asian countries are booming at the moment, the region is ripe with opportunities and, therefore, we feel that our campus in Singapore will answer the region's growing needs, as well as providing countless opportunities for our young and ambitious graduates. Our typical dual-education approach is a welcome addition to their excellent academic landscape.
Last year you sealed a partnership with France's Kedge Business School. How else are you expanding and reinforcing your international network and global cooperation?
Kedge is a graduate program collaboration we are very happy to have. We want to have a very solid platform with our world-leading bachelor degree program and we need to grow a range of leading master's degrees to add to that. An effective way to achieve this is through such collaborations that draw on the particular strengths and specializations of academic leaders. We also have joint programs with the China Europe International Business School and a partnership with the Hong Kong Polytechnic University. In few years from now, we hope to add some more joint programs to our offering, perhaps in the U.S. U.K., China or India.
The next academic year promises to be interesting as a result of COVID-19. How would you reassure the global student community about studying at EHL?
Our EHL campus will be compliant with all sanitary measures and COVID-19 obligations. We will also establish a relevant social system and hope to set new standards even in that area. I hope that students living and studying on our campuses will integrate these rules into their learning experience. I also hope that the way we will manage our campus will be a benchmark for the hospitality domain. As we are number one in the industry, it is our role to lead the way.
This year will mark your 10th year at the head of EHL. What are some of the changes you have instigated that you are the most proud of and what would you most like to accomplish in the next 10 years?
Some of our great accomplishments over the past decade have all been focused on enhancing the student experience. The creation of an exceptional graduate program: the Master's in Global Hospitality, which gives students the opportunity to study in three leading schools on three different continents—Lausanne, Houston and Hong Kong. Opening our first international campus in Singapore was a project that was many years in the making, which extends EHL Group's reach far beyond our borders and gives our students access to one of the world's most dynamic and diverse markets.
The past ten years have also allowed us to boost our faculty and, today, we have world-leading research and teaching powered by an exceptional team of professors. Surely one of our most gratifying achievements is the external recognition we have received, such as holding the top spot in the QS World University Rankings for hospitality and leisure management universities, and having the world's only Michelin-starred training restaurant.
My personal goal is always to bring added value to our students—they are my main concern. And, over the next few years, we will work on modernizing our educational portfolio with the creation of a digital campus and further integration of technology that services learning.
I believe that the opportunities we will have in the future will be even more interesting than the opportunities we have now. We need to listen to the needs of our industry—there is a lot to do, much more than before. I believe the future is going to be brilliant.